There could be several reasons behind why you want to "Convert Peachtree to QuickBooks". Sometimes users do so because they find it hard to manage data on both the software or at other times they just simply would want to migrate data from one software to another.
If we are down talking about the best-suited accounting software, then nothing can beat the well-known names of Sage 50 and QuickBooks accounting software. Throughout emerging years, both foundations have constantly improvised and produced various versions of their accounting systems throughout the years, ranging from desktop-based offline software tools to cloud-based solutions.
There are times when it is occasionally tricky for firms to choose the best decision. The choice, however, is totally based on the individual's needs and tastes. However, QuickBooks is on a constant roll with updating and introducing new tools for the betterment and smooth functioning of all accounting actions. According to this, there is an increase in demand to switch to QuickBooks, as well as during some situations there occurs a possibility to convert data from Sage 50 to QuickBooks Desktop.
For a better understanding and knowing all insight information regarding this conversion of data from Sage 50 to QuickBooks, let us stick through the end of this article. But first, let us learn what can one convert and what can't be converted.
What things to Convert from Sage 50 to QuickBooks?
This is the most sensitive and delicate resourceful understanding one should be aware of before proceeding with the process of converting data from Sage 50 to QuickBooks. Mentioned below is a detailed list of what can be converted and what can't be converted, take a look closely.
Things that can be Converted from Sage 50 to QuickBooks
The Employees Profile and all related information.
Account Balances are also convertible.
Paychecks
Transactions with relation to Customers and Vendors accordingly
Account, Customer, Item, Employee, and Vendor Lists.
Payroll General Ledger account balance information.
Things that can't be Converted from Sage 50 to QuickBooks
Fixed assets are a big no when it comes to converting.
Individual Employee Wages and deduction information
Work tickets etc.
The above mentioned are the following items that can and cannot be converted, mind these before you step further with the converting procedure.
Sage 50 to QuickBooks Conversion System Requirements
Now that we are clear with what we can possibly convert, let us waste no minute and jump right into what we require before doing so. Let us ponder over the System Requirements for Converting Sage 50 to QuickBooks.
Operating System & Processor
QuickBooks Desktop Version
Generally, demand for Windows 10, 8.1, and 8
Minimum- 500 MHz Intel Premium II
2.5 GB of Free Space is needed. (Recommended)
A minimum of 512 MB RAM is required.
QuickBooks Pro, Premier, and Enterprise 2018 or higher.
Sage 50 Version 2013 and above
Points to keep in Mind and Prepare before Process Convert Peachtree/Sage 50 to QuickBooks
Just like anything preparation of things is to be the first thing that is usually taken care of. Here also, before one proceeds with converting data from Sage 50 to QuickBooks, preparation takes up the crown place. To know and understand what is to be done, take a look at the below-mentioned information.
It is easy to convert from Sage 50 to QuickBooks or later by using QuickBooks Conversion Tool. However, you will need to focus on these points before starting the process.
First and the foremost thing which shall be done without even wasting a second thought is the installation of the QuickBooks Desktop accounting software on the same computer system as on which Sage 50 is installed and available.
The backup stands compulsory here as well, the creation of a backup is hands down the most important preparation before performing anything on any software. For the safety of one's data and complex information.
Another, most important preparation set is to ensure whether the most intricate and important information of Sage 50 and QuickBooks Desktop data is saved on the local drive. If the same has not been taken care of them, it stands mandatory to move the data to a local drive.

Get in touch with our

QuickBooks help

team for any inquiry related to the same.
How to Convert Peachtree/Sage 50 to QuickBooks
Here are the steps you would need to follow:
Step 1: Accessing the Sage 50 Company File
Launch sage 50 and browse to the file you are wishing to convert to QuickBooks.
Follow the path: Main > Maintain > Users > Setup Security.
You will reach a window. Click on the Data Access/Crystal Reports tab.
You will see two options: None and With the Following Login Information. Click the latter.
Now click on change and set a new security password.
Once the password is set, exit Sage 50 and get to the second step of configuration.
Step 2: Run QuickBooks Conversion Tool with Administrator Rights
Downloading a conversion tool is quite an easy thing to do. The steps are quite easy and not complex at all. Here's how to do it…
Second, open the folder you saved your downloaded file to and right-click on the QuickBooks Conversion Tool icon.
Next, after clicking on an icon, proceed to select the option Properties.
Now, select the checkbox for Run this program in compatibility for: windows 8 and further hit on Ok, under the Compatibility mode.
Lastly, Select Run as Administrator, once you have right-clicked QuickBooksConversionToolSetUp.exe.
Step 3: Convert Peachtree to QuickBooks use of QuickBooks Conversion Tool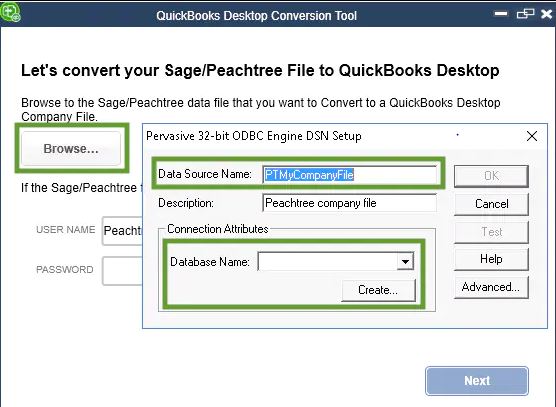 Once the tool opens on your system, click Browse to opt for the Sage 50 company file you need to convert.
Select the Company Name and Database Name in the new Window named
Pervasive 32-bit ODBC engine DSN Setup. (Both the names should be the same) Click on it.
You will be required to enter the Sage 50 company file password and hit
Now opt for the QuickBooks Product that you are currently using and want to convert to, browse to the company file, and hit (the default location should C: USERSYOURUSERNAMEMy Documents unless you have saved it to some other location).
You can see the conversion information on the Ready to Convert window.
Hit Convert File to start the conversion.
Once the conversion process starts, it may take a few minutes depending upon the file and capacity of your computer.
Once the process is finished, a new window named 'Finished' will appear on the screen.
Hit Open In QuickBooks.
Open the file in QuickBooks to ensure that the data has been converted completely.
When you are done with all the steps and everything went fine then, you will be able to Convert Peachtree/Sage 50 to QuickBooks.
How to Import Files from Sage 50/Peachtree to QuickBooks Desktop
Well, transitioning to QuickBooks From Sage 50/Peachtree is much easier than one thinks. Let us look at how it is considered easy, with the following given guide. Follow the steps mentioned below for a hassle-free conversion, if the steps are performed with accuracy there will be fewer chances of encountering uninvited errors.
First and foremost thing, it stands important to note that you have the most updated and proper version of QuickBooks for your current version of Peachtree.
After the subsequent step, keep in mind to proceed with the process of creating a Back Up of all your files in Peachtree, accordingly.
Also, it is important to remember to name your saved files either by their name or ID, respectively.
Thereafter, you need to proceed with the downloading process of the conversion version.
Once the above-mentioned step is done, then further continue to Run the converter tool installer.
Next, a prompt will appear on the screen, when you see one, start to browse and navigate your particular Peachtree Data.
After the above step, press the button to being the process.
Lastly, Copy and paste your company information into Peachtree and QuickBooks manually.
If you face any difficulty while performing the process "Convert Peachtree to QuickBooks", get in touch with our Sage 50 Consultant experts to help you out with it. We have a strong team of experienced individuals at our Sage Technical help desk. They deal with Sage 50-related processes on a daily basis.
Get solutions to all of your accounting and bookkeeping problems with industry leading experts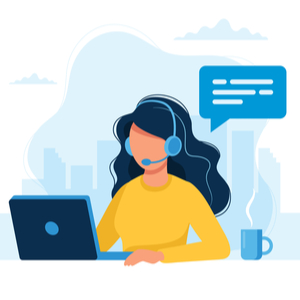 Frequently Asked Questions (faq)
Why can't one access the data file that is saved on the local server?
It becomes impossible to access the data file which is saved on the local server. You need must convert it on the computer. Then only you will be having the access to the data file.
What is the limit to follow while creating a password?
When the users proceed to create a password, make sure it falls under 8 characters only. The new password consists of an 8-character limit and exceeding it will further cause the conversion tool to not function properly.