Though it is easy to take a backup of QuickBooks company files, but do you know "how to restore QuickBooks from a flash drive". Though it is a little tricky process to do but is very much possible. QuickBooks accounting software is designed for an organization's accounting and financial needs. It has a backup file stored which has the information of all the company's data. This company file will have the data till the date when the backup was created. It is recommended that you restore the recent file.
You can create the backup using the CD, local hard-drive, flash drive, network folder, etc. Thus you don't have to worry about the platform, you will restore your data from as it can be easily done using even a simple flash drive.
How to Restore QuickBooks from a Flash Drive: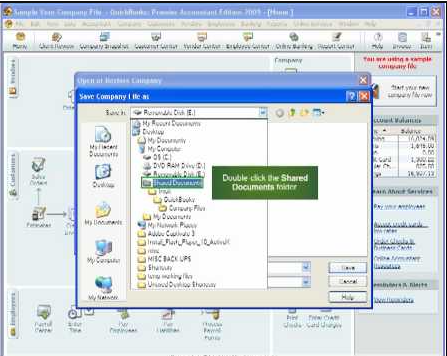 If you follow the instructions mentioned in this article then it will help you in restoring your QuickBooks backup files. As the backup copies are in the compressed format, you will need to use the restoration wizard to retrieve the data back to your QuickBooks. It is recommended that you do not use Copy command from your Microsoft Windows.
Total Time: 10 minutes
Step 1: Steps to Restore QuickBooks Data Within Your Flash Drive:
🔹 If the backup file is not present in the hard-disk of the system or in the network folder then you will have to use any external drive like flash drive.
Step 2:
🔹 Open QuickBooks on your system and go to file.
Step 3:
🔹 Press the Open or Restore Company option to open the restore wizard on your system.
Step 4:
🔹 Press on the Restore a backup copy (.qbb) option and then click on Next.
Step 5:
🔹 Go to the Local backup and press Next.
Step 6:
🔹 A new prompt will open that will ask you to open Backup Copy.
Step 7:
🔹 Go to the Look drop-down menu and browse to the location that has the entire backup file stored on the system. This folder will have files with extension .qbb.
Step 8:
🔹 Go to the backup file and open it on your system by pressing the Open and then Press Next.
Step 9:
🔹 Click on Save option and select the location where you want to restore the backup files.
Step 10:
🔹 Choose the backup files and press Save.
Step 11:
🔹 You will see many prompt notifications on your system, respond to it accordingly.
If you have followed as they are given then, you now know, "how to restore QuickBooks from a flash drive". But if you still face any issues then get connected with support. There are certain things you should take care of, when you implement the restoration process.
Important things to note:
If QuickBooks will come across any company file that has similar name as it is already present then you will be asked whether you want to replace the older file. If you select the Replace option then, the older file will be deleted and the new file will replace the file.
If you are not sure whether you want to delete the file or not, then press Cancel and rename the file which you want to restore. If you have converted the QuickBooks company file to a normal company file then the files will have .qbw extension. All the company files and all the related files will be stored in one location.
Reach us for Help:
The steps mentioned above will help you in the procedure of Restore QuickBooks from a Flash Drive. In case, you have some doubts and queries then it is suggested that you contact us immediately expert QuickBooks support team who have years of experience in handling such technical as well as functional issues. To connect with them, you will have to call on their toll-free helpline number. They will immediately come to your aid and help you in resolving all your errors. You also have an alternative method to reach out to them through Chat.