Let's start our article "Restore QuickBooks Backup File to New Computer". There may be times when you want to transfer QuickBooks onto your new system. This can be because your older computer is giving you issues or you have a newer version of QuickBooks installed on your new system.
QuickBooks is popular accounting software that helps business owners manage their finances. If you ever need to restore your QuickBooks backup file, you can do so quickly and easily.
How to Restore QuickBooks Backup File to New Computer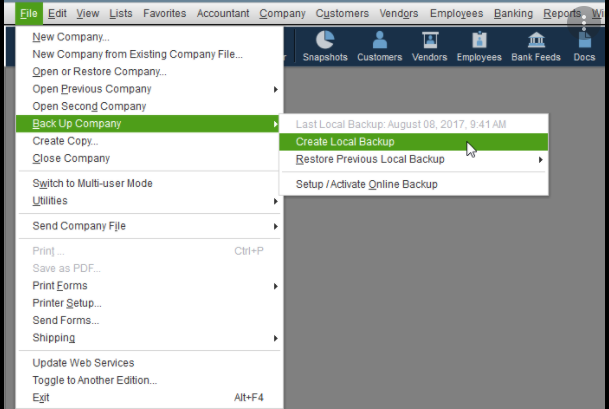 Thus if this is the case then you would first need to create a backup of your QuickBooks company file in your older system and integrate it with your newer version.
Total Time: 30 minutes
Step 1: Create a Backup
In order to create a backup of your company file, just follow the steps along:
🔹 Connect a USB or hard drive to your computer.
🔹 This will be required to store your company backup file on your storage device.
🔹 Login to your QuickBooks account on an older computer and create a backup.
🔹 To create a backup of your file, just select the file option on the top of your navigation bar. Here a drop-down menu will appear.
🔹 Just simply select "Create a backup of your file".
🔹 Now choose "Local backup" from the list provided.
🔹 Choose Options. Here you will be prompted to choose the USB port where you want to save your backup file.
🔹 Once selected click Next.
🔹 Once everything is done, click on "Save your backup" and your backup will be created and saved in the path you selected.
Step 2: Restore your Backup Company File
🔹 In order to restore your backup file onto a new computer, you would need to insert your USB into your new system.
Please note– That the same USB will be inserted in which you have saved your backup.
🔹 Now login to your QuickBooks company file and click on the file option on the top navigation bar.
🔹 From the drop-down menu, click on the Restore company file.
🔹 From the display window that will appear click on the Restore backup option and hit next.
🔹 Now choose the local backup option.
🔹 This will open up your USB location window.
🔹 From the device selected choose the file you want to restore.
🔹 Most likely it will be saved with the name QB backfile.
🔹 Choose Open and then hit next.
🔹 QuickBooks will now ask you to give your confirmation that you want to restore the file onto the newer version or new computer.
🔹 Click Yes and hit save. Your QuickBooks file will now be restored.
Get solutions to all of your accounting and bookkeeping problems with industry leading experts