To figure out this issue, QuickBooks introduces the QuickBooks condense data utility which fixes this issue automatically and manually as well. In this blog, you get complete information about QuickBooks condense utility and know how to use it.
QuickBooks accounting software is the best way to manage entire business accountancy functions. QB users need to delete and edit some data files a lot of times. This happens due to the simple fact that it has lots of space to create new files. QuickBooks usually encounters with condense data fails issues. This error issue creates major problems for users and blocks the user from the file condensing option.
What is QuickBooks Condense Data Utility
The aim of this primary tool is to repair all condensed error issues with its amazing in-built features. It permits all users to remove an Audit trail. With the help of this tool, users get access to lessen the size of all files without affecting the quality of information which is present in them. It is the best option to fix all the condensed error issues and makes a way to handle all necessary company files. In any case, if you found any performance issues then Condense Data utility is the last option to improve the quality performance.
To minimize the file size without any damage to data, this utility is one of the best choices. It introduces many advanced features and also makes a consolidated Journal entry for choosing that specific data. That particular feature is known as the traditional condense feature.
It may not affect the size of company file
Due to the removal of transactional detail and list entries, the size is typically reduced.
Lists are not reduced if inventory items are used.
The file size doesn't change much when only a few transactions are condensed.
Open transactions are not condensed, and there is no change in file size.
It may not fix file damage
Try to repair data harm on your company file if it has been damaged. You only have two options if trying to restore the damage using Condense doesn't work.
Restore a backup company file; or
Create a new company file.
It does not remove certain transactions
Payroll transaction- In case the Condense date is before 12/31 or in case an employee's W2 is not reviewed.
Invoices, payments, credit memos, and refund checks- In case it is not properly linked to each other.
Payments recorded to Undeposited Funds- Those who haven't deposited into a bank account.
Bills, bill credits, and bill payment checks- Unless properly connected to one another.
Estimates linked to invoices- Estimates cannot be condensed into journal entries that are posting transactions because they are non-posting entries.
Sales tax not paid in Pay Sales Tax- Invoices that are not condensable remain open after paying sales tax with checks.
Transactions linked to a non-Condensable transaction- Example: On 12/15/2015, you entered an invoice, and on 1/15/2016, you made the corresponding payment. You then used the Condense Data utility until 12/31/2015. Due to the payment being made outside of the period and the invoice being connected to a transaction that was not included in the condensing, both transactions will not be condensed.
It affects various reports
Only the Condense period will be affected for the following reports.
Account-based and Item-based reports
Account entries won't be affected, therefore account-based reports will be correct.
Profit & Loss (accrual)
Balance Sheet (accrual)
Statement of Cash Flows (accrual)
Trial Balance (accrual)
The absence of all item data will result in blank item-based reports.
Sales and Purchase reports
Job Costing reports
A/R and A/P Aging reports
All cash basis reports
For the Condense period, your cash basis reporting will be incorrect. There are no links between Cash In and Income or Cash Out and Expenses.
Reports filtered by Class
No classes will be assigned to any of the transactions summarized by the utility. All amounts will appear in the unclassified column when you run a Profit and Loss by Class report.
Report of Sales Tax Liability
Sales tax invoices no longer exist. An amount is credited to income accounts in a condensed journal entry, but QuickBooks has no way of knowing how much of the income is taxable and how much is not. Additionally, the Tax Collected is based on invoices that are no longer valid, thus it will display 0.
Reports on sales and purchases in detail
These reports get their information from things on bills and invoices. There won't be any more bills or invoices, so there won't be any more items, and the reports will be blank.
The Report on A/R Collections
The Condensed journal entries will appear under No Name in the A/R Collection Report. A/R entries that are included in the journal entries but not connected to closing transactions are regarded as open entries. The invoices in this trivial file have all been paid, thus the total is zero.
Condensed journal entries will not appear in A/R Aging reports since their default filter is Names = All Customer: Jobs. When this filter is removed, the Condensed journal entries will appear in the A/R Aging reports.
The Audit Trail Report
Condense will remove transactions from your company file, which means that Condense will also removed transactions from the Audit Trail report.
Reconciliation
Due to the fact that condensed journal entries are cleared transactions, the opening balance for your next reconciliation will be correct.
Your reconciliation reports may be incorrect or missing as a result of the disappearance of your checks and deposits.
The last reconciliation might have been lost, therefore the statement date can be incorrect.
Preserving your reports
Keep in mind that any backups you make, including the archive copy and backup, contain the original reports. Consolidate all accounts, print or save all reconciliation and discrepancy reports in PDF format, and make a backup of your company file before performing the Condense.
Consider that it is currently 9/30/2016 and you run Condense Data as of 12/31/2015. Both your archive copy and your current company file do not have the 2015 or 2016 details. To compare the performance of your company this year to last year:
From your company file, you have to export the current data.
Then export historical data by opening the Archive Copy.
In another program, combine the historical and current data.
*A standard QuickBooks company can examine historical data that isn't in your Condensed file by creating an archive copy. When a company file is open in QuickBooks, the title bar will read Archive Copy [date the archive was produced] of [company file name].
Reasons for Condensing QuickBooks Data
Verify if condensing is the best choice for your company before doing it. It is advised that condensing only after trying all other options because it cannot be undone.
You have got a sizable data file.
Your list needs to be longer.
Your hardware has all been updated.
How to Access this QuickBooks Condense Data Utility Feature
Go to the File menu.
Then choose the "Utilities" option
From the drop-down menu, select the "Condense Data" option
Follow on-screen instructions and choose the First option
Proceed forward with the Next click and then "Working on the file" will pop up on your screen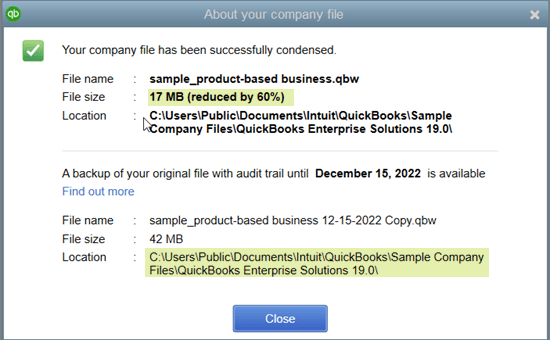 And then, it will reduce the file size and also locate the backup file location just before file optimization will pop up on your current window
Steps to Use QuickBooks Condense Data Utility
Here, you can learn how to use this utility to utilize its all amazing features. These steps will help to meet the requirements and perform the company file condensing function.
Step 1: Locate Non-condensable transactions
The user needs to locate all non-condensable files.
To process this function, click on the Run Report.
Then check and mark all transactions that will not be condensed.
Step 2: To run the report, the user has to condense the QuickBooks file
Click on the File menu and then choose the Utilities option.
Enter next click on the Condense Data and the Wizard option will pop up on your screen
After that, choose the Transaction before specific date and fill in the accurate dates.
Hit the Next option and select Summarize Inventory Transactions.
Then need to choose the method of condensing the inventory option.
Select that particular Transactions group which you want to delete and mark on them.
Enter your next click on the Begin Condense option.
This will help to initiate the QuickBooks Condense.
Step 3: Prepare the company file
Begin with the Eliminating process to closing the date of all files.
Then select Accounting and click on the Company Preference option.
Enter the date in the Closing date section.
Erase Data from the closing data box section and click on OK.
And you can view all transactions such as the Run report of profit and loss and the balance sheet.
After that, the Run rebuild and verify the data utility option takes care that there should be no damage taking place.
Then copy the company file and back it up again.
Step 4: Track the record of the comparison report
Condensing the company file may cause many issues such as deletion of information, data quality, etc. To save a comparison report, make sure that you save a copy of all necessary reports as a PDF. The following reports are listed below.
Go to the Cash Flow Statement, Balance sheet, Profit and loss.
Accounts Payable and Receivable.
And all necessary requirements by the accountant.
Step 5: Condensing the company file.
First of all, running this QuickBooks Condense Data utility.
Then open the file menu and choose the Utilities option.
Then locate the Condense Data.
Choose the respective choices as per your according.
Once the process is finished, start with the Condensing feature.
Create a Period Copy
The period copy is considered to be a condensed version of that specific company file you selected. That file contains information for a little while. To make a period copy, just go with the below instructions.
Go to the File menu and then drop click on the Utilities option.
From the drop-menu options, choose the Condensed Data.
Hit your click on the Transaction outside of a data range to remove unnecessary transaction.
Set the accurate dates for Remove transactions before and after filter.
View the Comparison Between the Pre and Post Condense Files in QuickBooks
To view the comparison between the Pre and Post Condense files, go through with the given information. Once condensing the company file is finished, the user needs to make sure about the quality performance parameters match before and after the condensed data report.
Go with re-run and print the given reports.
Choose the Profit and loss option and then enter dates to maintain the balance sheet.
After that, accrual-based conclusion reports will appear to show the results, In any case, if you found discrepancies.
Then again need to view all supposed transaction that makes differences.
Click on Repair damaged transactions and then re-run condense data.
Users make a new company file or utilize the restored company file without preferring re-running condensed data.
The above information is enough to know about the QuickBooks condense data utility tool, but if any queries you want to clear or drop your all issues at this email address info@askforaccounting.com. To get any assistance, you can chat with QuickBooks consultant expertise through the QB LIVE CHAT link.
Speak to a Specialist about Your QuickBooks Software
Get instant assistance with QuickBooks accounting software. Our QuickBooks experts are available 24x7 and resolve issues within minimum turnaround time. We support both US & Canada Editions of QuickBooks Software.
We get help you on these QuickBooks accounting topics
Downloading
Installing
Activation
Import and Export
Data Conversion
Payment Solutions
Upgrade & Update
Payroll Solutions
Integration
Printer
Tax-Related
Data Recovery and many more.