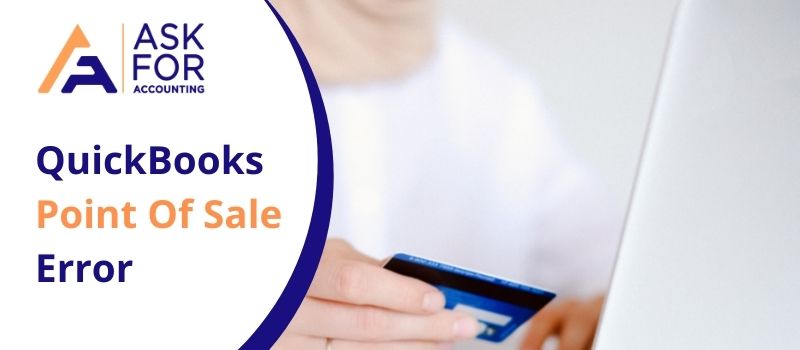 QuickBooks Point of Sale is a retail solution that can be seamlessly integrated with various third-party applications and POS stands at top of them. But many times you may face an error Initializing QBPOS for which you would be required to do QuickBooks point of sale error.
Though there are many errors that you can come across while using QuickBooks or at the time of initiation, here we will walk you through some of them that trouble us the most.
QuickBooks is comprehensive accounting software and you can work on this solution from anywhere, anytime. You can easily link your account with QuickBooks and it will automatically manage all your transactions. Also, by adding the Payments to your QuickBooks POS, you can make credit card processing fast and easy. But since it is easy to use the software, it can sometimes be difficult to manage and understand the program, keeping in mind the technicalities involved.
Troubleshooting QuickBooks Point Of Sale Errors
Here are some errors and their troubleshooting steps that will resolve your QuickBooks POS issues.
Steps to Fix QuickBooks POS Server Connecting Issues
There can be several instances where you can come across connection issues that say, QuickBooks POS not Connecting to Server. If this so happens, then here is what you would need to do:
Switch off your workstation that has POS installed on it.
Restart your server.
Reboot your client workstation.
Start POS on your client workstation and then try to connect it with QuickBooks POS data file from the server.
Steps to Fix QuickBooks POS Tracking Promotions
You also have an option to track promotions and report your sales in your Point of Sale.
If your application in unable to do so then you will have to update your application.
After that, Reboot your system.
If the issue still continues then you will have to get in touch with QuickBooks Pro-advisor expert.
Steps to Fix QuickBooks POS Installation Errors
If you are trying to upgrade your QuickBooks POS 12.0 R1 to R4. After upgrading your application, you are opening your QuickBooks Company file, it may take some time in doing so. It generally happens the first time, if you are opening the file after the R4 installation from R1. Follow the steps below to resolve this QuickBooks issue.
Check for the space availability in your hard-disk.
Update all your workstation to R4 release, so that your POS do not have connectivity issues.
After you have started the processing for the update, do not click on cancel. Allow the up-gradating of the database to complete before you start working on POS.
Steps to Fix QuickBooks POS Error Code 176109
You will come across this QuickBooks error when you are trying to upgrade your POS to the latest updated version. You can also come across this error when you are trying to add more users to the account that was already in existence or you entered the incorrect product key. Here are some ways through which you can easily verify your products.
Go to Help and then click on About Point of Sale.
Check for the Product Number.
Log in to your system as an Administrator.
There are chances that if you eliminate the admin rights, your POS Client Entitlement folder can get corrupted.
To repair them, go to Start
Click on the Control Panel and go to the Folders
Select the View tab from the dialog box and click on the Show hidden files, folders, or drives
Press OK.
Go to your system's Local C: Drive and then click on the Program Data.
Click on Intuit and then select the Entitlement Client
Go to the option v8 and then
Press Ctrl + A and select the entire folders and delete all the folders.
QuickBooks is easy for those, who know it, but if you are a beginner then you may face QuickBooks Point Of Sale errors and issues even when operating it. In an age where everything is getting digital, you cannot afford to use traditional methods of accounting. Thus don't scare yourself with the errors you may face but rather keep help at hand.
If you don't know anyone to reach out to when trying QuickBooks point of sale troubleshooting, then dial us toll-free to speak to QuickBooks point of sale support experts. Access us via call or simply chat with us for QuickBooks help.
Get solutions to all of your accounting and bookkeeping problems with industry leading experts