In this article read causes and how to fix "QuickBooks shipping manager not working" or "shipping manager database error". But there can be times when you may report that the QuickBooks shipping manager not working then below is how you would be troubleshooting.
An accounting program like QuickBooks is convenient not only because of its capabilities in managing finances but because of its flexibility to be used anywhere. It is no longer limited to a single industry but is being widely used everywhere. In fact, you can power up QB by integrating the program with certain 3rd applications.
Reason QuickBooks Shipping Manager Won't Open
If you are already using the add-on to manage your shipping business and if the app is not working for some reason then you will see an error like:
You may be accessing shipping manager from client's computer.
You may have corrupted database.
QuickBooks may be at fault.
"

The Database Manager is newer than the app itself. Resolve this issue

."
How to Fix your Issue QuickBooks Shipping Manager Not Working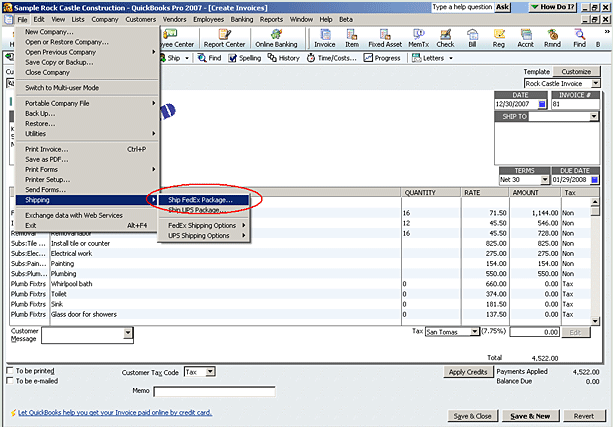 If you are facing QuickBooks shipping manager won't open error while working on QuickBooks Desktop then follow the steps given below:
Total Time: 25 minutes
Step 1: Log out and Close QuickBooks
🔹 The very first thing you would need to do is log out from the application.
🔹 If you are already using QuickBooks, then closing the program is recommended.
Step 2: Change Folder Name
🔹 Now head over to the below-given path and Change the name of the folder.
🔹 If the folder is named like XYZ then replace it with XYZOLD.
🔹 This will help you identify between Old and New folders.
🔹 Here is a path to find the Shipping Manager folder:
● Head over to your C drive,
● Double click on the Program Files,
● Now choose the company file and click over the Intuit folder,
● Here is where you will see the Shipping Manager folder.
● Rename the folder by placing OLD in the end.
Step 3: Run the Installation Wizard:
Here you will need to run the repair tool, uninstall the program and then Re-install it. This will help you repair any error you are facing within the program. The way you can do this is by:
🔹 Creating and securing your backup. If you are facing any issues while creating backup
🔹 Once the backup has been secured, now from the Start menu, click on the control panel tab.
🔹 Uninstall the program using the Programs tab.
🔹 This you can do by clicking on the program named "QuickBooks" and choosing to uninstall the program.
🔹 When the uninstall is finished, you will receive a message. Click OK and then Next.
🔹 Finish the task.
Step 4: Reinstall QuickBooks Point of Sale:
Uninstall QuickBooks Point of Sale
🔹 Open the Run window (Press Windows + R)
🔹 Enter Control Panel then click on OK
🔹 Now, Select Programs and Features
🔹 Choose your QuickBooks Desktop Point of Sale version
🔹 After that select Uninstall/Change
🔹 Follow all on-screen instruction
Reinstall QuickBooks Point of Sale:
🔹 Go to Downloads & Updates page
🔹 Then, select United States (US) or Canada as your country
🔹 Choose product QuickBooks Point of Sale
🔹 Now, Select QuickBooks POS edition and version
🔹 Click on the Download button
🔹 After QBPOS downloaded, Open the QBPOS installation file
🔹 Select Next on the wizard to start the installation process
🔹 I accept the terms in the license agreement
🔹 Enter your license and product number
🔹 Select Install to begin the installation
For QuickBooks 2013
For QuickBooks 2015
For QuickBooks 2016
For QuickBooks 2018
For QuickBooks 2020
Step 5:
🔹 Now that you are done with the installation process, open the program.
Step 6:
🔹 Head over to the files menu and select from the options like UPS shipping or FedEx shipping.
Step 7:
🔹 Hit the settings tab and re-enter your credentials.
Step 8:
🔹 Hit applies changes and you should be fine.
Setup QuickBooks Shipping Manager Account:
Use QuickBooks Shipping Manager
Shipping manager is one such program that can boost your performance. Today people are using QuickBooks to manage their businesses which include:
Thus, it is no longer industry-specific. In fact, you might get confused on choosing the platform but you will never run out of options, such is the beauty of the program.
Add-ons…
As said already that you can use QuickBooks in highly productive ways and to do so, you would need to use add-ons. They are little plugins of codes that add to the functionality of your program. Shipping manager is one such app that you buy as an add-on to manage your shipping business.
When you are all done then you should face no issues now. But if you still see the same error again "QuickBooks Shipping Manager Not Working" and "QuickBooks Shipping Manager Won't Open" then there must be some issue going on with your QuickBooks account.
FAQ's
How does QuickBooks Shipping Manager help you?

You can process shipments and print FedEx, UPS, and USPS labels from within QB using QuickBooks Shipping Manager. You can also arrange pickups and keep track of packages in QuickBooks. The customer address details from your QuickBooks Invoice or Sales Receipt forms are pre-filled on the shipping labels by the Shipping Manager. Shipping Manager is already built into your QuickBooks software and you can sign up for Shipping Manager through your QuickBooks software and start using it right away.

How do I Set up a QuickBooks Shipping Manager for FedEx in QuickBooks Desktop?

● Go to the File menu >> Shipping >> Ship FedEx Package
● Select the option "I agree to terms and conditions" after reading the End ● User License Agreement and then select Next
● After that, enter the information related to the account
● Next, configure the printer settings and additional printer settings will be available after the setup is done
● Once done then select the Next tab
● After the account is configured completely, you have to select the Finish tab
● And you are all set to proceed with the shipment process.

What are the steps involved in turning on the Shipping Manager Service in QuickBooks Point of Sale?

However, the QB Desktop POS only works with UPS and you can turn on Shipping Manager with the help of the below steps:

● Go to the File menu >> Preferences >> Company
● Select the General from the left menu and then choose the option "I want to record shipping addresses on sales receipts"
● Again from the left menu, select Sales >> Shipping and then select the "Use QuickBooks Shipping Manager" option
● Now, in the Shipping Providers list, add, or remove the service or providers
● In the end, select the Save button.

Is it possible to track the shipments via QuickBooks?

Yes, you can easily track shipped packages through QuickBooks.

● You just need to go to the File menu and then click Shipping.
● After that, click on the FedEx Shipping Options, UPS Shipping Options, or USPS Shipping Options (select as you desire).
● For QuickBooks POS users, click on the Point of Sale menu and select QuickBooks Shipping Manager.
● After done with that select Track or Cancel a Shipment.
● Now, you are required to highlight the line item and click on the Track button.