Updating QuickBooks to different versions comes with its own set of problems. In this article, we have detailed the road map that users should follow for "Upgrade QuickBooks 2013 to 2016".
There have been drastic improvements in the last few years. Many accounting features and tools have been introduced in QB. Users can now perform batch actions. Also, security options have been taken up a notch.
Backup your Data Upgrade QuickBooks
Create a backup of all company file data and store it on another system. Errors and issues can be a big threat to the accounting data that you have collected over the years with QuickBooks. After creating and transferring the data, follow the steps to Upgrade QuickBooks 2013 to QuickBooks 2016.
How to Upgrade QuickBooks 2013 to 2016: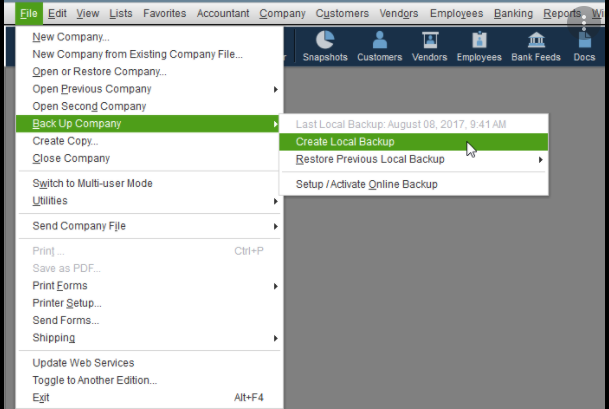 For updating the software, we will first download a copy of QuickBooks 2016 or 2017 installer from Intuit's website. After the installer has been downloaded, follow the steps provided below to complete the installation for QuickBooks 2016.
Total Time: 35 minutes
Step 3:
🔹 Select Upgrade QuickBooks
Step 4:
🔹 Select the Version to which you want to upgrade the software.
Step 6:
 🔹 Choose 'Reset Update'. Then select Get Updates button.
Step 7:
 🔹 Wait for the files to download
Step 8:
🔹 Double click on the installer for QuickBooks 2016 or any latest version that you have downloaded.
Step 9:
🔹 Select express install button.
Step 10:
🔹 Agree to the terms and conditions to proceed.
Step 11:
🔹 Browse to the location at which you want to install the software.
Step 12:
🔹 Click on Finish when installation is completed.
Once QuickBooks 2016 is installed, launch it. Do not uninstall or delete QB 2013 just yet. We need to ensure that data is imported successfully into QB 2016 before removing QB 2013. We have provided the steps for importing all accounting data from QuickBooks 2013 to 2016.
How to Update QuickBooks File with Ease:
Simply downloading a newer version of QuickBooks will not solve the purpose. Your QuickBooks company file needs to be updated first, as you would want to work with your previous data as well. QB stores all accounting data in the company file. These company files are automatically converted to a higher version when imported into a new version of QuickBooks.
Steps to Update QuickBooks File:
Before updating your QuickBooks Company file, we request you to be extra conscious as you would be dealing with your own financials. Thus create and secure backup of your company file in some external device if possible. Now follow the steps to upgrade.
Open QuickBooks 2016 or any new version you have downloaded.
Click on Browse button.
Browse to the company file that you want to import.
Click on Import.
QuickBooks will begin the conversion of this company file to a higher version.
Time taken to convert all the data in the company file usually depends on the size of the company file.
Also, plug in your system while the data is being imported.
Click Yes on the confirmation box for file conversion.
Data file formats for versions of QuickBooks are different.
Luckily, QB can automatically convert the company file to the format of the version in which the company file is being imported.
Once QB has imported the data and converted it, you will be able to view and work with all this data.
Issues and errors can arise during this process. This is why we recommend being extra conscious and have a backup copy of the company file before updating to a newer version. Also, transfer this backup to another system.
QuickBooks 2013 Error:
If you encountered any issues or you are still not able to resolve your query "How to Upgrade QuickBooks 2013 to 2016" then click on the restore data button rather than on importing the file or contact QuickBooks error support team. If the error persists then use QB 2013 until the issue is resolved.

For more get in touch with our QuickBooks upgrade support who are available day and night to fix your issue.
FAQ's
Why upgrade QuickBooks 2013 to QuickBooks 2016?
The upgrade is an important thing that everyone must do. When the upgrade is available then do it on regular basis. This helps you to keep your software up to date and provides you new and improved features and benefits. The upgraded software help in growing your business. You also get fewer problems and errors if you upgrade or update it on time.
How and why back up the company files before upgrade QuickBooks 2013 to QuickBooks 2016?
● In QuickBooks, click on the File menu
● Further, select the Backup company file option
● Click on Create Local Backup 
● In the open up window, click on Local Backup 
● Then to continue click the Next button
● Search for the location to save the backup company file by clicking the browse button
● Then select the location and click ok button
● When you are all set click on Save it now 
● In the end, click on the Next button to start the backup.
What are the steps to restore the backup file if required after upgrade QuickBooks 2013 to QuickBooks 2016?
● Go to the File menu in QuickBooks software
● From the drop-down menu, click on Open or restore company
● Further, select the restore a backup copy
● Then click on the Next to continue
● Select the Local Backup option then click the Next button
● Search for backup company file by hitting on the Browse button
● Select the backup file with .QBB extension
● Choose the folder where you want to save the restored file
● Click on the Open
● When all done, click on the Save button.