At times, some errors happen when you try to open your Sage 50. One of the most common errors is the message, "Activation Key For Sage 50 Has Expired". These Sage errors can hinder the progression of your task, which could result in either waste of resources or monetary losses.
If you are like us and do not welcome any losses then you should get yourself connected with Sage 50 Consultant to get easy assistance for your problems. With that said, let us figure out your issue and find out the most optimal solution.
Speak to a Specialist about Your Sage Software
Get instant assistance with Sage accounting software. Our Sage experts are available 24x7 and resolve issues within minimum turnaround time. We support both US & Canada Editions of Sage 50 Software.
We get help you on these Sage 50 topics
Downloading
Installing
Activation
Import and Export
Data Conversion
Payment Solutions
Upgrade & Update
Payroll Solutions
Integration
Printer
Tax-Related
Data Recovery and many more.
Sage 50 error your activation key has expired. Would you like to activate now?"
What does the error message say when your Activation key for Sage 50 has expired?
The screen shows the following message when encountering this error.
The error is as follows.
"Cannot open this program on the server; which could be instantly followed by, 'You have reached the maximum allowed connections."
Or
"Cannot open this program at the workstation."
Or
"The activation key for the program has expired."
The following are the error messages that appear on the screen when your Activation key for Sage 50 has expired.
Reasons for Sage Activation Key Expired
Following are the possible causes for the Sage 50 Activation key expired error. These are as follows.
The program pervasive might've gotten damaged somehow.
The pervasive license key has expired
It can be because, On the workstation, the data route is wrongly set.
Some files in the data path have been damaged.
The data path is not correctly set on the workstation.
It's also An anti-virus firewall that is preventing the activation.
How to Resolve Sage 50 Expired License Key Error
No matter how stressful an error is, it could be easily resolved through a proper method. Follow these steps to resolve the issue Sage 50 activation problem.
Total Time: 20 minutes
Step 1: Rename File to resolve the sage 50 activation key has an expired error?
🔹 By renaming certain files in your data path, this error can be solved. The name of the files are as follows.
● Envuser.dat,
● Envsess.dat,
● Envsetng.dat,
● Options.dat,
● Serial.dat,
● Serial.dat.bak,
● Clientinfo.xml,
● Entitlements.xml,
● Software Installations.xml.
Step 2: Installing Pervasive again
🔹 Removing Pervasive: Shut down Sage 50 Accounting- US Edition.
🔹 Hit Windows+R Key on your keyboard.
🔹 Type down Control Panel in the given field, and hit Ok.
🔹 Go to Program and Features.
🔹 Find listed versions of Pervasive PSQL Workgroup Engine and uninstall them.
🔹 Exit the Control Panel.
🔹 Once again hit Windows+R Key, type C: and hit
🔹 Delete any folder or files that you find related to keywords pvsw, pvswarch, PSQL_v[version number]_Install.log.
🔹 Go to C: Windows and delete log (If there is).
🔹 Now go to C:ProgramData.
🔹 Find the Pervasive Software folder and rename it to OldPervasive Folder.
🔹 Go to C: Program Files or C: Program Files (x86)
🔹 Find the Pervasive Software folder and rename it to OldPervasive Folder.
🔹 Go to C: Program FilesCommon Files or C: Program Files (x86)Common Files.
🔹 Find the Pervasive Software Shared folder and rename it to OldPervasive Folder Shared.
🔹 Close the window.
🔹 One more time hit Window+R Key, enter regedit, and hit
🔹 Right-click on Computer, Export, to save the Registry backup to your desktop.
🔹 Go to HKEY_LOCAL_MACHINESoftware or HKEY_LOCAL_MACHINESoftwareWow6432Node
🔹 Delete Pervasive Software and
🔹 Finally, close the Registry Editor.
🔹 Removing Activation files in the data path: Remove these files: DAT.BAK, SERIAL.DAT, ClientInfo.xml, Entitlements.xml, SoftwareInstallations.xml, Any *.PTL files, Any *.LCK files.
🔹 Manually Reinstalling the Pervasive: Go to C: SageSage50_[XXXX] (Where XXXX is the version)
🔹 Access the folder- PervasiveMin
🔹 Right-click MSI and select Run. Hit Next.
🔹 After accepting the License Agreement, follow Run as a Service > Complete > Next > Install > Finish.
Follow this Guideline if the Data Path is Not Correctly Set on the Workstation
Start with confirming the location of data on the server.
Now generate a new text file in the location of data.
Go to Workstation and locate the path given in the configuration file.
Follow the given path and ensure that you find the text file we created in the second step.
In case you can't find a said text file, ensure that the mapped drive to the location of data is there. If not, create one.
Now edit the configuration file we looked for in the third step to redirect to the correct location of data.
Get solutions to all of your accounting and bookkeeping problems with industry leading experts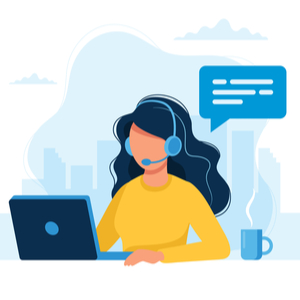 FAQ's
Is it possible and How can one reactivate their Sage 50 Account?
Yes, it is very much possible to reactivate one's Sage 50 Account.
Here's how to do it:-
● First, go to the Help option tab.
● Once you click the same, next, proceed to the sage 50 Activation option.
● Third, Click Activate Online Now.
What exactly is meant by the term reactivating your account?
The prefix re- denotes "again" in the phrase reactivation. When used with the word activate, reactivate means "restart." If your email account was disabled due to a password issue, for example, you would contact tech support to reactivate it.