At times people complain about "Sage 50 running slow over network". It doesn't speed up no matter what troubleshooting method one uses. Even after switching to the new server and utilizing a new gigabit switch, the problem remains the same.
So what is to be done in this scenario? This is where we come in. Our Sage Consultant pros are there to help with this issue, where sage is slow. Thus let's just get right into it.
Speak to a Specialist about Your Sage Software
Get instant assistance with Sage accounting software. Our Sage experts are available 24x7 and resolve issues within minimum turnaround time. We support both US & Canada Editions of Sage 50 Software.
What is Sage 50 Running Slow Over Network
Unlike any other application which has only one file where the data is stored, Sage 50 uses 240 flat files and indexes to do the same. This could create a lot of hassle in a multi-user environment, which is normal in the case of Sage 50. The result of such a complex environment is the slowing down of Sage 50 over some time. You will need to configure your network to the needed standard to resolve the Sage 50 running slow over network or windows 10 issue.
Sage 50 program is slow, locks up, hangs, or freezes
Causes Sage 50 Running Slow Over Network
If you're experiencing slow performance or errors when using your Sage 50 software, there are a few potential causes and reasons.
Pervasive is running as a pre-load
Pervasive damage and needs to be installed again
Sage 50 on server permission settings over the network are preventing
Steps to Fix Sage 50 Running Slow Over Network
If your Sage 50 is running slowly over the network, there are a few things you can do to troubleshoot and fix the issue.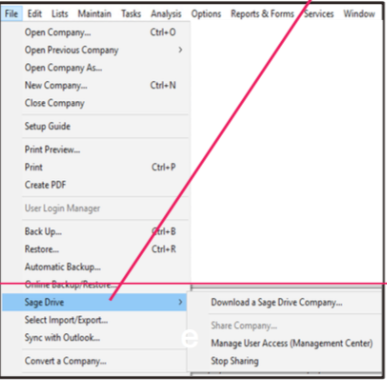 Step I: Run Sage 50 as Administrator
Select Properties by right-clicking on the desktop's icon for the Sage 50 Accounting software.
After choosing the Compatibility tab, check the box next to Run this program as administrator and then you have to click OK.
Step II: Antivirus
Create a full backup of your Sage 50 files.
Disable the anti-virus program for a temporary period.
The reason is, that Sage opens and closes its files in the background to help it run properly and keep the system up to date.
There is a lock file Queue.dts which is accessed by Sage accounts over the multi-user environment to help it communicate with the other computers on the same network.
Anti-viruses check in on these operations which run in the background and the process gets overloaded.
Once you have disabled the anti-virus, check the speed of your Sage 50 again.
If you see that there is no improvement in the speed, then you will be required to uninstall the AV package both from the Server and the computer systems you are using.
Now check the speed again. You have figured out the root of the problem if you can see the improvement in the speed of the program.
Now you will need to put Sage 50 as an exception in the Antivirus program of your computer.
Step IV: Disable VPN's
Installed Avast Secureline VPN should be temporarily be disabled and then reactivated after running Sage 50.
Step V: Clean Windows Temp Folder
In the run command, you have to type%temp%.
All folders and files are highlighted.
Choose Delete.
If a notice stating Folder In Use appears, choose Skip. Otherwise, you can choose Do this for all current items.
Re-open Sage 50 again.
Step VI: Verify User Preferences
Select User Preferences, then Options, then Setup.
Refresh lists are automatically deselected.
De-select Automatically Refresh Record Balances and Calculate Record Balances in Home Window Lists by Session Date.
Open a report or try posting an invoice right now.
Step VII: Open Sample Company
Check to see if the sample company is operating.
The company file can be corrupted if the sample company opens and functions.
Step VIII: Computer Settings
Since many issues may slow down your program, if the error "Sage 50 Slow Over Network" persists then you may have to play a little with your computer settings.
Oplocks Disabled REG_DWORD 0 or 1
Default: 0 (not disabled)
Set to "1",
Step IX: In the Case of the Server
Follow this path: HKEY_LOCAL_MACHINESYSTEMCurrentControlSetServicesLanmanServerParameters
Enable Oplocks REG_DWORD 0 or 1
Default: 1 (Enabled by Default)
Set to "0"
Disable the SMB signing if it is not yet.
See if "Enable NetBIOS over TCP / IP" is enabled on the network card.
Ensure that all the versions of Sage installed on the computer systems are the same.
Sage Check Data and Sage Compress Data Routine should be performed now.
Change the Printer that is the default. Some Printers come directly into conflict with Sage.
Ensure that the disk space is adequate enough on the computer systems.
Steps X- CPU and Physical Memory Usage
Checking the CPU and Memory utilization percentages, or pressing Ctrl, Alt, and Delete at the same time to bring up Windows Task Manager, will show you whether the computer is running low on resources. Windows Task Manager will display the usage percentage at the bottom.
Step XI: Increase Connection Manager Memory buffer size
Shut off Sage 50, Open Sage 50 Connection Manager by clicking the Windows system tray icons, changing the default memory buffer size (in MB) from 56 to 128 before clicking Stop Service and then Start Service to restart the Connection Manager. (Increasing it to more than 128 mb is not required.)
Step XII: Clear data
First, you have to go to Maintenance, Clear data, make a backup or test copy, and then attempt to clear the data.
Choose the module with a lot of records.
You can examine how many previous years the database contains by going to Setup, Settings, Company, and Information, and then try to clear one or more years at once.
If there are no records from the previous two fiscal years, you can delete multiple records, such as projects or inventory items.
Method to Fix the Sage 50 Slow Performance Windows 7, 8, & 10
Step 1: Check for and Install Windows Updates
On most Windows 10/11 or Windows 8.1 computers, go to Control Panel > Windows Updates or use the search box in the bottom left to look up Windows Updates.
Note: Found that moving to Windows 10/11 can fix a problem with the.NET upgrades 4.5-4.7 not installing on Windows 8.1. The introduction of Sage 50 2018.0 depends on these updates.
Step 2: Windows Defender Firewall Exclusions
By including the suspicious file in the exclusions list, you can prevent Windows Defender Antivirus from warning you or disabling the program if you trust a file, file type, folder, or process that it has identified as malicious.
Select Virus & threat protection > Virus & threat protection settings > Add or remove exclusions after opening the Windows Defender Security Center.
Select the files, directories, file types, or process under Add an exclusion.
In C:\Program Files (x86), it is advised to add the file extensions.SAI and.SAJ as well as the folders for Sage 50 version 2017 and 2018 and WINSIM. Don't forget to include the folder location where your business's database is kept.
Step 3: Try Run as Administrator
If you are not able to set your Sage 50 icon to always run as Administrator? If you get an error of access denied and have Windows 10 or 11 Family/Home Version? Windows Professional version gives you more features. By right clicking the Sage 50 icon and selecting run as administrator each time Sage 50 needs to be opened as a workaround you can try and run as admin manually. It is no longer possible to access Properties >Advances to permanently set this as default, as of Windows 10.
Step 4: Add Folder Permissions to Database Location
You have to go to main folder that contains your Sage 50 database and then right click and select Properties in Windows Explorer.
Then you have to uncheck the read-only box on the Generab tab and then you have to go to the Security tab.
Now you have to click Edit on the Security tab. Then you have to add everyone
Now you have to check the Full Control and Modify boxes checked and then you have to click Apply and Ok.
These simple steps will ensure complete and thorough troubleshooting of the "Sage 50 running slow over the network" error that you encounter on your computer system. If you still cannot resolve this issue, get in touch with our Sage 50 Consultant team. We have a brilliant bench of Sage Experts connected through chat.
Frequently Asked Questions
Why is my Sage 50 running slow?
Sage 50 runs slow because of the volume of data or data corruption.  There can be other environmental issues such as computer/network antivirus software. A known issues or it can be remote data access issues.
Speak to a Specialist about Your Sage Software
Get instant assistance with Sage accounting software. Our Sage experts are available 24x7 and resolve issues within minimum turnaround time. We support both US & Canada Editions of Sage 50 Software.