Today, in this blog, you get all the news, system requirements, download, and installation methods to upgrade Sage 50 to the latest release 2023 or Install Sage 50 latest release.
If you want to work to grow your business, then Sage is the best accounting software you can use to grow your business management. Sage comes with regular updates and features for growing your business.
Speak to a Specialist about Your Sage Software
Get instant assistance with Sage accounting software. Our Sage experts are available 24x7 and resolve issues within minimum turnaround time. We support both US & Canada Editions of Sage 50 Software.
Are you also looking for the new update or release information for Sage 50 2022 latest release? The latest version of Sage 50 2023, has access to all new, enhanced features and benefits. There are also new systems that need to be fulfilled before the latest 2022 release begins. One of the latest updates of Sage upgrades older version 2015, 2016, 2017, 2018, 2019, 2020, 2021 and 2022 to the latest version 2023.
Things that are Must before Upgrading Sage 50 Older Version
Higher Internet connection speed
Close all background processes
Check for system requirements according to the software update version
Turn off Firewall and antivirus temporarily.
Upgrade Sage 50 from Older Version to Sage 50 2023 Latest Release
Updating your accounting software to the last version, reduces the time and improves the efficiency of your business. We hope now you have enough information on how you can update or upgrade Sage 50 software to the latest version 2022 or 2023.
It is advisable, before making complicated upgrades, that you create a backup of the corporate data. A few crucial indicators are below:
You need to fully uninstall your Sage 50 to upgrade to the Accountants edition.
Then reinstall using the Accountants Edition serial number.
Follow the steps below to Upgrade your Older Version to Sage 50 latest 2023
Open your Sage 50 files in a single-user mode as System Admin.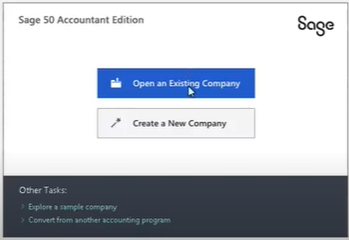 Go to the Help menu next and choose Product Upgrade Sage 50.
Replace your new serial number with the old serial number.
Now choose the option Retrieve my key code from Sage 50.
Next, select "Use this key and enter the key manually (if you don't have a web connection, then it will show Sage 2020 failed to update Sage 2022 or 2023).
Allow to add licenses for more users– You can update your application to accommodate more users if you want to add or increase the number of concurrent users in your Sage 50 software. If you don't use the latest release, you will be given the latest release and at the same time switch to a higher Sage 50 accounting product.
Upgrade Sage 50 from a Lower Edition to a Higher Edition 2023 or Change Number of Licenses
For example, moving from Sage 50 Premium to Sage 50 Quantum, if your business needs a richer set of accounting features then you can move to a higher Sage 50 accounting product or the latest release version. This choice also updates your version of Sage 50 if you don't already use the program's latest version.
In this section we explains you to how to upgrade your current version of Sage 50 to a higher edition 2023 or change number of licenses.
Step 1: Upgrade from Sage 50 Pro to Sage 50 Premium or from Sage 50 Premium to Sage 50 Quantum
Sage 50 files can be opened as sysadmins in single user mode
Now, you can upgrade your Sage 50 product by selecting Help, then Upgrade
Relaunch the program in single-user mode or open a sample company if the Upgrade button is gray
Replace the old serial number with the new one in the Sage 50 Product information window
You can retrieve your Sage 50 key code online if you are connected to the internet and then Click OK
Perform the above steps on all Sage 50 workstations.
Step 2: Adding or modifying user licenses
Open the Sage 50 computer file in sysadmin single user mode
Upgrade Sage 50 by going to Help and Upgrade Sage 50
The serial number should be changed to the new one
The serial number determines how many user licenses are available
To retrieve the key code online, click OK.
Step 3: Upgrading from Sage 50 Pro, Premium, or Quantum to the Accountants Edition 2023
First Uninstalled Sage 50
Then reinstalled Sage 50 using the same installer file and the Accountants Edition
Now enter serial number provided by your account manager.
If you have more than one computer or laptop, repeat the steps.
Steps to Download Sage 50 Latest Version
Follow the following steps easily to download updates from programs:
On the server open the Sage program, then Services Option, and finally click on the
Check for the updates option.
Go to the options and click on Check.
Now select the option Sage 50 2022 or Sage 50 2023 Upgrade and click the Download option after you click on check it.
Once you have finished Sage downloading, close Sage and follow the on-screen directions for installation.
Get Ready for Sage 50 2023 Installation
You must arrange some needs so that it can be installed without a problem before beginning with the set-up of Sage 50 US 2023. The following are the points you need to examine.
Check whether systems fulfill the minimum system needs.
Before Sage 50 US 2023 is installed, restart the computer to close all Microsoft and other non-important computer software.
Make sure the antivirus is turned off before installing it.
You can reactivate the anti-virus once the installation is complete.
Turn your firewall on and activate notifications.
The user account control settings must be minimum and not maximum, you can request administrative access in these procedures, and if your system requests an admin login, you can contact your IT staff.
To make any modification to the control of user accounts.
What are the Benefits of Converting to the Latest Version 2023
Sage can assist you with simplifying and streamlining accounting and bookkeeping activities such as:
You can connect your bank, share company data, view data remotely, and add customer payment choices with a single login to all your connected services.
Gmail, which has been updated to meet Google's new security standards, will provide you with greater security.
Get rid of manual accounting and the associated human error.
You'll get a slew of automatic capabilities with this Sage 2021 upgrade, including cost, invoices, payments, bills, receipts, and bank statements, that will assist Sage 50 users in minimizing human data entry tasks.
The problem with the mouse freezing or experiencing severe lag time while working in Sage 50 has been resolved.
System Requirements: Sage 50 US Edition 2023
You have to meet certain prerequisites to use the Sage 50 2023 download without having to face any difficulties. Sage 50 2023 system requirements are as follows:
Single and multi-user RAM required is 4 GB.
Windows 10 and Windows 8.1 are required to operate the system.
Disc space is 1 GB for software installation.
2.0 For single or multi-users, the GHz processor is required.
Internet Explorer 11.0 is necessary.
4.7.2 Framework Microsoft.NET.
Less than 15 characters are required for the computer name.
For firms with Sage, Drive Size is 5GB for Max File.
This blog includes all the necessary information so you can download and install the software easily. You can also review the system requirements and the new features you will get with the download of Sage 50 2023. You may contact Sage 50 Consultant a well-versed staff of specialists whenever you have a problem.
FAQ's
How long does it take to upgrade Sage 50?
Normally, the entire process takes 90 to 120 minutes. There are aspects of the Sage 50 to Sage 100 upgrade that, if you are able and willing to do so, can be completed without the help of a professional consultant.
Do you need to upgrade Sage 50?
Installing the Sage 50cloud Accounts v20 upgrade is something we advise. You may easily do this by checking your Sage 50cloud Accounts program for updates: Log in as the administrator to your computer.
Is the display resolution necessary for downloading the Sage 50 2022?
It is necessary to show at least 16-bit SVGA color. A minimum resolution is 1290 x 800 and the ideal resolution is 1440 x 900 or greater.
What should you do if you have Windows 8 and want to use Sage 50 US 2022?
You must upgrade your Windows operating system in this instance to use Sage 50 on Microsoft windows. The following are the steps for upgrading Windows:
● Activate the Control Panel.
● Then select the Windows update option.
● Check for the latest update.
● Then you need to download and install it on your PC.
Can you easily update my Sage 50 account?
Yes, you can update it from an older Sage 50 version to the most recent release of your current program in a few simple steps.
These are the steps.
● Download the most recent Sage 50 2021 U.S edition and Sage 50 2021 Canadian edition & Sage 50 2022 release.
● Navigate to the downloaded file on your PC.
● Then, to update, double-click on the.exe file.
● Follow the instructions in the installation wizard and press the Next button until you reach the Finish button.
● You can use the software and do your job after the installation process is complete.
Speak to a Specialist about Your Sage Software
Get instant assistance with Sage accounting software. Our Sage experts are available 24x7 and resolve issues within minimum turnaround time. We support both US & Canada Editions of Sage 50 Software.