If you are new to using QuickBooks and don't know How to "export customer list from QuickBooks to excel" then just follow the step-by-step process here. If you are using QuickBooks then rest assured that you will never lose your customer contacts.
This is because the software saves the list of your contacts and other relevant information automatically, and within itself. This makes it really convenient for QB user to invoice their customers as and when required without any loss of time and energy. Since customers are of prime importance to any business thus here is how to "export customer list from QuickBooks to excel". If you ever want your customer list to be used externally, then all you need to do is export the file to excel.
How to Export Customer List from QuickBooks to Excel
Using the functionality (customer center) within the program you can easily transfer or export customer lists from QuickBooks to excel with ease. All you would need is to download the file in a .csv format. To download your file, follow the steps below.
Login to your QuickBooks account.
From the top navigation menu, locate and click on the customer center You will now see a different window displayed.
If you have a list of selected customers that you want to export then choose them one at a time.
To see the list of all the customers, click on the customers & Jobs tab and you will now be able to view the complete list.
Filters come in handy if you want to export the list of only those customers who fulfilled certain actions. E.g. customers who live in a certain location and visit you frequently.
To apply filters, click on the down arrow under the view tab and specify your criteria.
To download your report to excel, click on the excel tab at the top of your displayed window.
Choose to click on the "Export customer list" tab.
From your active screen, choose to create a new worksheet.
If you want your excel file to be nicely formatted with all the values separated by commas then click on the Advanced tab.
Check to mark the box where it says, keep comma-separated values within your Excel file.
Finally when you are ready with your specified criteria then click on the Export button.
Your file will now be successfully exported in a .csv format with excel.
Exporting or downloading a file from QuickBooks is not a complicated process at all, but if you are new to using a program then you may face issues. Though we tried to cover every aspect of your query How to export the customer list from QuickBooks to excel if you still find issues then do write to us in the comment section below.
If you need any instant help from Askforaccounting.com then give us a call and talk to our QuickBooks Experts now. You can even give us a call at our QuickBooks Consultant help for USA, UK, and Canada and talk to our Experts now.
Get solutions to all of your accounting and bookkeeping problems with industry leading experts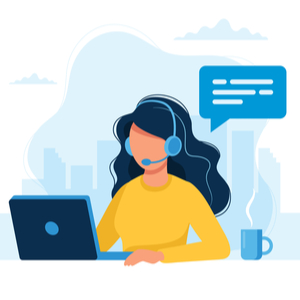 Frequently Asked Questions (faq)
Is it possible to export customer Data from QuickBooks Online to Excel? If yes, then how?
Usually, it is possible to export customer data from QuickBooks Online to Excel. And it costs not one but two unique ways, the following two ways are known: 
From the Reports Page 
And, from the Customers Page
What all comes under the data bar if, one exports customer data from the Customers page?
If you go about exporting Customer data by using the Customers Page type, it will mainly include the following in the list:
● Company
● Name
● Phone Number 
● Address
● Email Address 
● Attachment 
● Balance 
● Currency
● Notes 
How can one export customer data by using the customer's page type?
For exporting Customer data by using one of the methods, known as the Customers Page Type. for an accurate method and better understanding, let's take a look below:
● First, you need to Select Customers from the Get paid & pay or Sales menus.
● Second, proceed to Choose the Export icon, which is located next to the Print icon.
● Third, finally, click Export to excel.
Is it possible to modify a report in QuickBooks from the Reports Page?
The answer to this question is a sure Yes, for modifying the report run through the following step and make sure that you perform it accurately.
Here's what to do:
For modifying the report, you need to go to the icon and then proceed to select the three vertical dots present, and then hit the option customize.