"QuickBooks Error 6176 0" occurs when you're opening your company files. Error Code -6176, 0 usually occurs when the firewall is blocking the connection between the two computers.
QuickBooks is a comprehensive solution developed by Intuit for small and medium industries. It is built on a user-friendly interface but there are occasions when you may encounter issues. One such error is QuickBooks Error -6176, 0.
You may have to face the following problems while creating or opening the company data files. Whenever you receive such an error then the error message that appears comes something like this:
"QuickBooks software isn't able to establish a connection with the program."
OR
"QuickBooks is unable to establish connectivity with your Network ID server."
You basically lose the connection to your QuickBooks company file.
There are Various Reasons which are Responsible for this QuickBooks Error 6176
You may not have permission to access certain folders.
Your Firewall settings may be hindering your work.
Issues with internet setting for your windows.
The file you are trying to access cannot open as it is opened in another program or it is a read-only file.
Important Note

: 

QuickBooks software won't function properly, if you run it through virtual server. It means that you want to access any company files through virtual server; there are chances that you may encounter this error. In such cases, it is recommended that you fix this error by navigating these company files through Windows

.
If you access or store company files using the Virtual network, you will have to navigate those company files to the Windows computer and fix the error. QuickBooks cannot get the network address of the server. We recommend you download the QuickBooks Connection Diagnostic Tool which can access and possibly correct the problem.
Solution Steps to Fix QuickBooks Error 6176, 0
Here are some solutions recommended by Intuit experts to resolve QuickBooks Error -6176, 0:
Total Time: 30 minutes
Solution 1: Opening the Company File again
🔹 Close the QuickBooks software.
🔹 Reboot your system, and then try to open your file again.
Solution 2: Check for any QuickBooks Update
🔹 Check for any latest QuickBooks update.
🔹 If any, update your software by downloading and installing it in your computer.
Solution 3: Run QuickBooks as Administrator
🔹 Stop all your QuickBooks applications and close the program.
🔹 From your desktop, right-click on the QuickBooks icon and select the option "Run as Administrator".
🔹 Open the company files now.
Solution 4: Toggle with UAC setting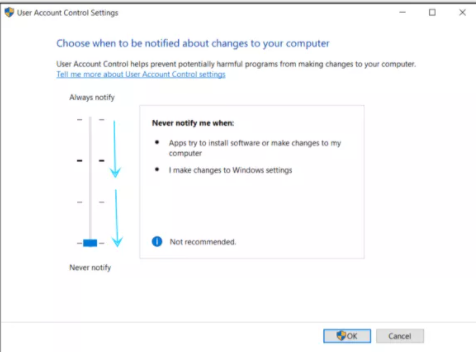 ✅ For Windows 8, 8.1 and 10

🔹 Close your QuickBooks software.
🔹 From your keyboard, press the Windows key and simultaneously type "User Account Control" in the search field.
🔹 Go to "Settings" then click on the option that says: "Change your Admin and User Account configuration".
🔹 Check the current level then move your slider to a higher position and click on the "Always notify" option.
✅ For Windows 7 and Vista

🔹 Close your QuickBooks software.
🔹 From the "Windows Start" menu, you will have to go to the search field and type "UAC" or you can go to "Control Panel".
🔹 Now, choose the "Change User preferences" setting link.
🔹 Check the current level then move your slider to a higher position and click on the "Always notify" option.
🔹 Open QuickBooks and close it again.
🔹 Try to open the UAC setting and move the slider back to its original position.
🔹 Open the company files now.
Solution 5: Check whether the file is not set as Read-Only option
🔹 Browse the company file in Windows Explorer.
🔹 Right-click on the company file with the file extension .QBW
🔹 Open the "General tab" and check whether the "Read Only" box is unchecked. If it is checked then clear the checkbox and click on "OK".
🔹 Open company files now.
Solution 6: Check Internet Explorer settings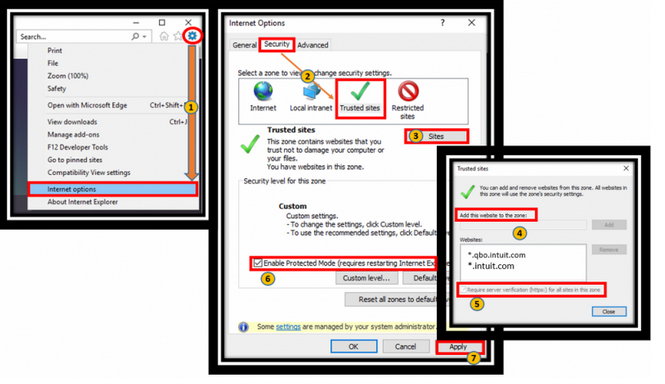 🔹 Open Internet Explorer in your computer system.
🔹 In the upper right corner, click on the "gear icon".
🔹 Go to "Internet Options.
🔹 Click on the "Advanced tab".
🔹 Move to the Security section and check on the following options:
● Use SSL 2.0
● Use SSL 3.0
● Use TLS 1.0
Solution 7: Log in to the system as Windows Administrator
🔹 Go to the Start option or click on the lower-left corner icon.
🔹 Click on the "Log Off" option.
🔹 Select the "administrator account".
🔹 Enter the password.
🔹 Open the company files.
Solution 8: Diagnose the System Errors
There might be a close connection between the windows problems and computer viruses. Intuit recommends running a full scan after updating the definition of antivirus software.
🔹 Instantly scan your system to identify and fix bugs:
● Update antivirus program.
● Activate antivirus software and run a full scan.
🔹 Important Note: If you cannot run or update antivirus software, there is the possibility of having a virus. You should get technical support from an IT professional to fix this problem.
🔹 If antivirus software identifies no virus. Simply copy the company file to the other system and open it.
🔹 If the QuickBooks company file successfully opens on another computer system, you should repair Windows installation on the computer that does not open the file.
🔹You can get full support from the Windows technician or an IT person.
🔹 If the QuickBooks company file remains closed on the other computer system or the same error appears along with a single company file, your company file is damaged.
Solution 9: Run the QuickBooks File Doctor Tool
🔹 Download QuickBooks File Doctor, install it, and then run this application.
Please Note:
🔹 We don't recommend downloading any 3rd party software as this may cause issues within your system and may put your QuickBooks company data at risk.
🔹 If there is No problem diagnosed in your Company File, but the problem remains the same, you should practice the next solutions.
Solution 10: Log in to the system as Windows Administrator
Close QuickBooks software.
🔹 Repair QuickBooks software installation.
🔹 If the error -6176,0 remains the same even after repairing the QuickBooks software installation, reinstall QuickBooks.
Though the above solution is tedious to follow it helps you fix your QuickBooks error 6176.
If in case you still face issues then reach out to us. The team at AskForAccounting will help you in resolving all your QuickBooks issues. Thus, to get in touch with them, you will have to give a call on their toll-free QuickBooks Error support number. You can also visit their website and request online chat support.
Get solutions to all of your accounting and bookkeeping problems with industry leading experts