Thus If you are on an older version then it is time for an update QuickBooks Desktop to the latest release 2023. So you can take the advantage of newer functionality. QuickBooks Desktop Pro, Premier, Enterprise, and Accountant are available on a yearly subscription whereas QuickBooks online is available on a monthly subscription.
QuickBooks Desktop from Intuit is meant to save QuickBooks Desktop users from any issues that may arise at the time of working on the program. QuickBooks Desktop still has many advantages over QuickBooks online. With QuickBooks Desktop, you can perform all your tasks even when the network is down or you are not connected to the internet.
However, with the cloud hosting feature by intuit, you can get your QuickBooks Desktop connected. With QuickBooks Desktop you can access all the online features of QuickBooks from anywhere and anytime. QuickBooks endorses various customized features like preparing 1099s, managing expenses, and tracking mileage and it allows more freedom to customize QuickBooks online.
Up-to-Date QuickBooks Desktop Pro, Premier and Enterprise to the Latest Release 2023
QuickBooks Desktop update covers various features, services, and information that need to be very skillfully and authentically transferred to our customers. For all that, we are here to serve you in a better and more proficient way. Pointers that can help you see if you are up-to-date with your QuickBooks Desktop or not. To begin, the user should establish which version is being upgraded to the most recent release. This is possible by using the methods indicated below.
The initial step is to open the QuickBooks desktop.
Then, hitting F2 and Ctrl + 1 will then bring up the product information window.
Examine the most recent version and release as well.
The final step is to check the presently available QuickBooks release.
What are the current release numbers for each version of QuickBooks Desktop
QuickBooks 2023 R3_103
QuickBooks 2022 R5_157
QuickBooks 2021 R10_52
QuickBooks 2020 R15_52
How to Update QuickBooks Desktop for Windows via Manual and Automatic
A competent QuickBooks product from the most recent edition simplifies and simplifies the accounting and bookkeeping process. If you own a small or medium-sized business and switch to QuickBooks, you will obtain Update QuickBooks Desktop Pro, Premier, Enterprise, and Accountant to the latest release of the software.
There is a difference between Upgrade and Update.
Upgrade– Always comes with new and highly advanced features that were not present in the QuickBooks earlier or in its previous versions.
Update– Always comes with new corrections and fills all the loopholes left while upgrades were introduced. It accomplishes the upgrade features.
There are two types of mechanisms available to Update QuickBooks Desktop to the latest release 2023. Though none of them is easy, if you want to still try then below are the steps available.
Automatic Update Mode
Manual Update Mode
Manual Update Process For QuickBooks Desktop
Open the File menu and select Close or Logoff Company.
Go to the File option
Right-click on QuickBooks Desktop and Select Run as administrator.
Confirm that you are on the No Company Open Windows open screen.
From the Help menu, click on Update QuickBooks.
From the displaying options, select Mark All the button & click to Save.
Select the Update Now button.
Select Reset Update and Select Get Updates.
When the Update finishes message flashes on the screen, close QuickBooks.
Now, Open QuickBooks Desktop. If install an update message still appears, Go for Yes.
Restart your system once you are done with installation.
Automatic Updates Process for QuickBooks Desktop
If you face any issue related to QuickBooks. Our QuickBooks Desktop HelpDesk is available to serve you with the solutions. Also, provide you with all required information about the error and can also take care of your solutions through remote access.
Most often, there are times when you don't update, for instance, QuickBooks is the most advanced and technically upright. You can also schedule an automatic update which can be set in the future. To know more about this, let's dig further:
Download QuickBooks and Go for Automatic Update Installation
Select Update QuickBooks Desktop from the Help menu.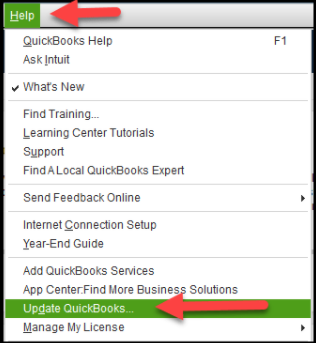 Go to the Update Now area. To clear all past update downloads, check the Reset Update box.
To begin the download, click Get Updates.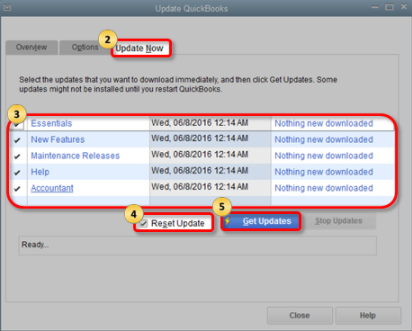 Restart QuickBooks after the download is complete.
Accept the option to install the updated release when offered.
If you don't want to download updates right now, you can schedule them.
Schedule future automatic updates
Select Update QuickBooks Desktop from the Help menu
Go to the options area.
Now, select yes to turn on the Automatic update
After that, select close.
Step 2: To enable automatic updates
To choose Yes.
Tip: Select Yes for each machine if you wish to share automatic downloads with other machines on your network.
Click on Close.
When updates become available, QuickBooks will immediately download them.
Update QuickBooks Desktop for MAC
You can make more effective and efficient decisions with the help of the tools of QuickBooks Desktop Plus 2023, which give you a comprehensive view of your business processes and reports. This article covers the whole new and improved functionality for QuickBooks Desktop and QuickBooks Enterprise.
If you have the latest release check to see
Firstly, you have to open QuickBooks Desktop for Mac.
Then, to open the Product Information window you have to press Command+1 .
You can check your latest version and release.

The recent release can be found in the release notes for each version of QuickBooks Desktop for Mac:
QuickBooks Mac Plus 2023 R5
QuickBooks Mac Plus 2022 R10
QuickBooks Mac 2021 R13
QuickBooks Mac 2020 R17
Update manually
You have to go to the QuickBooks menu and then you have to select Check for QuickBooks Updates.
Now you have to select Install and Relaunch.
Download Updates QuickBooks Pro and Premier for Multi-user Mode
Install the updates by connecting your QuickBooks Pro or Premier computers to the internet. The update can also be downloaded to one networked computer and then shared.
First, access the shared company files.
After that, you can update QuickBooks just by clicking on the Help menu.
Now you have to click the Options tab.
Click the Save button after setting the Share Download option to Yes if it is already chosen.
Once you have completed all of the processes outlined above, the updates you have downloaded will be shared among all of your computers. Once you have activated the share option in QuickBooks, the updates are downloaded from the location of your company files. Install the latest QuickBooks company file updates right away. It's possible that the company files won't be available after updating the accounting software.
Alternative Ways to Get QuickBooks Desktop updates from the Internet
You can also get individual updates from different websites.
For the first step, Go to the Downloads and Updates area.
Now after the above-mentioned step, Select your country from the Select Country menu.
For the next step, select a product from the Select Product menu.
After the subsequent step, hit on your version from the dropdown menu Select Version (year).
Now, click on the option naming Search.
Thereafter, hit on getting updates. Proceed to further Save the file to a convenient location, such as your Windows desktop.
Next, Double-click the file when the download is finished to begin installing the update.
When the installation is completed, proceed to further restart your computer.
To manually install updates across your network, access the install file on your computer from another computer. Alternatively, you may save it to a flash drive and transfer it to other computers.
Download QuickBooks Desktop Update Application
The first and foremost step is select Update of the Latest Release.
Now, Select QuickBooks Products.
And then select the Updates.
Once you are done with the above step, click on the Update File on your desktop.
Once the download is finished, double-click on start installing the file.
Once it is done, Restart Windows.
At this stage, you need to Manually install all updates
Access the installation file that you have downloaded and is already on your computer.
Access it through remote access.
For that, copy the installation file into a flash drive and reinstall it on another system.
Download QuickBooks Desktop Automatic Updates in the Future:
On the QuickBooks Help menu, click Update QuickBooks.
In the Update part, QuickBooks windows, go to the Options.
To turn on automatic updates, please select the radio button for Yes.
If you want to share automatic downloads with other computers present on your network.
Select the radio button for Yes.
Click on Close. currently, your QuickBooks can download the update once it's released
QuickBooks Desktop Security Update
There may be two different settings at one time on the computer. The user may set some other settings and there are some other default settings. These settings may clash and restrict all the download and installation/update processes. This may also cause so much danger to the computer. It needs to be rechecked.
Update QuickBooks Desktop Payroll Service Account Information
If you want to make required changes in your account/billing information
You need to sign in with your sign-in ID and password to your Account Maintenance page.
When you Log-in to the QuickBooks Account Maintenance page, edit and update your Billing Information in the Annual Billing Details Box.
At this point, there may be some difference between the link and the level of information.
If now such information comes under Billing Detail Box, this states that you haven't entered the correct details.
Whenever you have any upgrades or updates available, it is always recommended that you go for them. But if you miss the upgrades, it is ok as it actually changes all the features or sometimes adds new features that you don't want to get inculcated in your daily use. But if it is about updates. We suggest you go for every update that the company provides you. This only contains all the improvement features as well as fills all the loopholes. So, whenever you get any update notification, you should get it done right away. If you face any trouble. You can contact us.
Errors at the Time of QuickBooks Desktop Update
What can be the possible reasons if any error causes while updating/upgrading QB Desktop?
Unstable or unConsultanted Internet Connection
Internet security, firewall, or any external active antivirus working on your PC can restrict your update process.
Multiple QuickBooks Desktop of the same versions or of different versions is present in the system at the same time.
This may lead to a navigational error in the installation file.
Incomplete download or corrupt download due to connectivity issues or various external interruptions.
Incorrect dates and times can also cause errors.
If Can't be able to Install the Update
To the next release number sometimes an update won't advance. You can face an error during the update installation. Look how you can fix these issues.
Solution 1: Download the update again
You have to repeat the steps a couple of times to look in case the release number advances.
You have to open the QuickBooks menu and then you have to select Check for QuickBooks Updates.
Then you have to select Install and Relaunch.
Solution 2: Get the updates from the download site
You have to go to the Downloads and Updates page and then you have to select the standard setup.
Now you have to select your country from the Select Country dropdown.
Then you have to choose your product from the Select Product dropdown.
After that, you have to select your version from the Select Version dropdown menu.
Then you have to select Search.
Now you have to choose Get the latest updates.
Open the file to install the update when the download finishes. Then you have to restart your computer after the installation.
You can correct the Date and Time Issues very easily. Just follow certain steps and it will be all set.
Go to Task Bar right at the bottom of the monitor and click on Date and Time showing there
Now, click on Adjust Date/Time.
Now, click on Change Date and Time.
Now, follow Today's Date and Time
Once you check the time and date whether they are correct or not, select OK.
Now, close your QuickBooks software completely, restart your system and open your QuickBooks again.
Now, try to update/upgrade your QuickBooks.
Internet Connection Settings also need to be verified and corrected. For that, please follow certain steps.
To test your Internet Connection, open any website or you can also open intuit.ca.
If the website does not open, there may be an issue with your service provider.
Select Help and then click on Internet Connection Setup.
Now, click on Use My Computer's Internet Connection Settings so that a connection can be established while accessing the internet
Click on it and select Next.
Open Advanced Connection Settings and then click on the Advanced option.
Click on the Restore Advanced Setting
Select Ok and then select
Now, attempt your QuickBooks Desktop update/upgrade again.
In case you still sense trouble then ask for QuickBooks Desktop Consultant.
It needs to be resolved completely and some steps should be taken for this.
For a single cause of Error, our technical team has multiple solutions for you and all will be provided with the solution at your convenience. These solutions will help all the users to solve all the errors and problems linked with QuickBooks consultant. We have already mentioned some of the resolutions above. Please follow those resolution steps. You also have to ensure that you have a stable Internet connection that would help in a smooth download.
Frequently Asked Questions
Does QuickBooks Desktop Update with Later Versions

Yes, the QuickBooks desktop provides updates with the later versions. Mind it, it's not the latest. QuickBooks Provides services for the currently available version, along with this, it also provides services for the previous two versions. It simply means that QuickBooks, in today's world, provides services for 2016, 2017, and 2018 versions. That means if a person is using QuickBooks 2015 version (s). He has to update it to the latest available version or any two previous versions of the QuickBooks.

After Windows 10 Update Cannot Open QuickBooks Desktop?

This is one of the major problems that has occurred with so many QuickBooks Users. It needs to be verified and corrected very effectively.
You need to follow certain steps that we are mentioning. Following this will help you in getting this error or problem resolved. If you still cannot access QuickBooks in Windows 10. This simply means that you need QuickBooks Desktop Consultant. Visit our website and search for the solution. You will get even more on everything. We also provide information on such topics.

● Go to the control panel to repair the installation.
● In Control Panel, go to Add/Remove program, click on QuickBooks and uninstall the program.
● Now, reinstall the program through which mode you have.
● Once you are done with reinstallation, download QuickBooks "Clean Install Tool" and install QuickBooks once again
● Now, download the QuickBooks Component Repair Tool and run it.
● This step is to repair if there is any damaged Microsoft component.
● Rename the EntitlementDataStore.ECML file
● This file will create a shortcut
● Now, run the reboot.dat file
● Now, change date and time settings according to region.

How to Enable your QuickBooks Desktop Consultant Update 2018 with Cloud?

This is something very special about QuickBooks Desktop 2018.
● You can do the cloud enabling all your desktop services like premier, pro, enterprise, and payroll. With just $50 per month for one user.
● Cloud-enabling QuickBooks is a luxury and a necessity in today's never sleeping world.
● Its addition to cloud hosting may lead to various additional features and benefits.

When I Update QuickBooks 2017 desktop it gives me an error "you cannot update the company file".

There may be various reasons behind not completing any updated file or restricting any downloading process.
● Unstable or disturbed Network Connectivity.
● Personal firewall, internet security, or any antivirus in the system may be restricting the download or installation process.
● There may be times when your PC is containing multiple setups of a QuickBooks and this leads to multiple navigations within one PC.

How long does it usually take to download the QuickBooks updates?

The length of time it takes to download updates is mostly controlled by the internet connection speed, network settings, and size of the update. Make sure your device is plugged in and connected to the internet to get updates faster.

How do I see QuickBooks update history?

You may view the update history to see which updates were installed and when. You may also use this list to uninstall particular updates, however, we don't advocate doing so unless absolutely essential.
Here's how to do it:
● First, proceed to select the Start option.
● Second, then move to settings.
● Next, Windows update.
● Finally, Update the history from the menu.
Speak to a Specialist about Your QuickBooks Software
Get instant assistance with QuickBooks accounting software. Our QuickBooks experts are available 24x7 and resolve issues within minimum turnaround time. We support both US & Canada Editions of QuickBooks Software.
We get help you on these QuickBooks accounting topics
Downloading
Installing
Activation
Import and Export
Data Conversion
Payment Solutions
Upgrade & Update
Payroll Solutions
Integration
Printer
Tax-Related
Data Recovery and many more.