Here you get the information about the new powerful QuickBooks Online Advanced Features. QuickBooks Online Advanced packs many powerful features that help users in recording and analyzing data and increasing productivity.
The advanced version is geared towards accountants who need to serve multiple clients. The signature features of this service include enhanced custom fields, premium customer care, smart reporting, multi-user mode, and priority circle membership.
Now, Intuit has introduced many new features to QuickBooks Online Advanced. These features help you not only in increasing your productivity but also in managing multiple fast-growing clients. The new features in QuickBooks online advanced include:
Integration with Google Sheets
Batch Transactions
New Workflows
Cash Flow
Custom Roles
Revenue Streams
New Powerful QuickBooks Online Advanced Features
These features help you not only in increasing your productivity but also in managing multiple fast-growing clients.
Google Sheet Integration
You can integrate QuickBooks Online Advanced with Google Sheets. This data can then be imported directly into more powerful reporting and data analysis software like Data Studio and PowerBI. Earlier, users had to export data manually and then import it into Google Sheets. This however changes with the recent update. Now, all the data can be imported with correct formatting into Google sheets.
Batch Transaction
You can increase your productivity with Batch Transactions. Clients can enter their checks in batches. The category and item details can be entered and duplicated easily across lines. Further, the process of entering checks can be streamlined for better productivity. You and your client have the ability to create up to 150 checks, invoices, bills, or expenses at once. However, Intuit isn't done yet. They've promised new batch entry features to take productivity to the next level.
New Workflows
While you may be excited about Batch Transaction, there's another feature that productivity freaks like you are going to love. In QuickBooks online Advanced, users can now set up automated workflows to increase productivity.
When working with workflows, manual ones are very difficult to scale. Since a client business may be growing, this creates problems of its own. To resolve such issues, you can now simply automate the scaling of workflows. Now your team and clients can be more productive and work on actual business activities instead of spending all their time configuring workflows. With automated workflows, you, your team, and your clients can avoid the time-consuming manual process.
Here are some of the automated workflows available to users:
Bill Reminder: Whenever a bill is due, QuickBooks will remind you automatically.
Bank Deposit Reminder: You can create bank deposit reminders. From there on, QuickBooks will automatically do that for you.
Past Due Reminders: Any past due amounts will be made available through notifications.
Send Invoice Reminder: Invoices you create need to be sent to customers. This can now be automated.
Stamp Overdue invoices with a memo: All invoices which are overdue are stamped with a memo.
Send Unsent Invoices: There will be notifications for the invoices that you've created and not sent.
Customer Notification: You can create as many custom notifications.
These automated workflows will surely boost your productivity and help you in offering better services to your clients.
Cash Flow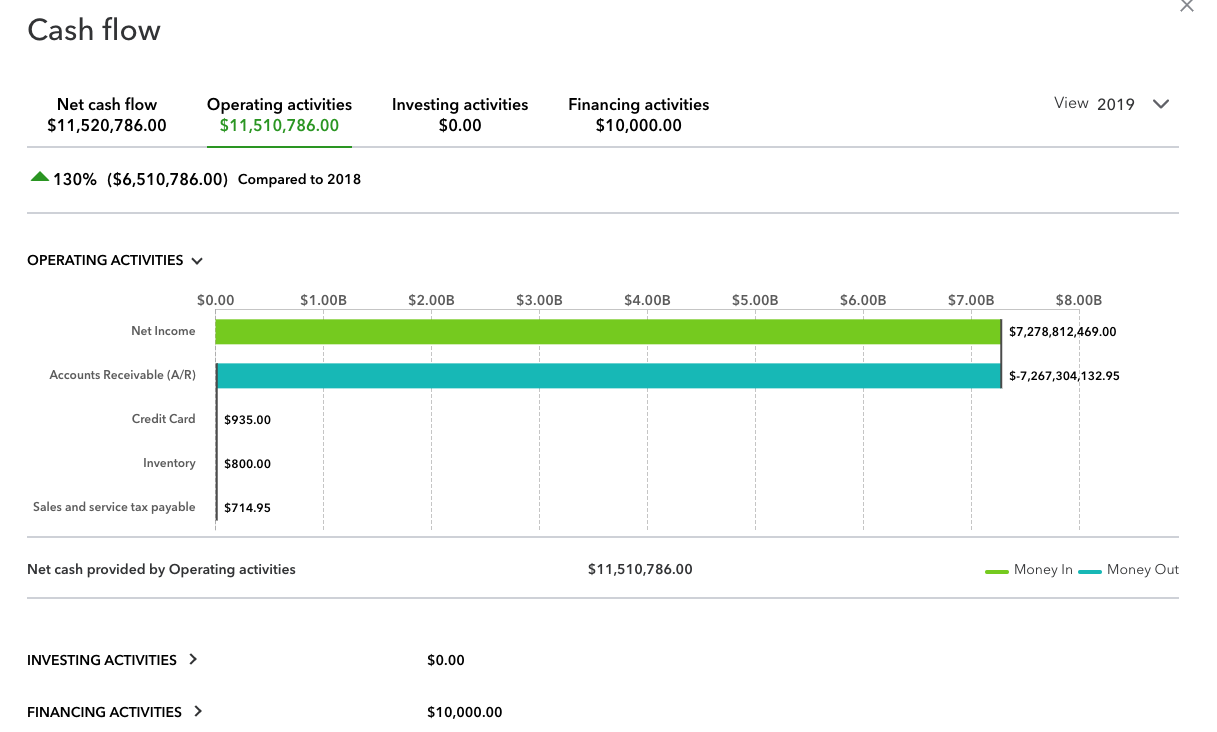 This new picture gives you a complete picture of your client's cash flow. Further, info about the main sources of cash flow is just a click away. You can simply run a report and compare the cash flows from different product or service categories. You can choose to get a quick look or drill down into the data with the analytics tool at your disposal. You can compare cash flows according to not only categories but also time.
Custom User Roles
The account administrator can create users with custom roles. This is very helpful if you want to delegate or assign accounting work to a coworker or subordinate. With custom roles, you can limit access to data to enhance security. You can assign tasks to users, limit permissions, and track task progress. There are specific predefined areas for which you can offer or block access for various users. These areas are:
Sales Reports
Invoices
Expense Reports
Expense Transactions
Sales Transactions
Producing Estimates
Bank Deposits
Revenue Streams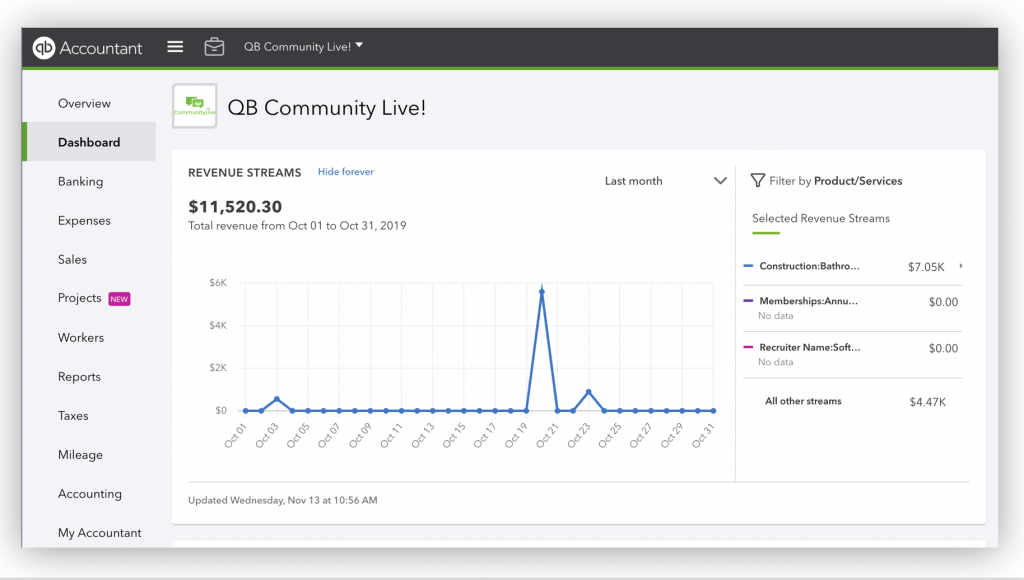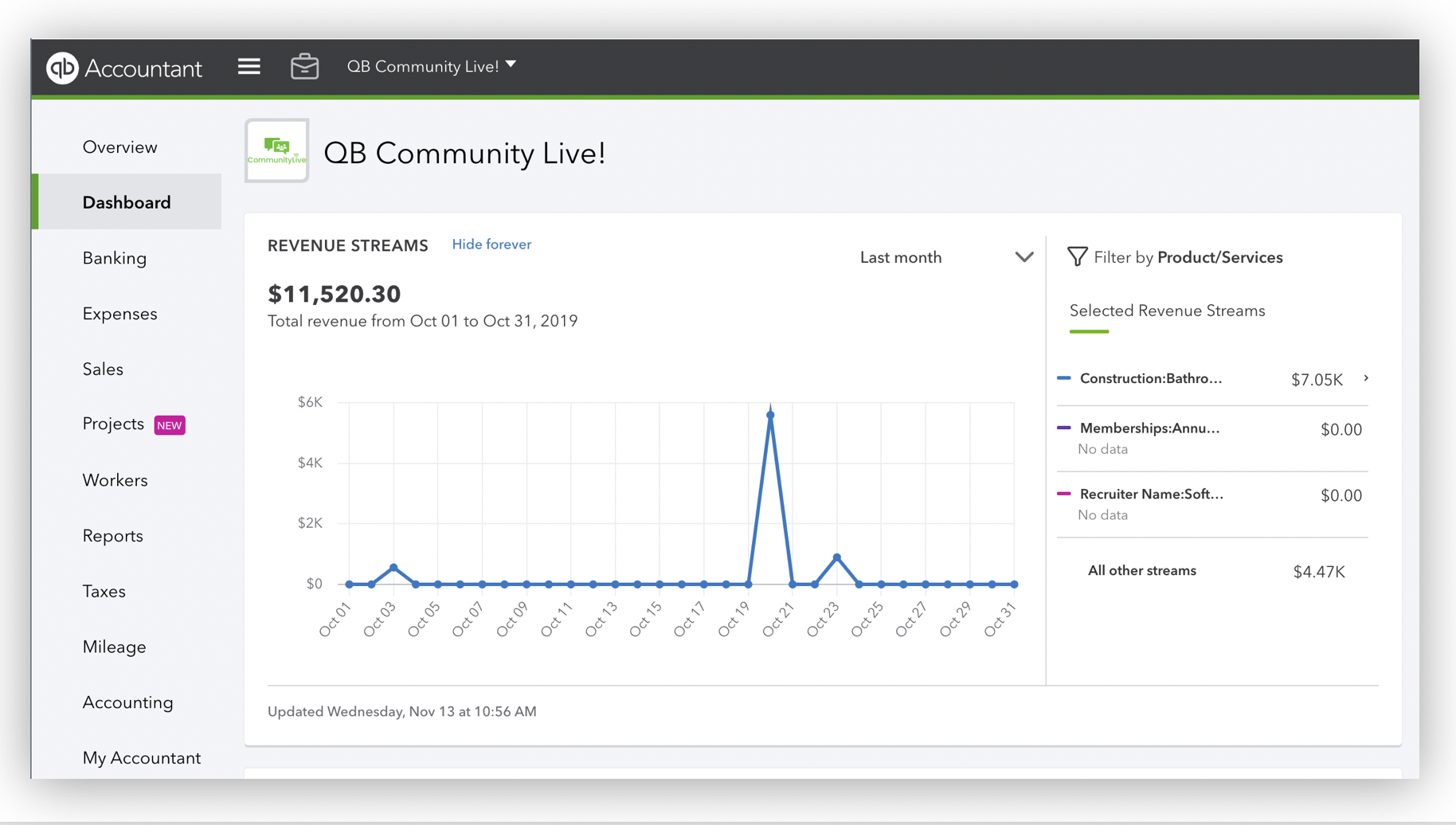 Revenue and profit are the two most important metrics. In QuickBooks Online Advanced, you can view the main revenue streams for your clients directly from the dashboard. The pre-built revenue streams report shows you the topline revenue contributors for any client. With this report, you can identify the trends and patterns of the revenue streams.
Intuit keeps adding new features to its online version of QuickBooks, so if you need information about them, then keep visiting our website regularly. To know more, you can get in touch with our experts.
Frequently Asked Questions
I am a QuickBooks online User but don't have access to any of these Features. How do I enable them?
These features are only available to QuickBooks Online Advanced users. You will have to upgrade your subscription plan to gain access to the aforementioned features. To check your current subscription plan, you can go to Gear > Account and Settings >Billing & Subscription.
How do I view the Revenue Stream Report from the Dashboard?
Only the Admin can view the report from the dashboard. This feature is disabled for non-admin users.
Speak to a Specialist about Your QuickBooks Software
Get instant assistance with QuickBooks accounting software. Our QuickBooks experts are available 24x7 and resolve issues within minimum turnaround time. We support both US & Canada Editions of QuickBooks Software.
We get help you on these QuickBooks accounting topics
Downloading
Installing
Activation
Import and Export
Data Conversion
Payment Solutions
Upgrade & Update
Payroll Solutions
Integration
Printer
Tax-Related
Data Recovery and many more.