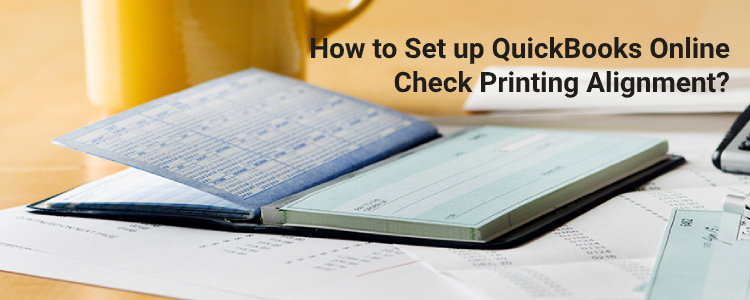 In this article - how to "Set up QuickBooks Online Check Printing Alignment"
QuickBooks Online is the smart version of accounting software that incorporates strong features to simplify the accounting tasks of the businesses. The QB online program auto-syncs your business details with a click of a button. The online platform helps to creates trading accounts, P/L accounts on autopilot. In fact you need not to worry for your billing and invoices as they can be done with ease in QuickBooks.
The users who have subscribed QB online can create their own reports and feeds from within their system. It allows you to view exactly what you wish to view. But if you still don't get it here is the easy solution of "How to set up QuickBooks online check printing alignment".
The QuickBooks Online dashboard allows you to locate and track payments, sales history, invoice details, assign roles and edit permissions. QuickBooks Online seamlessly integrates with QuickBooks Payroll and Intuit GoPayment. The software needs to be subscribed by the user depending upon the requirements of the business. The software comes with a free 30 day trial so that the users are through with the usability of the software.
The QB online version troubles in setting up the default check printing alignment. This is an important QuickBooks Online feature because for checks and vouchers to align properly, ensure that your printer set up is in the agreement with your version of Acrobat Reader. Complete compatibility with checks that are especially designed for QuickBooks Online is guaranteed. If you are aware of the right version of your Acrobat Reader open your QuickBooks online software and follow the below mentioned steps.
How to Set up QuickBooks Online Check Printing Alignment:
Follow the steps to check how to step up quickbooks online check printing alignment.
Open QB online software
Select transactions on navigation panel -> click Expenses
Click the Print Checks button
Click Print Setup at the bottom
Select No -> continue setup button.
Click next -> click the No -> continue setup button again
You land to the Fine-tune alignment page -> Drag the grid box where the dollar amount shows to the preferred destination
Click to view preview and print sample button in the left
Click the Print icon on the Print preview
When the sample check is printed -> hold it up to the light against a check to verify if the alignment is appearing correct or not
Still if you require fine tuning -> click close on the sample check -> go back to the grid to make adjustments -> print a fresh sample once again
Click Finish Setup when your sample check's alignment appears correct
Apply the following changes – The changes needs to be applied to most printer versions – make changes for the options listed below:

Page Scaling: Set to None
Ensure that Auto-Rotate and Center is not checked
Note that Choose Paper Source by PDF page size is checked as well
If you encounter error while printing (like the alignment being off, a portion of the text is cutoff, text is placed in the wrong place, or if you are just getting started with QuickBooks Online) ensure that you have the required Adobe version.) Sometimes it can be problematic to align the checks properly.
To get the proper alignment follow the steps mentioned below:
1️⃣ Go to the left panel -> click transactions -> click expenses.
2️⃣ Click on Print Checks
3️⃣ Click Preview and Print on the right corner
4️⃣ Click on the Printer Icon
5️⃣ Select the option Fit to Page
Even after following the steps recommended for alignment of checks by Intuit, you are having any kind of technical or functional contact QuickBooks customer support immediately. The QuickBooks expert ProAdvisor will provide you instant resolution so that you can resume your work hassle free. The experts are approachable via various modes like phone support, email support, live chat etc. Sometimes due to possible reasons you fail to reach the support professionals. In such scenario you can contact other reliable agencies.
Connect with Askforaccounting.com
At Askforaccounting.com we hire professionals that already have years of experience with QB. Thus if you face QuickBooks online check printing alignment issues then you better connect with ProAdvisor. Our professionals across the US/Canada will help you get your problems sorted in no time Dial 1800-865-4183.
At Askforaccounting.com we resolve your QuickBooks query/issue regarding QB Online check printing alignment in the first phone call itself. Our experienced and knowledgeable professionals with their combined skills are on their heels to assist you round the clock. Thus wait no longer and get your problems sorted connect with QuickBooks Pro Support Advisor.