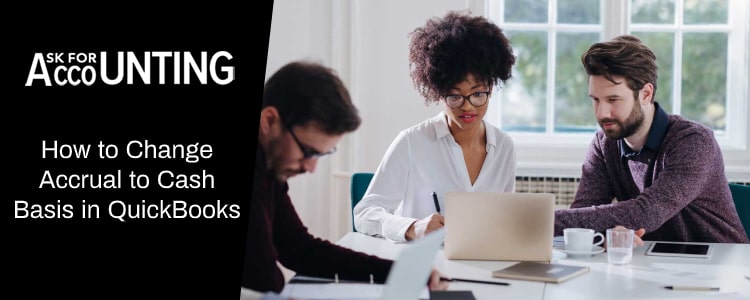 QuickBooks enables users to create books and create reports on either accrual or cash basis, Read more about how you can "Change to Cash Basis in QuickBooks".
Reporting is important and helps organizations in creating a better environment for all involved parties. Some companies prefer entering and recording data on an accrual basis while others prefer cash basis. QuickBooks enables you to easily change the way in which transactions are recorded and reports are created.
What is Accrual Basis in QuickBooks?
Transactions like income and expenses are reported as soon as an invoice or bill is received. Accrued income and expenses are recorded as accounts receivable and account payable.
Preferred By large organizations
Requires professional expertise and deep knowledge of basics of accounting
What is Cash Basis in QuickBooks?
Transactions are only recorded when said amount is received or paid against them. Only cash transactions are recorded into the books. For more on a Cash basis, check out this article:
Preferred by small businesses
Requires a basic understanding of bookkeeping
It is better to try and change the basis of accounting in reports before changing it for your entire company file. Both methods of recording income and expenses can work for your company. Most organizations prefer recording income and expenses on an accrual basis as they are able to get a better picture of their financial strength at the end of the year.
Steps to Change to Cash Basis in QuickBooks – Income and Expenses in a Particular Report
Go to Reports
Select the report you want to create
Select customize
In the general section click on accounting method
Select Cash Basis
Hit Run Report
Steps to Change to Cash Basis in QuickBooks
Select the Gear icon next to the Create button
Select Company Settings
Select Company
Click on Accounting method and select the cash basis.
Hit save and done.
The accounting method for your company file will be changed. You can easily change the settings by following the aforementioned steps and selecting accrual basis. Also, cash basis works wonders for small businesses like sole proprietorship but can be a bane for medium and large enterprises.
You can even give us a call at our QuickBooks support number and talk to our Proadvisor now to fix "Change to Cash Basis in QuickBooks".
Get solutions to all of your accounting and bookkeeping problems with industry leading experts