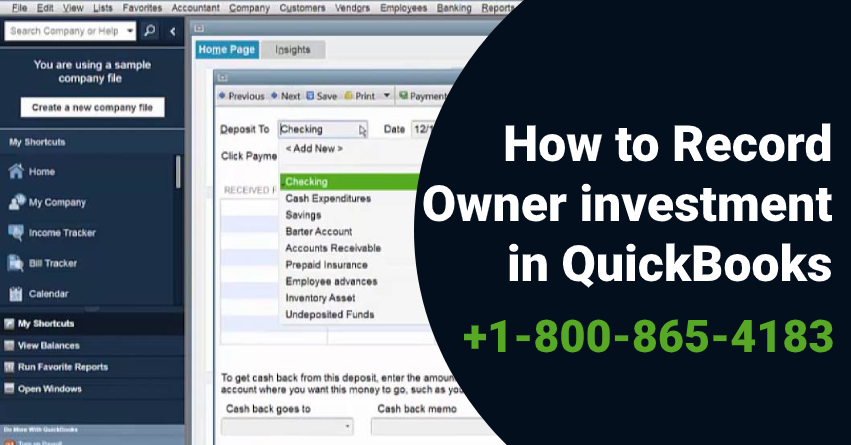 In the below article you will see how to Record Owner Investment in QuickBooks, you will also know how to set up an owner or partner in QuickBooks. Let's start the article.
QuickBooks is multipurpose accounting software which is one of the demanding software. Sometimes you need to record Owner investment in QuickBooks. As the name indicates in this process the amount which is invested by the owner or partner to keep running the business is recorded.
How to Set up a Partner or Owner in QuickBooks?
To record the investments, first, you need to set up yourself, owner, or partner as a supplier in QuickBooks.
To do so follow the below steps:
Open the QuickBooks.
Go to option "Expenses".
Now go to and select the "Suppliers" menu.
Click on New Supplier.
Mention all the required information and Save it.
How to Set up an Owner Equity Account?
Now after setting the owner or partner as a supplier you need to create an equity account. Through this account, you can track what amount has been invested. Follow the below steps to set up the Owner Equity Account.
Open your QuickBooks.
Now, go to an open-gear icon and select Chart of Accountant option.
Go to New button.
Go to Accounts type drop-down menu and select Equity option.
Select option "Owner's Equity" or "Partner's Equity" as per the requirements under details type drop-down menu.
At last fill, all the information asked for, and click on Save and close.
Sometimes you need to create multiple equity accounts for owners and partners, in that case, you need to set up an equity account first and after mentioning the information of another equity account, select Subaccount option. At last in the parent account mention the account which you have created earlier.
How to Record Owner Investment in QuickBooks
Simply follow the below steps to record Owner investments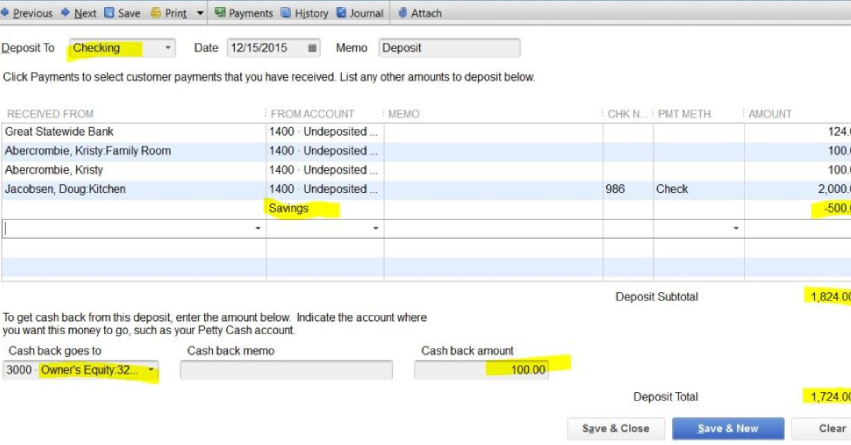 In the QuickBooks click on +New icon and select "Bank Deposit" option.
Select the bank account to which owner investment needs to be deposited, you can get this option under the Accounts drop-down menu.
Now mention the date when the money was deposited.
Now go to add funds to this deposit section and mention the name of the owner or investor or partner in the Received from field.
In the next step, click on drop-down available under the Accounts option and select the equity accounts, which is created earlier.
Choose payment method and amount invested in the Amount field.
Now save all the information entered and close.
How to Record Money Deposited by Owner to Business Journal Entry
With this method, you will learn how to record the initial amount which has been invested in the business. It can by anything such as buying assets, machinery or inventory.
In the QuickBooks under the menu bar click on "Company" and then select the option "Make General Journal Entry".
Once the above step is done you can see a new window, its layout is similar to a spreadsheet.
That window is having 5 columns Debit, credit, accounts, customers, and class.
Now go to the accounts column and in the first row, you will see Owner's equity option, select the desired equity account. Enter the accounts in which you want to deposit these funds, you can locate this option in the second line.
Select the saving or checking accounts in Debit Column option.
Mention the same amount as the initial investment in Credit Column.
Need Assistance?
Our QuickBooks team is a dedicated, certified, polite, and quick problem resolver. QuickBooks Helpline is available 24*7 to provide you the results. You can also email at info@askforaccounting.com or chat with the QuickBooks executives anytime to resolve any error. Askforaccounting.com is a one-stop-shop for all your QB related queries.
Frequently Asked Questions About Record Owner Investment in QuickBooks
Is it Important to Set up Owner or Partner in QuickBooks?
Yes, it is very much required to record owner or partner investments in QuickBooks. It is required to know that how much amount partner or owner has invested to the organization to keep running or start it. Simply go to QuickBooks>>Expenses>>select Suppliers>>click on new suppliers and at last enter all information which is asked and set up is done.
What is Equity Account in QuickBooks?
Equity account is an account, through which you can track the invested amount. This equity keep all the track of all the amount invested by owner or partner to the business. You can also say that equity accounts are the capital accounts used in accounting which tracks financial transactions of business on behalf of partners or owners.
Can we Create Multiple Equity Accounts?
Yes why not, it can be easily done through Subaccount option.Multiple equity accounts can be added when there are multiple owners or partner. When it is created it looks like
✅ Equity(Parent Account )
✅ Owners Draw(sub account of owner equity)
✅ Owners Investment(sub- accountant of owner equity)