Learn how to prepare, use and find the General Ledger report in QuickBooks Online. A General Ledger report in QuickBooks Online shows a list of transactions from all accounts for a specific date range.
Examples of these accounts include the asset accounts such as Cash, Accounts Receivable, Equity, and Undeposited Funds. Problem: Using QuickBooks ensures that most of your accounting and finance-related work gets done without much manual work. The features that control these functions are one of the most intricately coded systems. Their workflow is amazingly easier once the user learns how to go about them. Please follow the guidelines properly for a smooth and safe process.
How to Find the General Ledger Report in QuickBooks Online
Here you learn how to find General Ledger Report and print it, you can follow the steps provided below.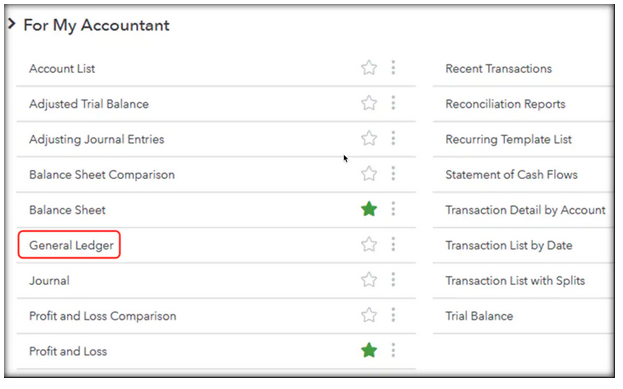 First, Go to​ Business overview tab then select All option
After that select For My Accountant by scroll down to the bottom of your screen
Now, select General Ledger
And then select date range option
The next step choose between Cash or Accrual basis
Finally, Run a Report to generate the report.
Following these steps will create or use general ledger report for a particular date range depending on your preferences. The transactions in the report have accounts, details, and the amount associated with them.
How to Prepare/Make a QuickBooks General Ledger Basic Entry
Follow the method given below to learn how to make a General Ledger Entry.
Access the Company menu on your QuickBooks.
Select Make General Journal Entries from the drop-down.
A pop-up calendar will come on the screen when you click on Pick the appropriate date from here.
Go to the field named Entry No and fill in the value for the Journal Entry.
The value should not exist already.
The entries are numbered in consecutive orders.
Go to the Drop-down and click You will have to initiate a debit soon, so pick up the account which is suitable for your need.
Go to the debit column and fill in the value for the transactions.
Now, debit should be used for payment and credit for the indication of deposits.
Hit the Memo field and enter the memo if you have any.
Go to the next column- Name and pick the Vendor, customer, employee, or the firm's name.
This applies to these two: Accounts Receivable and Accounts Payable.
Get into a new transaction for the account which is about receiving the transaction's credit.
Fill in the same entry for credit as the ones you filled in the previous transaction.
Follow on with the processes and fill in all the information you are prompted to.
Finally, the transactions register gets to the zero balance, hits save & close.
If the balance is not showing up as Zero, go through the debits and credits and ensure that the value comes down to Zero.
One credit and one debit will be required for every transaction that shows an identical amount.
Once you have hit Save & Close, your general ledger is prepared and launched.
Check that you can make General Ledger.
The Use of QuickBooks General Ledger Basic
Use the QuickBooks General Ledger to create financial reports, which can be very helpful in making decisions about your business. General Ledger is a fast and better utility It is used in these actions.
General Ledger can be maintained by the use of Journal Entries which are created by the General Journal comprised of transactions.
Miscellaneous Entries are possible through General Ledger.
The accounts that cannot be adjusted using the basic account manager, can be adjusted by using General Ledger.
Many more similar features.
You could create a general ledger entry if you followed the procedure defined above. This process is the only process that enables you to build a Ledger without much hassle and if you want to print general ledger report in QuickBooks also.
However, if you need technical assistance in operating, or if you still couldn't get the hang of it, we recommend you to go get in touch with our QuickBooks consultant Team. They have some amazing QuickBooks experts at their QuickBooks help desk who can help you out with any issue.
Speak to a Specialist about Your QuickBooks Software
Get instant assistance with QuickBooks accounting software. Our QuickBooks experts are available 24x7 and resolve issues within minimum turnaround time. We support both US & Canada Editions of QuickBooks Software.
We get help you on these QuickBooks accounting topics
Downloading
Installing
Activation
Import and Export
Data Conversion
Payment Solutions
Upgrade & Update
Payroll Solutions
Integration
Printer
Tax-Related
Data Recovery and many more.