In the following article, I am going to discuss the QuickBooks error 6123, 0 causes, and its updated troubleshooting steps. This error is related to the company file in the QuickBooks program. Select the section below that best describes your situation to start.
When opening, upgrading, or restoring your company file, if you see Error -6123,0
Make sure QuickBooks, not Windows Explorer, is used to open your company file.  You can encounter a problem when opening your file in Windows Explorer. From time to time, when a user attempts more than once to restore the QuickBooks company file from the backup hard disk or tries to open the company file over the multi-network server an error message alerts as QuickBooks error 6123, 0 is shown on the screen.
What is QuickBooks Error 6123, 0
Like other online accounting software, QuickBooks also encounters some errors which may block all running programs. Error code 6123 0 is related to the company file in the QuickBooks program. This error usually occurs when the user tries more than once to restore the company backup file while upgrading or opening the file on the QuickBooks Desktop. The user might encounter this message.
Connection to the QuickBooks Company file has been lost in the multi-user.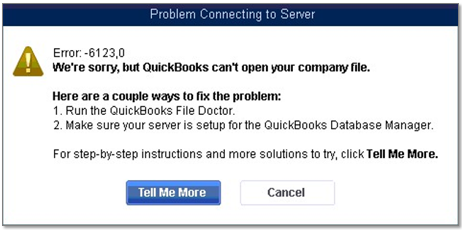 What are the Causes of QuickBooks Error Code 6123
The user might encounter this message "Connection to the QuickBooks Company file has been lost" in the multi-user surroundings by one following causes.
Corrupted or damaged windows operating system.
If you find QuickBooks damaged program files cause this error issue.
Block web error filter option is chosen in McAfee antivirus.
When your system name on the PC hosted the QB company file, it was changed due to time while hosting was turned on.
Due to damaged or corrupted QuickBooks data files or program files, this error may appear.
Steps to Resolve QuickBooks Error 6123, 0
You will be shown how to close some apps or make changes to your company file to fix this issue. Pick any one of the following guides according to your error-occurring issue.
Step 1: Download and Install the QuickBooks Tools Hub
The QuickBooks Tool Hub is helpful in fixing common errors. If you want to use the tool hub, then you must close QuickBooks. It is advised to use Tool Hub on Windows 10, 64-bit if you want the best experience.
Firstly, you have to close QuickBooks.
Then you have to download the QuickBooks Tool Hub's latest version.
The Windows desktop or Downloads folder are good places to save the file so you can immediately find it. If you have already installed Tool Hub, you may find out which version you have by doing so. Choosing the Home tab. 
Now you have to open the QuickBooksToolHub.exe file you downloaded.
To install and accept the terms and conditions, follow the instructions that are displayed on the screen.
Then you have to double-click the icon on your Windows desktop to open the tool hub after the installation is complete.
Step 2: Run QuickFix my Program
Then from the QuickBooks Tools Hub, you have to select the Program.
Then you have to select QuickFix my Program. It will complete its run in approximately a minute. It can take longer if you have multiple QuickBooks versions installed.
Hold off until the progress bar fills up.
Open QuickBooks when QuickFix my Program is finished to make sure the problem has been resolved.
Step 3: Run File Doctor
If QuickFix my Program didn't work, your company file can be repaired with File Doctor. Common QuickBooks Desktop data errors are automatically detected and corrected by File Doctor.
You have to select Company File Issues in the QuickBooks Tools Hub.
Now you have to choose Run QuickBooks File Doctor.
From the drop-down menu select your company file when QuickBooks File Doctor opens.
Select Browse to look for the file on your computer if you can't find it. The file will have the following format: [your firm name].qbw.
Then you have to select Check your file, and then you have to click Continue.
Select Continue after entering your QuickBooks admin password. Your file will begin to be repaired by the File Doctor. It might take some time.
Select your company from the list once the repair is complete and then click Open QuickBooks.
Step 4: Rename the .ND file along with .TLG file
The first thing you have to do to open the folder at the place where your company file is saved.
Then, select the coordinated .ND file of your organization.
Now, hit right-click on the "Company File" and then select the Rename option.
You are all set to change the name .ND file to the .ND.OLD you have also another option to choose the .TLG file and then change the name of .TLG file.
Change the name .TLG file to .TLG.OLD.
Then open your QuickBooks company file.
Step 5: Change your company file to Another Location
In any case, if you are unable, to begin with, your QuickBooks company file
After implementing the above solutions then try to transfer the file to another place and start processing.
If you still find the host connection is being utilized by you, then copy that selected file from the system and then open it.
Step 6: Uninstall and Reinstall the QuickBooks Application
Before proceeding with this troubleshooting make sure about your product details and license number
First of all, you have to uninstall the current version of QuickBooks through the "Control Panel" tab.
Now download the latest release of QuickBooks that you would like to be used on your computer or you can prefer the QuickBooks installation CD.
Make sure, you install the QuickBooks in the normal mode.
After that, you have to enter the Product ID, License Number, and all necessary details.
Once you are done with the above steps, QuickBooks will automatically be registered and leads activate to use.
You are all set to open the company file.
See if the problem still exists. If yes, then speak to our QuickBooks error consultant team now.
Frequently Asked Questions
Is there any way to begin once again in QuickBooks?

The answer is yes, you can begin once again in QuickBooks Online. Be that as it may, in case you wanna keep some information for yourself, I recommend the shutting of books. With this, the costs and income will be focused on and will go to their particular record toward the year's end. While you're net benefit or deficit will go to your Retained Earnings account.

Is QuickBooks Database Server Manager Essential?

QuickBooks Database Server Manager lets you share your company files with different PCs over your organization. This lets numerous clients deal with a similar company file simultaneously. If you don't plan to utilize multi-client access, you needn't bother with the Database Server Manager.

How would I Restart the QuickBooks Desktop?

● Locate an open Control Panel.
● Select and open Administrative Tools.
● Then choose the Services from the drop-down list.
● Now, hit right-click on the QuickBooksDBXX service and afterward choose the Restart option.

What to do if getting an error 6123,0 while restoring your company file (.qbw)

When recovering your company file (.qbb) from a backup.
● Move the backup copy of the file to your local hard disk if your file is located on a network or external storage device.
● Never access them from a portable device or an online storage folder.
● To restore your company file from a backup you have to follow the instructions.

What to do if getting an error 6123,0 while restoring a backup (.qbb) on a new computer

● Launch QuickBooks Desktop on the same computer that you used to create the backup company file.
● Then you have to open your original company file as usual (not the backup).
● Make a portable copy of your company file (.qbm).
● Launch QuickBooks Desktop on the new computer.
● Use the portable copy (.qbm) to restore your company file rather than the backup.
Speak to a Specialist about Your QuickBooks Software
Get instant assistance with QuickBooks accounting software. Our QuickBooks experts are available 24x7 and resolve issues within minimum turnaround time. We support both US & Canada Editions of QuickBooks Software.
We get help you on these QuickBooks accounting topics
Downloading
Installing
Activation
Import and Export
Data Conversion
Payment Solutions
Upgrade & Update
Payroll Solutions
Integration
Printer
Tax-Related
Data Recovery and many more.