Let's start our article about the top 10 features for Accountants in QuickBooks Online. Accountants often wonder about the best way to go through the books of their clients. The task may seem daunting, but let us assure you that it's not. Instead, there are features in QuickBooks Online that simplify the process, increasing your efficiency in the process. In this article, we've provided the 10 best ways for accountants to make the most of QuickBooks Online.
Top Features For Accountants in QB Online
Here are the Top 10 Features for Accountants in QuickBooks Online
1. New Layout
As with any other software, understanding the layout and features of QuickBooks Online is the most important thing. Unlike much desktop-based software, QuickBooks online is available on multiple platforms and can be accessed anytime, anywhere. Some users have an affinity for the desktop layout, but it's a fact that the online version has a better layout, which offers a simpler and more efficient workflow.
Let's look at some of the layout features of QuickBooks online:

Dashboard: The dashboard is what greets you when you open up a client's company file. On this page, you'll find a summary of the entire company file including sales, expenses, income, invoices, profit & loss, and Bank Accounts. The dashboard is customizable.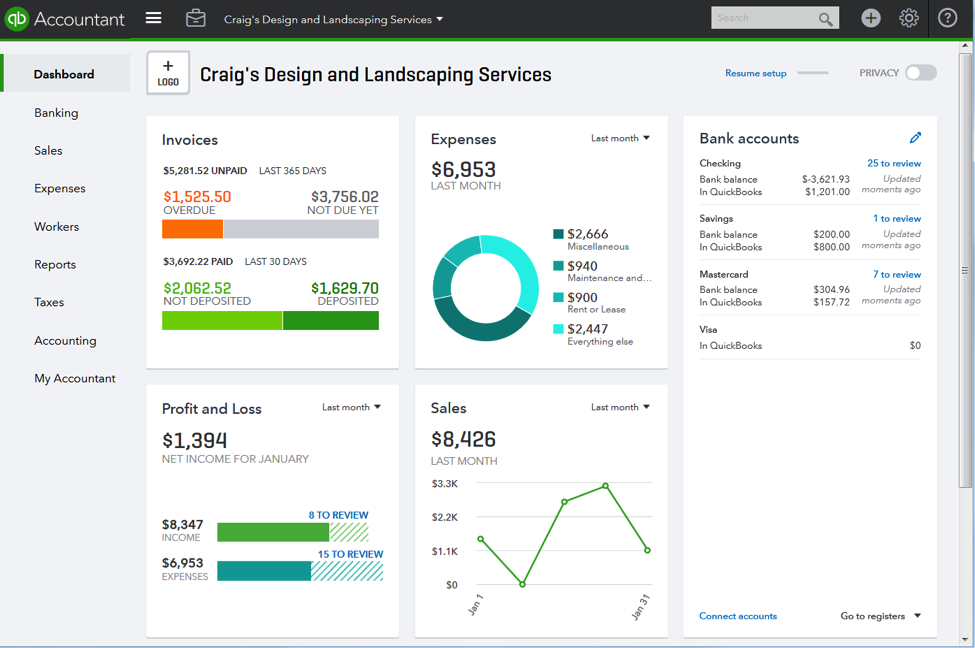 Left Navigation: The navigation pane is provided on the left side of the window. It lists all the important features like Banking, Sales, Expenses, etc. You can click on any of these options for more features. In QB Online, these options are known as tabs.
If at any point you need more working space, then you can simply click on the hamburger icon to collapse the left navigation pane.
Gear Icon: Users often need access to more features than the ones listed in the navigation pane. For this, you have the gear icon, which includes options for Profile, Tools, Lists, and Your Company. Under each category, you will find multiple options which you may need to access regularly.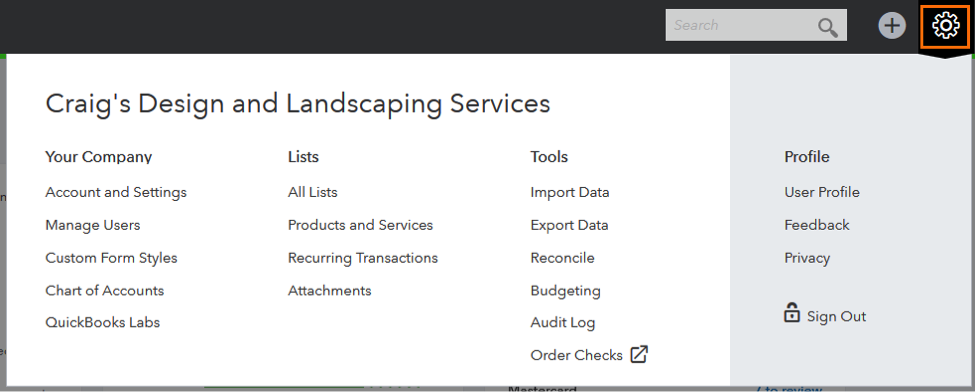 A secondary gear icon is present above lists and reports. This can be used for options related to configuring the settings.
(+) Create Icon: If you need to create any type of form in QuickBooks, then the Create menu is where you'll find such options. The options for creating forms are neatly categorized in multiple categories namely customers, vendors, employees, and others.
Accountant Toolbox: If you're signed in as an Accountant user, then you will have access to the Accountant Toolbox. Tools exclusively available for accountants will be displayed here. These tools include Trial Balance, Reclassify Transactions, Write Off Invoices, Journal Entries, Voided/Deleted Transactions, Close Books, etc.
Search: The option to quickly find transactions, lists and reports in QuickBooks is provided on the upper right side of the window. You can simply type in a term and search everything related to it in QuickBooks. When you click on the search box, you're also provided with a list of previous searches. Intuit has also provided smart complete options, which will auto-complete the search term for you.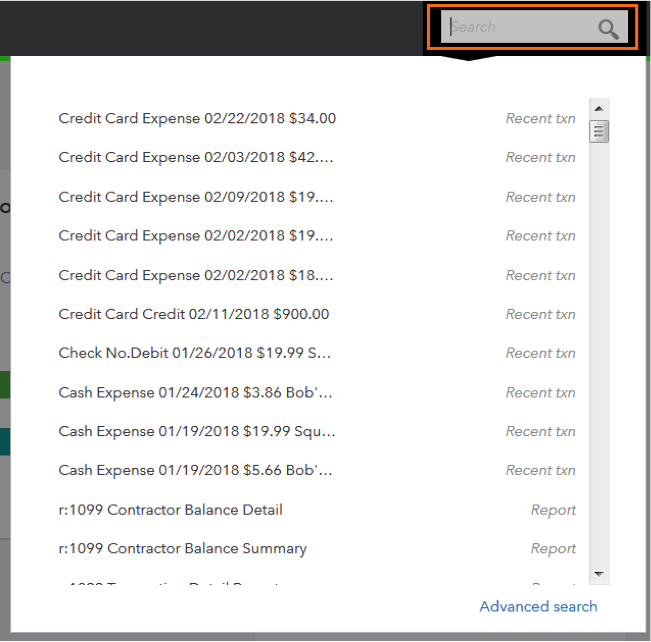 Users can click on Advanced Search for more filtering and sorting options.
2. Explore the Accountant Toolbox
The Accountant Toolbox is only available for users who're signed in as an accountant. These tools can help accountants in managing transactions, lists, and reports for a client. Here are some of the tools available for accountants:
Trial Balance: If you're preparing the books for a tax return, then a trial balance will come in handy. Via this tool, you can also map accounts and transactions. The option to create and file taxes is also available.

Reclassify Transactions: Want to make batch changes to transactions in QuickBooks? You can rely on the Reclassify Transactions tool which enabled you to change the class or account of multiple transactions at once.
Reconcile: To ascertain the accuracy of your accounting data, it is always a good option to reconcile accounts. This, however, can be very tricky and time-consuming.
Reports Tools: With the reports tool, you can select the default date range and basis for reports in QuickBooks.

There are many other options available in the Accountant Toolbox. You can rely on these tools to boost your productivity.
3. Configure Chart of Accounts
A well-configured chart of accounts will facilitate you in creating more robust and accurate reports. To access the chart of accounts in QuickBooks, you can click on the gear icon or Accounting from the left navigation panel. Either create the chart of accounts manually or import it from an Excel file. If you've imported the company file of a client, then you'll have access to all the charts of accounts in that company file.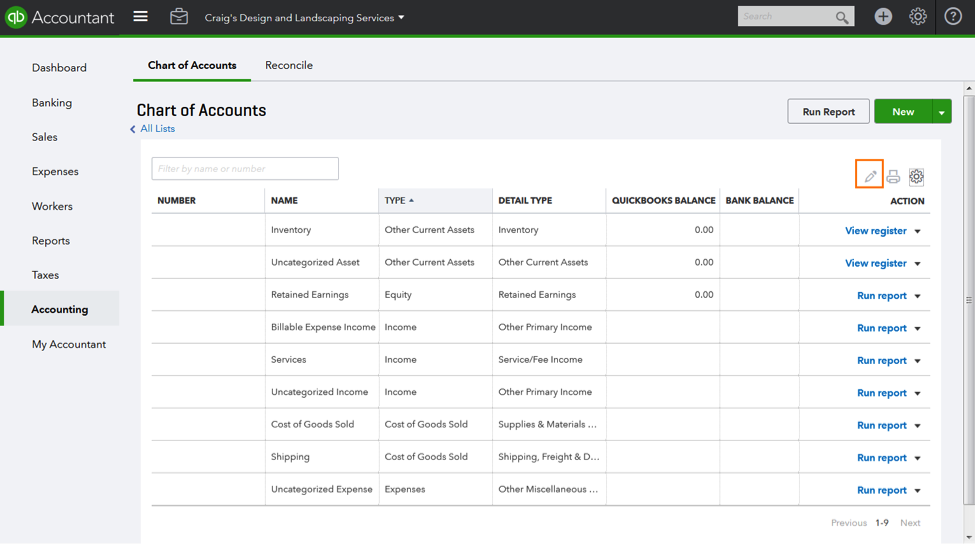 Since Intuit has introduced back actions in QuickBooks online, you can select multiple accounts and edit them at once instead of individually. If you want to make adjustments individually, then you can find the options from the Action dropdown beside each account.
4. Configure Settings
Click on Accounts and Setting from the Gear Icon. From here, you and your client can define the preferences according to your requirements. This is important for properly managing accounts in QuickBooks.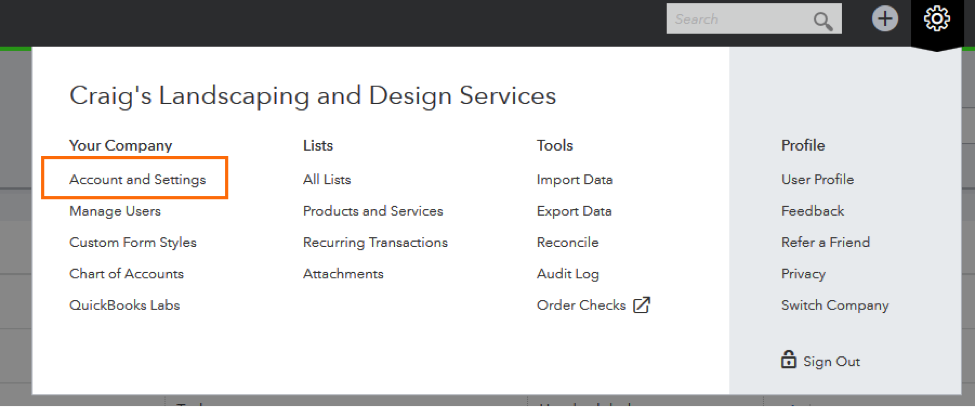 Once you access this option, you can find preferences for company, files, expenses, and payments. The Advanced tab, however, contains the most important features which you must familiarize yourself with. In the Advanced tab, you'll find the options such as Enable Account Number and Close the Books.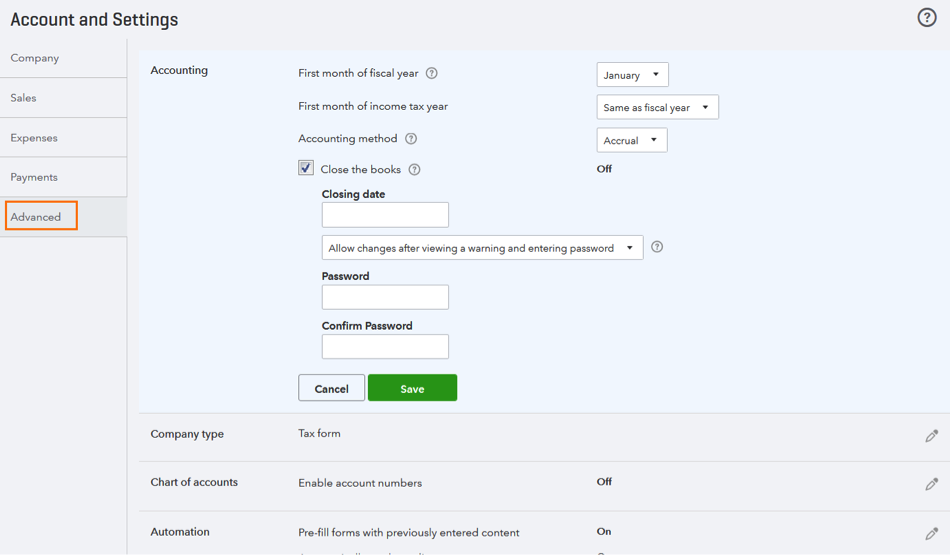 The Billing & Subscription tab is also available but only if your clients will pay their own subscription fee. If you're managing the client's billing and subscription, then the option will not be available.
5. Create a Custom Report List
The Reports tab lists all the reports available to your client under his or her current subscription. These reports can be configured and customized according to the requirements of your client. Further, you can save the templates for these reports. Once saved, you can access them from the My Custom Reports list. This list is available from the accountant toolbox.
Once you've entered the basic information, you should save the report. Every time you make a change to this report and want the change reflected, you should click on Run Report.
The options to customize the reports can be accessed from the Customize option. The option is present in the upper-right corner of every report. After you've selected the options for the report, click on Save Customization. You can enter a custom report name and add the report to a particular group. The option to share the customized report is also available.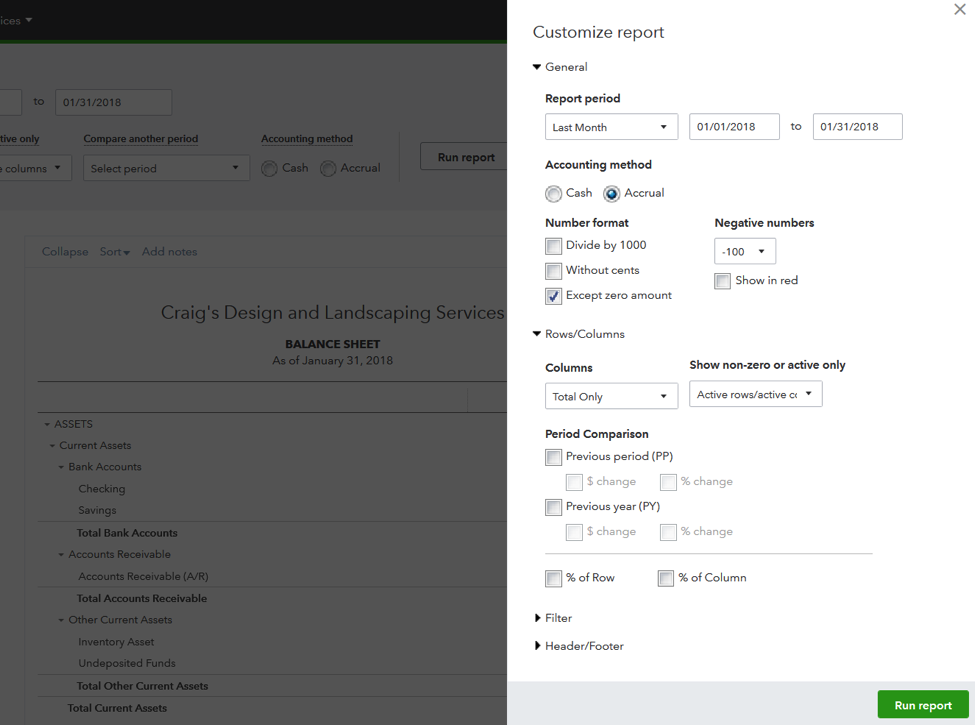 When you go to the My Custom Reports list, you can perform the following functions easily:
Run Report
Export Report to PDF
Share Report
View Report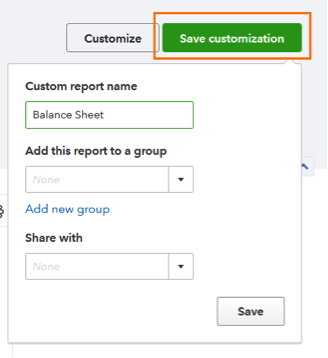 Reports can be scheduled for an entire group or just a single report. Further, these reports can be automatically emailed from QuickBooks Online. For the email, you can select the recurrence time, receivers, subject line, and the message. Users also have the option to Attach the report as an Excel File.
6. Deal with Recurring Transactions
If the client has subscribed to QuickBooks Online Essential or advance, he or she will have the option to create recurring transactions. Further, you can create these recurring transactions for them. Under the gear icon, you have the option to create recurring transactions for your clients. These transactions are usually for fixed costs that the client must pay after a particular period.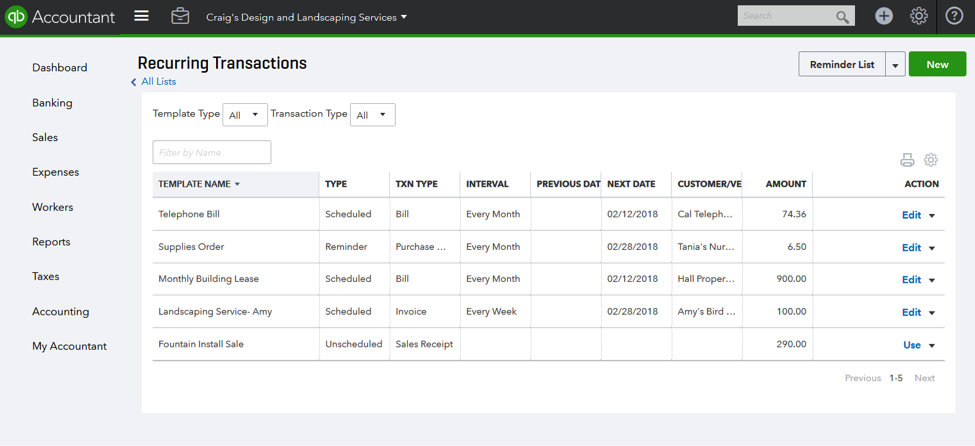 You, as the accountant, have the option to set up automatic transactions, reminders, and schedules.
7. Connect Credit Card and Bank Accounts
You can import transactions by downloading them from your bank account and then importing them into QuickBooks Online. However, a better option is to connect the credit card or bank account. This way, you'll be able to make payments directly from QB. Also, all the transactions will be automatically downloaded and recorded in QuickBooks. For these time-saving features, you can connect your credit card and bank accounts from the Banking tab in the left navigation pane.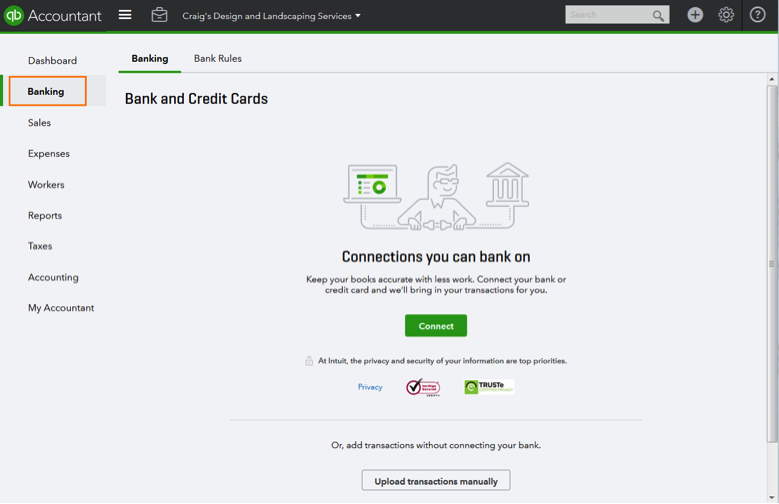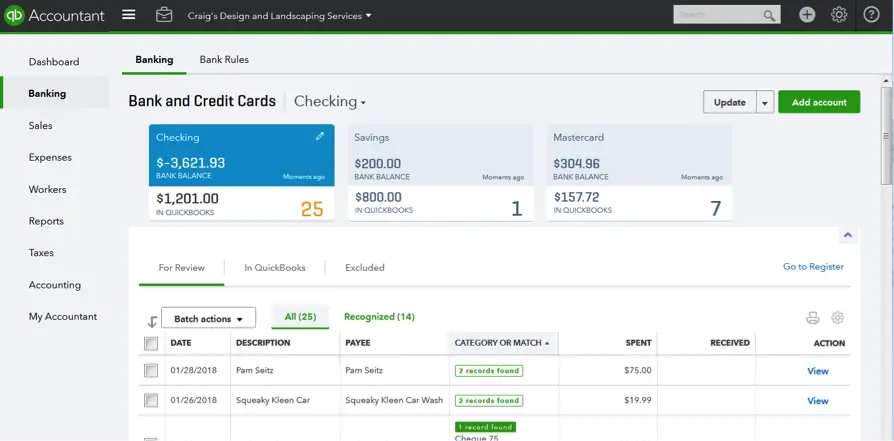 After connecting the bank accounts, QuickBooks can automatically import transactions and categorize them. The auto-categorization feature is an AI that learns from a user's preferences. Over time, QuickBooks online gets very adept at categorizing transactions recorded from the bank accounts. The Bank Rules tab can help you in defining how QuickBooks should categorize transactions after importing them. Clients who don't like to categorize transactions themselves can benefit considerably from this feature.
8. Certification
Users can also opt-in for the Experts Program offered by Intuit for Accountants who work with QuickBooks. The amount and depth of knowledge made available through this program are unparalleled. All you need to do is sign up for QuickBooks online accountant and start learning.
Under Training, you can select the option to learn more about QuickBooks and accounting. Once you earn your CPE, you can list yourself on the Find-A-Experts directory. Users can search for you and avail of your services. This will help you in boosting your business online.
9. Audit Log
The Audit Log tracks the changes made to the data in the company file. Also, it contains information about users who logged into the company file and made changes to the data. This log cannot be modified manually, so it provides information that can help you in bolstering the security of your accounting software.
10. Work with Multiple Windows
Users can simply use multiple tabs to work side by side in two different windows of QuickBooks. To cross-reference transactions and reconcile accounts, this is the best available option. Accountants can launch a new window from the Accountant toolbox. This will launch a duplicate of the current page in a new tab or window.
Some browsers like Firefox and Chrome enable you to simply duplicate the tab. Also, users can drag the tab to another monitor to increase their workspace.
QuickBooks Online Accountant provides a wealth of features to simplify accounting. The unparalleled number of productivity and automation tools made available to accountants can help you in boosting your business's revenues and profits. The Accountant Toolbox is another great menu that makes multiple productivities, batch action, and reporting tools available. To know more, you can get in touch with our QuickBooks consultant.
Speak to a Specialist about Your QuickBooks Software
Get instant assistance with QuickBooks accounting software. Our QuickBooks experts are available 24x7 and resolve issues within minimum turnaround time. We support both US & Canada Editions of QuickBooks Software.
We get help you on these QuickBooks accounting topics
Downloading
Installing
Activation
Import and Export
Data Conversion
Payment Solutions
Upgrade & Update
Payroll Solutions
Integration
Printer
Tax-Related
Data Recovery and many more.