Thus if you are finding it difficult then let's check out how to change currency in QuickBooks. QuickBooks is a boon for those companies who deal with multiple currencies at the same time. Dealing with different countries involves a bit more work in keeping and maintaining books of accounts in multiple currencies.
The work doesn't get over at recording those transactions in their respective currencies but you will then need to convert those currencies to balance out your reports. At first, the whole thing about multiple currencies will look daunting, but with QuickBooks, your work will be a cakewalk.
Before you Change Currency in QuickBooks
If you are using QuickBooks and want to change the currency or use multiple currencies at the same time then here are a few points to be kept in mind.
Activating multiple currency features in QuickBooks cannot be reverted.
Thus only enable the multi-currency features when your business actually deals in them.
Maintain a backup copy of your files so as to have extra security.
When using multi-currency, you should also enable activating and tracking other currencies as well.
This is because different accounts and vendors will be using different currencies, thus you need a tracking capability to check rates within QB.
How to Change Currency in QuickBooks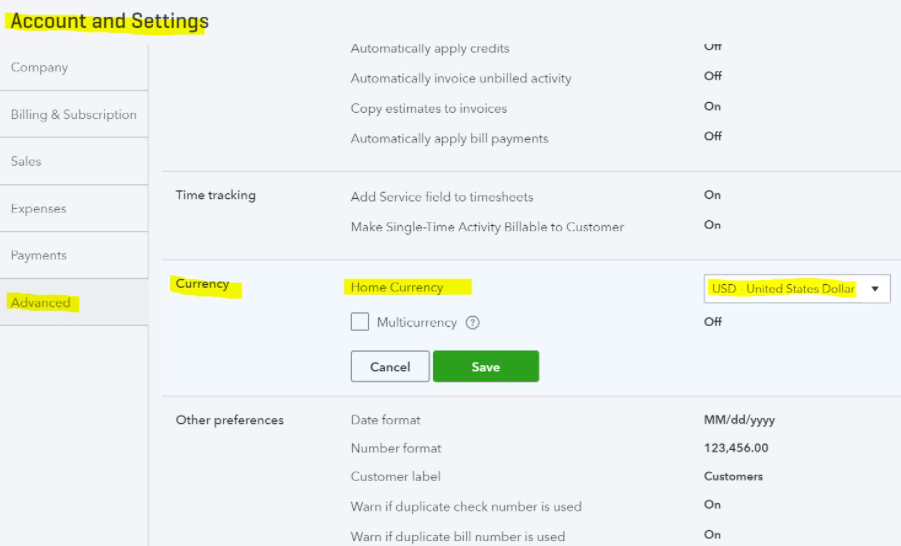 Once you have taken care of all the precautionary measures, now it's time to change the currency in QuickBooks. Please follow along and your query how to change currency in QuickBooks will be sorted.
Total Time: 5 minutes
Step 1:
🔹 Login to your QuickBooks account and navigate to your company file.
Step 2:
🔹 Choose the settings tab and click on the company settings button from the drop-down option.
Step 3:
🔹 From the newly displayed window, select the advanced.
Step 4:
🔹 Scroll down to find the Currency option.
Step 5:
🔹 Now choose your home currency from the regular currencies.
Step 6:
🔹 Choose the Multi-currency radio button and this will enable the said.
Step 7:
🔹 You will now be warned with a message that "Turning on Multi-currency will lock your home currency and will never be changed".
Step 8:
🔹 Click Ok to the message.
Step 9:
🔹 Save your preferences and your Multi-currency account will now be active.
How to Add Currency in QuickBooks? Foreign Currency
In case, in the future, you expand and add more currencies to your portfolio then the same will need to be added to your QuickBooks account. This can be done through the way of following steps.
With your QuickBooks active, choose the settings tab.
Navigate to the currencies tab,
Click "add currencies".
From the predefined list, choose the currency you would like to add.
Click Save and your currencies will now be added to your company's account.
How to Add Foreign Currency Transaction?
Before you can add foreign currency transactions to your program, please take a note of the following.
Only one currency can be allotted to one client.
All your current clients within your program will be allotted your regular currency.
You can add foreign clients with foreign currency through the way of vendor or customer center tab.
If the name of your foreign client perfectly matches your regular client then you can use a slightly different user name.
Steps to Add Foreign Currency Transactions
To add a foreign customer to your account, click on the customer center tab.
You can find the tab from the top navigation bar.
To add a foreign vendor, click on the vendor center tab.
To add a customer, click on the new customer tab and to add a vendor add a new vendor tab.
Enter all the details related to that customer or vendor.
Click on the currencies tab and allot a currency to that customer or vendor.
To save your preferences, choose to click ok.
If you have followed the steps above then you are now:
Successfully change currency,
Add new currency to your account,
Add foreign currency transactions within QB and
Allot the desired currency for that account.
But in case you are still looking for an answer for "How to change the currency in QuickBooks" and reconcile foreign currency then get all the help from our QuickBooks Experts. Our QB professionals are highly qualified to take any query you might have, thus wait no longer and resolve your issue now.
Speak to a Specialist about Your QuickBooks Software
Get instant assistance with QuickBooks accounting software. Our QuickBooks experts are available 24x7 and resolve issues within minimum turnaround time. We support both US & Canada Editions of QuickBooks Software.
We get help you on these QuickBooks accounting topics
Downloading
Installing
Activation
Import and Export
Data Conversion
Payment Solutions
Upgrade & Update
Payroll Solutions
Integration
Printer
Tax-Related
Data Recovery and many more.