QuickBooks POS is a wonderful software that can help in completing work much faster and in a more streamlined way. In fact, QuickBooks can be understood by a layman too while working on the software. It is software in the accounting domain in today's times. Every data stored within QuickBooks POS is safe and secure but sometimes there is a need to delete the said data. Though it is easy to feed in but if you don't know "how to delete a company in QuickBooks POS" then continue reading.
QuickBooks is the next level of easing out payments and cash flow for every user. It is useful for every company of every domain. Data is completely secure with a software like QuickBooks POS. QuickBooks POS is a one stop solution that aids in following inventory and sales of small business houses meticulously. Whether it is about analyzing the budget, monthly payroll, bonus calculations, etc, QuickBooks can help the user in every way.
Usually while working on QuickBooks, users might have questions and queries regarding what to do in some circumstances. One such question that arises is how to delete a company data in QuickBooks POS. Let us explore a little more about it to understand the steps in depth.
Steps on How to Delete a Company in QuickBooks POS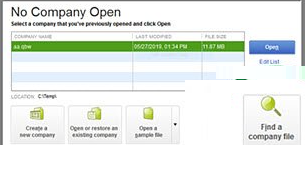 There are situations where the user is replacing the system for a faster alternative. However, there might be situations where the user might need to delete information before taking the system away.
Before initiating the process, a copy of data should be there for future reference. Save it for removable media or some other system. POS can store data in varied locations based on the version of Windows.
Follow these steps for the deleting process:
Total Time: 15 minutes
Step 1:
🔹 In case of Windows XP, files can be found in C:Documents and SettingsAll UsersDocumentsIntuitQuickBooks Point of Sale x.x (x.x would be your POS version).
Step 2:
🔹 Windows 7 or Vista, files can be found in C:UsersPublicDocumentsIntuitQuickBooks Point of Sale x.x.
Step 3:
🔹 The sub folder name will be Data and a different folder in it with the company file name.
Step 4:
🔹 Remove the complete folder named QuickBooks Point of Sale. This will delete all the company data files.
Step 5:
🔹 Backups will also be deleted from the default location.
Step 6:
🔹 If the backup is outside the system, in that case, search for files named as ".qbp"".
Step 7:
🔹 These are QuickBooks Point of Sale backup files. In case, search shows the results, delete them.
Step 8:
🔹 After deleting, check the recycle bin. Empty it completely.
Step 9:
🔹 Now all important data of the organization related to POS data files and their backup have been deleted from the system completely.
Reach us:
If the user is not able to understand the above steps, then it is advisable to get in touch with experts at AskForAccounting so that they can explain in a detailed way what needs to be done. They will help the user in completing the process in such a way that no important data gets deleted or the system is not harmed in anyway. AskForAccounting QuickBooks tech support team is always there for the user.
Ask for Accounting is the QuickBooks point of sale customer support team that has highly trained officials who can guide you at every step on how to delete a company in QuickBooks POS. They are available round the clock for all users. The team is tremendously trained and knowledgeable as they are dealing with QuickBooks POS related issues for a very long time now. Thus wait no more and get help via our phone or chat with us online.