Are you still stuck and doesn't know how to "find QuickBooks company file" then please follow along. When someone is using QuickBooks, the main function one can't ignore is the ability to access Company files and working on them with all the possibilities of working from anywhere. The tool helps you manage all the important work of your company.
The problem people face is to find the Company files in QuickBooks. Thus, It is necessary we explore the road to finding the Company files with not much difficulty.
How to Find QuickBooks Company File: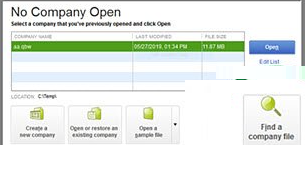 Below is the list of steps to follow to reach the right destination using the C Drive-?
Total Time: 15 minutes
Step 1:
🔹 Click on Start and then Control Panel. After that, click on Appearance and Personalization
Step 2:
🔹 Now click on the option Folders and then click on the tab View
Step 3:
🔹 After this, click on Show Hidden Files, Folders and Drives
Step 4:
🔹 You will find the option on Advanced Settings
Step 5:
🔹 Now click OK to view the hidden files
Step 6:
🔹 Now click Start >> Computer
Step 7:
🔹 Double click on the C drive and after that double click on Users folder
Step 8:
🔹 Now double click on Public followed by clicking on Documents
Step 9:
🔹 You will see the Intuit folder, click on that and then click on QuickBooks folder
Step 10:
🔹 Double click on the Company files folder
Step 11:
🔹 After you have located the QBW file, click on the file and then choose the appropriate option from the sub-menu
Step 12:
🔹 It is advisable to write down the directory path which might be needed for future reference
Step 13:
🔹 Repeat the first step and then click on Show Hidden Files, folders and drives under Advanced Settings Heading
Step 14:
🔹 Now click on OK to accept the changes you have made.
There is another method to Find QuickBooks Company File Location using Windows Search too which you can do by following the path below:
Click Start
Control Panel
Appearance and Personalization
Folder Options
View Tab
Show Hidden Files
OK
Those were the options you could use to locate your important company files. The best way to find Company files is by using QuickBooks.
Once you have installed QuickBooks (How to download QuickBooks) on your system and you want to locate Company Files, you should follow the steps meticulously-
Find the QuickBooks Icon on your system and then open the application by clicking it twice
There is another alternative of doing the above process. You can click on Start, and then select all programs and then the QuickBooks folder. Double click the QuickBooks icon on the folder
Choose the Company File you want to access and after that double click on the QuickBooks startup screen
You need to Press and Hold Ctrl key and press 1
The result will be the launch of Product Information Window
Look in the File information for the QBW extension file
Once you have been able to access the file, you can click and open the file
This is how you open your Company File through QuickBooks. Do you know that you can even set up multiple companies in QuickBooks, if you don't then read along. Work gets easier and convenient with the software as it also offers access to use QuickBooks on 2 computers. Thus work flows hassle free.
QuickBooks can definitely prove to be an asset for finding Company files and working without any hassle. Though if you still find any difficulty with anything related to QuickBooks then call us at our QuickBooks Support Toll Free Number as we also offer online tech support.