Are you still stuck and don't know how to find company data files or recent backup files QuickBooks then please follow along. When someone is using QuickBooks, the main function one can't ignore is the ability to access company files and work on them with all the possibilities of working from anywhere.
The tool helps you manage all the important work of your company. The problem people face is finding the backups and company data file QuickBooks Desktop. Thus, It is necessary we explore the road to finding the company files with not much difficulty.
How to Find Company Data Files or Latest Backup QuickBooks Desktop
It's easy to find your working or backup files with QuickBooks. Simply choose to find company data files from the No Company Open window's options. This window often appears when you first start QuickBooks or when you save your company file.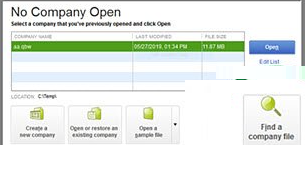 Below is the list of steps to locate or find company data files QuickBooks. The following file extensions are automatically searched for in the find a company file window.
Your QuickBooks working file ends in .QBW.
Your QuickBooks backup file is named .QBB.
Additionally, you can use the side menu to rescan your network or removable media like a USB flash drive.
Method 1- Manually locating company files
By using File Explorer to do a wildcard file search you can also find your files or backups.
Search using the file explorer
You can open the Windows Start menu
Then, into the search you have to type File Explorer, and then you have to open File Explorer.
Now you have to choose My Computer or from the navigation bar This PC.
Be sure to include the asterisk (*) in the search field before the extension type to find all corresponding files. You should search for *.qb for QuickBooks.
Method 2- Find company data files using a Windows search from the Start menu
Search for *.qbb, *.001, or.vtr in the Search programs and files dialogue box to find QuickBooks or VT transactions. You may also look for backups and working company data files by searching for *.qb for QuickBooks. While QuickBooks is .qbw. VT doesn't differentiate between working company files and backups
Note the location in the Size, In Folder, and Date Modified columns after the search is finished. Any example files should be ignored.
You can find out when a file was last modified by looking at the Date Modified column. However, this file will have a current date if you just attempted to log in with a password to an older file.
Double-click the file name or icon of the document with the most recent timestamp and the largest size while QuickBooks, or VT desktop is closed.
To ensure that you have the right file. To display the most recent transaction put into QuickBooks Desktop, for example, run a Custom Transaction Detail report for all dates in QuickBooks. Transaction Detail is found under Reports > Custom Reports.
Close the file that you just opened and go through steps 1-4 again if it's not the file you were looking for.
Method 3- Find company data files by using QuickBooks
Once you have installed QuickBooks (How to download QuickBooks) on your system and you want to locate or find company data files, you should follow the steps meticulously.
Find the QuickBooks Icon on your system and then open the application by clicking it twice.
There is another alternative to doing the above process.
You can click on Start, then select all programs, and then the QuickBooks folder.
Double click the QuickBooks icon on the folder
Choose the Company File you want to access and after that double click on the QuickBooks startup screen.
You need to Press and Hold the Ctrl key and press 1.
The result will be the launch of the Product Information Window.
Look in the File information for the QBW extension file.
Once you have been able to access the file, you can click and open the file.
Method 4- Find company data file using windows
which you can do by following the path below.
Click on the Start button.
After that click on Control Panel.
Now click on Appearance and Personalization.
Then Folder Options and click on View Tab.
Show Hidden Files and then OK.
This is how you open your Company File through QuickBooks. Do you know that you can even set up multiple companies in QuickBooks, if you don't then read along? Work gets easier and more convenient with the software as it also offers access to use QuickBooks on 2 computers. Thus workflows are hassle-free. QuickBooks can definitely prove to be an asset for finding Company files and working without any hassle.
Though if you still find any difficulty with anything related to QuickBooks then call us at our QuickBooks consultant toll-free Number as we also offer online tech consultant.
Speak to a Specialist about Your QuickBooks Software
Get instant assistance with QuickBooks accounting software. Our QuickBooks experts are available 24x7 and resolve issues within minimum turnaround time. We support both US & Canada Editions of QuickBooks Software.
We get help you on these QuickBooks accounting topics
Downloading
Installing
Activation
Import and Export
Data Conversion
Payment Solutions
Upgrade & Update
Payroll Solutions
Integration
Printer
Tax-Related
Data Recovery and many more.