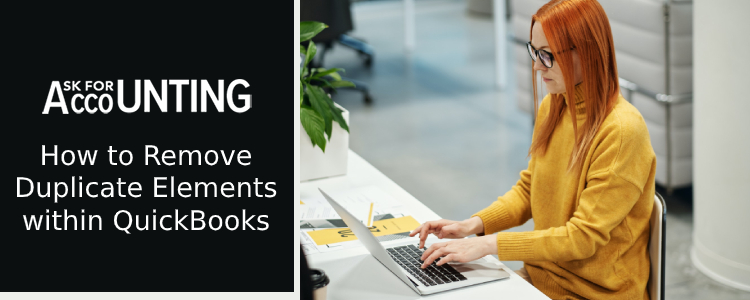 In order to Remove QuickBooks Duplicate List Elements

 you will have to go through the following steps
First you will have to resort every list.

In order to resort the list you will have to select the list from the list tab you want to resort.
Now from the top navigation bar click on view tab and then click on the Resort list tab.
If you have more items to resort then close the one you just resorted and choose another one and then click view > Resort list. Continue if you have more items.

Now exit from quickbooks and then reopen then software again.
Run your data through the verify data tool. Now you should have your duplicate items removed.
If you still face issue and continue to have the same error again then you will need to search Qbwin.log file to identify duplicate items.
To search the log file, do the following:

Within your quickbooks company file, press F2 on the keyboard. This will open up your product info window.
Now press command+2 if you are using mac or Ctrl+ 2 if you are on windows. This will open up your technical help dialogue box.
From there click Open file button.
Now Qbwin.log file will appear. Double click on that or you can even right click on the file and hit open.
Now press Ctrl+F to open up the find dialogue box.
Enter the name or the account that was being displayed when you were getting the duplicate error message.
Once you find the account, now open it and the edit window will appear.
In order to remove the delicacy issues, you would have to give it a different name that is unique from other accounts.
Click ok when done.
If you have more duplicate items then edit them the same way.
When all is done then do the verify data test and you will be able to resolve your issue.
You can even give us a call at our QuickBooks error support team and talk to our Proadvisor now or you can also chat with our experts to fix QuickBooks Duplicate List Elements.
Get solutions to all of your accounting and bookkeeping problems with industry leading experts