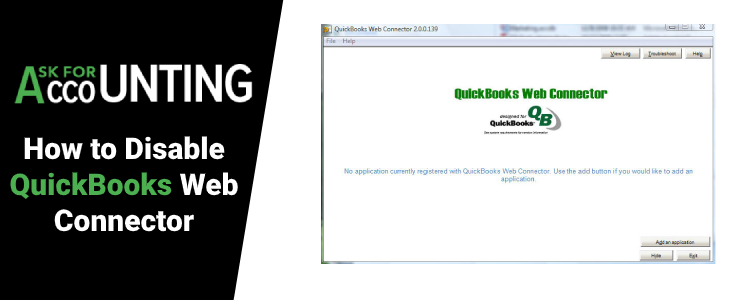 QuickBooks business management software is regarded as the best application that helps in smooth handling of your accounts. The software is stuffed with many features and tools that help in enhancing your productivity. Learn how to disable QuickBooks Web Connector.
Use of QuickBooks Web Connector
On purchasing and installing QuickBooks or a QB product you simultaneously install a number of add-ons tools that assist in using the software in a better way. QuickBooks Web Connector is one of them. QuickBooks Web Connector is one such program that runs on Microsoft Windows that empowers web-based applications specially designed for the exchange of data with other QuickBooks products.
QuickBooks Web Connector helps in managing products, orders, and customer information very smoothly. There are two ways to assimilate your store with QuickBooks. They are as follows:
Through IIF files export &
Through Web Connector software.
The installation of the QB's Web Connector allows the programs to start, every time you switch on your computer. This is the default settings within QuickBooks.
When the connector is running in the background unnecessarily it can pick up unnecessary resources. In that scenario, the user needs to disable the QuickBooks Web Connector from launching whenever you start your system by deleting the right startup entry.
QuickBooks Web Connector: How to Download
Download QuickBooks Web Connector, unzip it and install the software program. Check the size on disk: 80.8 MB
As per Web Connector version 2.2.0.34, the security protocols supported are SSLv3, TLS 1.1 and TLS 1.2.
If you have already installed version 2.1.x.x or 2.2.0.x then you would have to delete all the files before installing 2.2.0.71 version.
Follow the path and delete the files from your system: Click on the "C" drive. Then head over to the program files. Click on the common files and choose the Intuit folder and choose the required option.
Steps to install QuickBooks Web Connector:
✅ After downloading unzip the file and copy the three files to a new or temporary location
✅ Change directory to this new location
✅ Click on QBWebConnectorInstaller.exe
✅ Choose to select the option where it says "Run as Admin" to install and this will now install QBWC in no time.
QuickBooks Web Connector Error:
Some examples of the common Web Connector errors are as follows:
☑ QBWC1000: The domain names for [] service and support URLs mismatch. QBWC1003 or QBWC1004: The application [] support URL (AppSupport) is restricted to reach.
☑ QBWC1010: Application [***] cannot be loaded. For security reasons only SSL (https) based applications are allowed.
☑ QBWC1015: (There is an error message showing that there is an issue in QuickBooks).
☑ QBWC1026: Some problem crops up while adding file ID.
If you feel like that QuickBooks web connector is posing threat to your QuickBooks or your financial data within it then you can simply disable the program. Below are the steps on "How to disable QuickBooks Web Connector". Follow the steps and you will be able to remove the file completely from your system.
How to Disable QuickBooks Web Connector
Installing and disabling QuickBooks Web Connector should be done very carefully. Follow the steps recommended for installation and disabling the QB Web Connector tool.
✅ Get started by clicking the Windows start button,
✅ Choose Control Panel,
✅ Select Uninstall a Program,
✅ Click QuickBooks Web Connector,
✅ Go to Installation window,
✅ Click Next,
✅ Select Remove.
On following the above steps the tool will be uninstalled and you will no more face the error issues.
For more details on installation and disable QuickBooks Web Connector and the error resolution you can contact QuickBooks ProAdvisor Support. They are approachable through toll-free phone number 1800-865-4183 and email. For instant support, live chat option is also available.