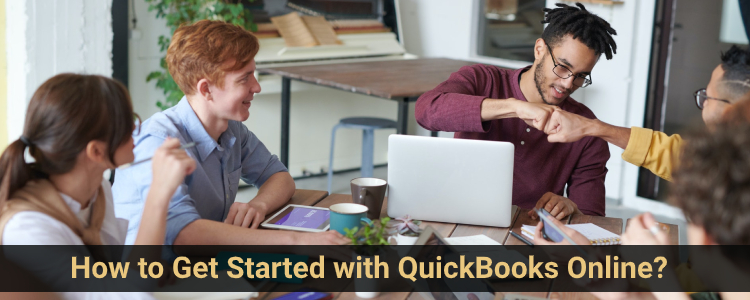 If you are new to QuickBooks, then follow this simple steps by step guide to find how to learn "QuickBooks Online accounting".
Steps for How to Get started with QuickBooks Online:
1️⃣ Click on Getting started tab: You can find this on the upper left side under Home's tab. This will help you make familiar with the basics of QuickBooks through various online videos.
2️⃣ Set Up A Password: Once you are comfortable with the software, set up the password right away. This will help you secure your credentials.
3️⃣ Fill in your Business Details: To fill in the details like Tax Id number, reporting calendar, etc. you would need to go to "Preferences link" > "Company tab". This will open up a window to enter your financial details.
4️⃣ Fill in your Customer Info.: Click on the customer's tab to enter their details. Here you will be asked to enter their payment methods. For the best experience check with your customer directly for their preferred payment methods. Once you have the info then fill in the details accordingly.
5️⃣ Fill in your employees and vendor details: You can find both the tabs on the top right side of the main panel. Feed in the required details and generate test reports to confirm.
6️⃣ Track your transactions: Since now all set and done, now you can spend time in recording your financial transactions. To record them head over to Banking tab and select the appropriate sub tab to record values.
7️⃣ Generate your Profit And Loss Report: You can access them under "Reports" tab. Once done with recording values you will be able to generate your profit and loss statement.
Once you are, all done with the steps given above, you will have a pretty fair idea of how to use QuickBooks. But in case you still face any issues then you can always get in touch with QuickBooks ProAdvisor.
QuickBooks is an accounting software that is being marketed by Intuit. It is mainly used for small businesses to maintain their books of accounts. Because of its affordability and user friendly interface it is considered one of the best accounting software's in the world.
It is also considered best for its unbeatable advantages, which are as follows:
Uncomplicated And Quick Setup– QuickBooks is very easy to use you don't need any expert to use it. Just answer simple questions and your software will be installed in a blink.
Greater Affinity– This is one of the best features in QuickBooks, as it provides easy integration with other programs. This simply means that you can use the program to record your financials and once done you can export the files to your favorite tax preparation software. This will ultimately help you in filling tax with little less pain. If you are habitual working with MS Excel then QuickBooks will be a boon for you. It integrates really well with .csv files thus makes it easy to import your data.
Meticulous money manager- QuickBooks is not only the best money tracker available but can also help in maintaining bills due. You can set due dates of all your recurring bill and can print check from the software itself.

Tailor made invoices-

 With ready made templates available, a user can design their own invoices and charts or spreadsheets that looks more presentable. With these templates a user also gets the ability to add their own logo's and thus helping them in a long way.
Tracking Become Easy In Sales- The software helps in tracking your business sales and creating invoices. With just a click of a button you can track sales get record of your revenue and create invoice. This will help you in saving much of your time.
Simple Reporting– QuickBooks can simply create many financial reports, and these reports will make your financial scrutiny of business unbelievably easy.
Choose Different Software For Your Particular Needs– The QuickBooks comes in many versions that will help you to make the choice, it comes in QuickBooks Pro, QuickBooks Premier, QuickBooks Online and QuickBooks Enterprise.