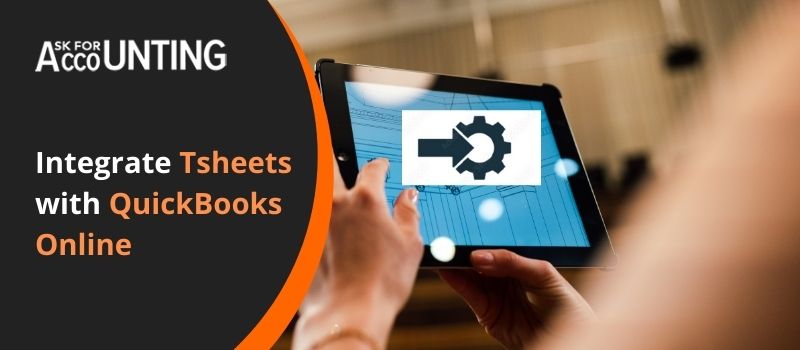 This blog will cover how to "Integrate Tsheets with QuickBooks Online". TSheets is a cloud-dependent time tracking & scheduling solution for QuickBooks Online for small business organizations. Through which they can easily, review & modify time.
This solution operates with Full-Service Payroll & QuickBooks Online Enhanced Payroll which further saves time.
Benefits of TSheets in QuickBooks Online
It Syncs with QuickBooks Online to monitor time for jobs, classes, customers & payroll.
It saves dollars by eliminating manual data entry and avoiding costly mistakes.
Accelerate payrolls to save time.
Facile time tracking as per service, customer & class.
Optimize billing time.
Reduce payroll expenses.
Cover job costing requirements.
How to Integrate Tsheets with QuickBooks Online
Follow the below-given instructions for already existing accounts in QuickBooks.
Step 1- QuickBooks Online Integration add-on installation
Locate TSheets, select Feature Add-ons, and after that click on Manage Add-ons.
Search QuickBooks Online Integration and hit on install.
Choose Connect to QuickBooks which will display Intuit log-in page.
Login with intuit provided credentials if there are multiple organizations then choose the one you need to link.
Choose Authorize then the message named you are.
Now connected will appear and opens a preferences dialog box.
OR
Locate Apps.com, discover TSheets Time Tracking, and then click on Learn more.
A window will appear, sign in through your QuickBooks online account.
Select the listed company you want to integrate.
A Setup TSheets Time Tracking window page will appear, Sign in with an existing account or run a free trial.
Step 2: Select the Files to Import in QuickBooks Online
Navigate the preference window and then choose the elements that you wish to import into TSheets with the associated QuickBooks account.
There are many existing employees into TSheets that are not connected with the QuickBooks account, you can choose the preferred one to archive it upon the initial sync.
You can import entire active customers along with their jobs into TSheets to let employees track time. This can be attached to an individual employee or all employees.
Deliver a list of service elements that employees can select to track time.
Through this option, employees can notify the billable time.
It shows a list of classes through employees can choose a list to track time.
Step 3-Import through QuickBooks Online
QuickBooks Updates and modifications imports into TSheets after every single minute automatically.
The sync log will appear frequently after one import.
If you want to block the import, you need to locate QuickBooks and then choose preferences.
Below the Automatically import change button, de-select the element you want to restrict for an automatic import.
In case if you want to stop completing automatic import then clear the automatic import button.
A manual import is allowed if required.
To perform manually go to the right side of TSheets, choose QuickBooks, and then hit on import.
Step 4-Map payroll components
To use Tsheets with QBO integration for payroll
Choose the use of QuickBooks Online for the payroll field located in QuickBooks Online Integration Preferences.

If these items are imported upon initial sync, they will map automatically to the matching time types don't forget to cross-check it and make settings if required.
Now, you know what and how to Integrate TSheets and QuickBooks Online and Integrate TSheets and QuickBooks Desktop.
If you still have any questions or face any QuickBooks errors connect to the QuickBooks support team. The expert team is glad to be there for you all the time and help you to resolve glitches in time. If there occurs an issue while calling you can do a live chat with one of the professionals or send an email along with a query.
Get solutions to all of your accounting and bookkeeping problems with industry leading experts