Here, you can learn how to "hide, merge and delete customers in QuickBooks" including all related information. These things will help you to make more space for new customers and give a visible view to track each customer.
The QuickBooks in-built approaches manage entire business accountancy accurately. Along with its integration, advanced features, and applications, the user has to know how to remove all unwanted customers, invoices, transactions, and many more things. The user has to know and perform the right solution to avoid all error issues.
What do you do when you feel that a few customers in your database are not required anymore or occupying space that can be used for some other important things? Read how to "delete a customer in QuickBooks".
How to Manage Customers in QuickBooks?
Many users have struggled with QuickBooks inactive customers. Users add many customers who eventually become inactive with time. Instead of keeping them in the file, QuickBooks helps you to remove them easily. With this article, understanding the scenarios under which you can delete a customer will be crystal clear. Before we start to get rid of those customer data, let us have a look at the scenarios which should be considered.
The first scenario – If you think of customers you want to delete but when verifying, you discover that there is no history of their account, you can delete those customers from the list of customers
Second Scenario – Sometimes you won't be allowed by QuickBooks to make any deletion of those customers who have activity of any type associated, be it even one transaction. In such cases, QuickBooks gives you the dialogue box like: "This name has a balance or it is used in transactions, it cannot be deleted". In such cases, you can only make those customers inactive instead of deleting them.
Now considering the above scenarios, we need to learn how to delete customers whom we don't want in the list of QuickBooks anymore. Thus follow this process:
How to Hide, Merge and Delete Customers in QuickBooks Desktop
The process in short is Customers > Open the Customer > Edit > Make Inactive. This needs to be followed in detail so that the process is successful. However, you can also follow the process of merging and deleting customers in QuickBooks if you want to keep the customer in the file. Let us know the process in length.
How to Hide a Customer in QuickBooks Desktop
In this process, users will be enabled to hide the customers. For this, you need to do the following-
Click on Customer Center which you can see at the top of the QuickBooks Window
Now on the left side of the window, click Customer and Job
Once you have the list of the customers, double-click the customer name and hide
You will see a window that says Customer is Inactive
Click on that option.
How to Merge Customers in QuickBooks Desktop
This is another method by which you can merge the customers and remove them from the list but retain them in the file.
What you can do is follow a similar process like that of hiding a name by clicking on Customer Center
Customer and Job
Select Customer
Change Customer Name to be Edited
Yes to Merge.
How to Delete a Customer in QuickBooks Desktop
Well, this is the process everyone looks for in order to remove a customer with no trace from QuickBooks. For this, you can click and open QuickBooks. Once you have opened QuickBooks, do as mentioned below-
Click on Customer Center and then once again click on Customer and Jobs
You will be introduced to the list of customers you have in QuickBooks
Choose the customer you want to remove
Click on Edit
Now click on Delete Customer Job
The customer you had selected will be removed
Depending on the number of customers you want to delete, that number of times, the same process should be followed.
---
How to Delete a Customers in QuickBooks Online
Here are the steps to delete a customer in QuickBooks Online.
In the first step, open the customer menu from your QuickBooks
From the drop-down option, click on the "Customer Centre"
Now, enter your next click on the "Customers & Jobs" section
After that, click on the customer that you want to delete
Then, go to the "Edit" menu and choose the "Delete Customer: Job" and repeat the process to continue to delete every customer you want to erase.
---
How to Remove Customers from QuickBooks?
Follow the steps to remove a customer for QuickBooks.
Firstly, open your QuickBooks, and click on the "Customer Center"
Then, you have to select the "Customers & Jobs" from the left corner of the window
Then hit the double-click on the customer name that you want to remove
At last, click on the "Customer is Inactive" button from the Edit window
Click on the OK button and the selected user removed from your QuickBooks
Simpler than ever it is with QuickBooks to remove those unwanted customers from the list. If you are looking for "how to delete a customer in QuickBooks for mac" then the process is more or less the same for them as well.
But if in any case, you are not able to still delete customers in QuickBooks online then you know need expert advice. If you are living in Canada, USA then you can dial us at our QuickBooks Consultant number at the toll-free number. We would be happy to help you.
Get solutions to all of your accounting and bookkeeping problems with industry leading experts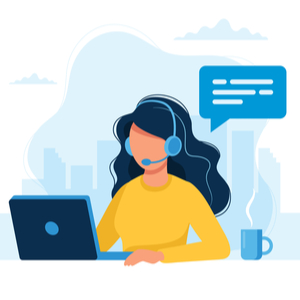 FAQ's
Does QuickBooks have a customer information base?
The pillar of the company is its customers. QuickBooks accounting software can assist you with overseeing and keeping up those customer connections.
How would I Delete a Customer Type in QuickBooks?
To do this thing, locate the actual list of the customer types. So, you get access to add new ones and delete or edit existing ones. To perform this process, click on the list and choose the "Customer and Vendor" section Lists. Go to the menu bar and choose the Customer Type List and click on the Delete button from the drop-down menu.
What Happens when you make a Customer Latent in QuickBooks?
Making a customer won't influence reports or delete transactions. You can restore them whenever you want. When a customer goes on inactive mode, they are taken out from the customer list and different spots where you could already locate them.