Reconciliation of credit card transactions in QuickBooks is similar to the bank reconciliation process. If in case you continue to face the same issue i.e. "QuickBooks Credit Card Payment not showing up in Reconciliation" then it should be checked if the credit card statement is reconciled to the charges.
Credit Card Reconciliation refers to the process that is carried out when credit card statements are received. This can also be done when the financial period closes. It involves checking the integrity of data between credit card statements and your financial institution.
For the reconciliation process, the accounting professionals go through each and every transaction in the credit card statement and match it with the internal system of the company. There are different ways to record a payment to a credit card. You can:
Write a Check,
Transfer payment,
Use Bill/Pay Bills,
Use Banking downloads to add your entry,
Make payment during reconciling the credit card account, or
Create a Journal Entry.
Creating a QuickBooks account for each credit card is essential for every business. Here the type of account created will be Credit Card. For a debit card, the transactions are entered directly into the bank account check register and not on the Credit Card account type.
Possible Credit Card Related Errors
There are four common errors that are commonly reported by QuickBooks users. They are as follows:
Error when the client is able to make partial payments on its card bills.
Accounts Payable is involved in revolving debt balances.
All card bills seem to track the same expense account.
Credit card accounts fail to reconcile.
Symptoms of QuickBooks Credit Card Payment not Showing Up in Reconciliation
When any of the above-given error appears then you may experience:
Accounts payable balance being too high with many credit card bills,
The expenses section often remains high but the bank account balance seems to be right.
What to do my QuickBooks Credit Card Payment Not Showing up in Reconciliation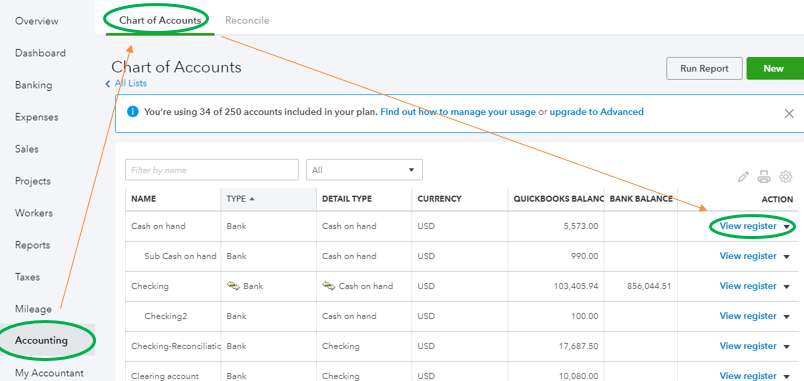 No matter whether QuickBooks is a smartly engineered accounting application but there are circumstances when an error occurs and the user faces problems in handling the software. Credit card payments not being visible in the reconciliation is one of the common errors reported by QuickBooks users.
Total Time: 10 minutes
Step 1: The Same Credit Card Entry is Reconciled Earlier
🔹 You can view the transactions reconciled through the bank register
🔹 Verify if it is marked with an "R".
Step 2: Transactions are hidden by mistake:
🔹 You can remove the checkmark for Hiding transactions after the end date of the statement.
🔹 Find hidden transactions on the right of your window.
Step 3: Verify Credit card Transaction
🔹 you can verify if you haven't created a credit card transaction within your reconciliation account.
🔹 To fix this issue, ensure verification of the account mentioned in the payment.
If you don't see a solution to your query and continue to face QuickBooks credit card issues and bugs then it is quite a possibility that you may have some serious issues with your QuickBooks.
We would here request you get in touch with our QuickBooks error Consultant as soon as possible. Delaying things most likely may cause some severe problems within your system. Thus wait no longer and give us a call now.
Get solutions to all of your accounting and bookkeeping problems with industry leading experts