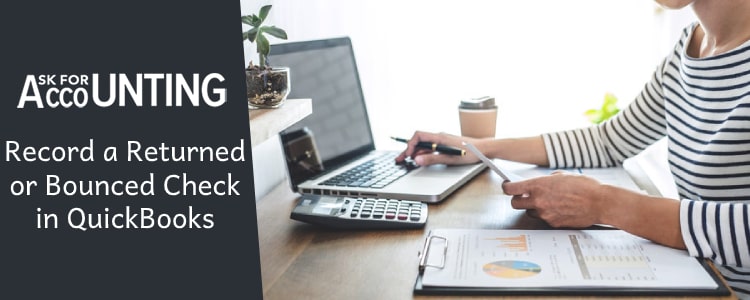 If you have got a check that has been returned due to unavailability of funds in a bank account then the same will have to be recorded within QuickBooks. Though the transaction is recorded like any other entry but the steps will be a little different, as there is a great possibility that you may encounter an error. People have usually reported that there record a returned or bounced check in QuickBooks.
To Fix QuickBooks Record a Returned or Bounced Check in QuickBooks
Here are the two ways with which you can record bounced check within QuickBooks, these are:
Using Single user mode.
Using Multi-user mode.
Please Note:
If you see QuickBooks record bounced check button greyed out then change the payment mode to check. The reason why you see bounced check button inactive is that you have an ACH item. Normally these items are paid by cash or card. Thus in order to record a returned check, simply change the mode of payment.
How to Record a Returned Check in QuickBooks: Single User Mode
Login to your Quickbooks account and navigate to your company file.
From the top navigation panel, click on the customer's tab. This will open up a customer's drop down menu. Click on the "Customer Center" from there.
Now navigate like Transaction > Receive payment.
Scroll to find the amount against which you want to receive bounced check.
Within the receive payments menu, click on the tab that says "Record bounced entry". If you have the check that is still waiting to be cleared then you won't be able to record a bounced entry.
Here enter the required details like The amount you charged from the customer, Bank related details, Date of sale etc. Please note the details are not mandatory to be filled. If you don't have any idea of the dialogue box above then you can simply leave them. Press NEXT when done.
Now you will be shown with the summary of the transactions that have recently been edited or changed.
Review the summary report and if satisfied with the changes made then click on the Finish button and now your changes will be applied.
How to Record a Returned Check in QuickBooks: Multi-user Mode
If you are using the multi-user window format then here are the steps you would need to follow:
Open up a New Account
The first thing before you can record a bounced check is to create a new account. This you can do as follows:
Create an item for the Banking Charges
Inverse the Check Payment
Since you want to maintain every single payment within the QuickBooks account, thus making a journal entry for this bounce transaction.
Inverse the Invoice Payment:
Hope we were able to help you and your query related to "Record a Returned or Bounced Check in QuickBooks" has now been fixed. If you are still facing trouble then we would request you to connect with Quickbooks proadvisors now.