If you're in the process of move QuickBooks to a new computer, it's essential to make sure the transition for your QuickBooks data goes smoothly. The good news is that QuickBooks has a built-in tool called the Migrator tool, which can help you do this in a secure and straightforward way. Let's go through the steps of transferring or move QuickBooks to your new computer.
QuickBooks is a trusted tool for managing finances that many businesses find useful. Sometimes, you might need to move your QuickBooks data, either for fixing issues or shifting to a new computer.
There comes a time in every person's professional life when they decide to upgrade their current workstation. It's a pretty straightforward process you research to find a new laptop or computer that you think suits your requirements the best, you save up, and then you buy the new laptop or computer.
When you do that, the new workstation comes with a bunch of pre-installed software, and the other software, you have to install yourself. And of course, those people who use QuickBooks would also be wondering if they can download their QuickBooks software onto their new workstation with everything as it was on their old workstation.
QuickBooks Comes in Two Versions: Desktop and Online
QuickBooks Online:- QuickBooks Online operates in the cloud, so you don't need to move files when changing computers. You can access it from anywhere with an internet connection, which is flexible and convenient.
QuickBooks Desktop:- On the other hand, QuickBooks Desktop is installed on a particular computer or server. It's liked by those who need precise control over financial data, often used by larger companies and accounting firms.
When we talk about transferring QuickBooks, we usually mean shifting QuickBooks Desktop to a new computer. Here's how to do it using the Migrator tool.
Preparation
Ensure your new computer is connected to the Internet.
Prepare a USB flash drive with sufficient space for your QuickBooks files.
Preparation on your Old Computer
Launch QuickBooks, go to the File menu, select Utilities, and then choose Move QuickBooks to another computer.
Select "I'm Ready" and create a one-time password.
Follow the prompts to select the USB flash drive and wait for the files to be copied.
Preparation on your New Computer
Insert the USB flash drive.
Note:- Migrator Tool won't open automatically due to Windows security restrictions, so you'll need to launch it manually.
Open the flash drive, locate the file "Move_QuickBooks.bat," and double-click it to start the migrator.
Enter the password you created, then select "Let's go" and wait for the Migrator Tool to complete the transfer.
Please be aware that the duration of the process may vary depending on your computer's speed, internet connection, and the size of your company file(s). After the migration, your QuickBooks files will still be on your old computer. To avoid any confusion, consider renaming the file(s) on the old computer.
Things to Consider When Moving QuickBooks to a New Computer
Once you've met the prerequisites, there are several important factors to keep in mind during the transition process.
Here's a checklist of key considerations…
Back Up Your QuickBooks Data: Start by creating a backup of your QuickBooks company file on the old computer and then transfer it securely to the new one.

Start by repeating the previous export operation to an external hard drive, such as a USB flash drive. Ensure that the drive is properly inserted and detected by your computer.
Launch the backup software and navigate to the "Backup" section, specifically "Disk Backup."

Click on the "Add Disk" option to select the external hard drive as the source disk for your backup.
Now, choose a destination where you want to store your backup image. This ensures that your data is securely saved.

To further enhance data protection, consider enabling the scheduled backup settings. You can set it to back up your data daily, weekly, monthly, or trigger it based on specific events or when a USB drive is plugged in.
Once you've configured your backup preferences, simply click "Start Backup" to confirm your choices and initiate the backup process.

Install and Activate QuickBooks: Install QuickBooks on the new computer and ensure its activated using your valid license and product key.
Update QuickBooks: Update QuickBooks to the latest version on the new computer to benefit from the most recent features and improvements.
Transfer Documents and Files: Move all relevant documents and files associated with QuickBooks to the new computer to maintain continuity.
Reinstall Third-Party Applications: If you're using any third-party applications integrated with QuickBooks, reinstall them on the new computer to maintain functionality.
Hardware and Software Compatibility: Verify that the new computer meets all the necessary hardware and software requirements for QuickBooks to operate smoothly.
User Accounts and Permissions: Set up user accounts and permissions on the new computer to mirror those on the previous one, ensuring consistent access.
Network Connectivity: Check the network connectivity between the new computer and other devices on the network, ensuring seamless data sharing.
Testing and Verification: Test the new QuickBooks installation thoroughly to verify that all functions and features are working as expected before fully transitioning to the new system.
By addressing these methods, you can ensure a smooth and successful migration of QuickBooks to your new computer, minimizing disruptions to your financial operations.
Guiding Your QuickBooks Desktop Transition
Making the switch or move QuickBooks Desktop to a new computer can be smooth if you have the following essentials.
Registered QuickBooks Software and Internet Connection: Ensure your new computer is connected to the internet, and you have your QuickBooks software registered.
QuickBooks Setup File: Keep the QuickBooks setup file or installation disk on an external device.
External Storage: You'll need external storage, like a USB drive, for your QuickBooks Desktop files.
License and Product Details: Have your QuickBooks license and product registration information ready.
USB Flash Drive: You'll need a USB flash drive with sufficient space for your QuickBooks files.
Move QuickBooks Desktop using the Migrator Tool
Transferring or move QuickBooks Desktop from an old to a new computer can be a smooth process with the QuickBooks Migrator tool. Follow this detailed guide for a seamless transition while maintaining control over your business finances.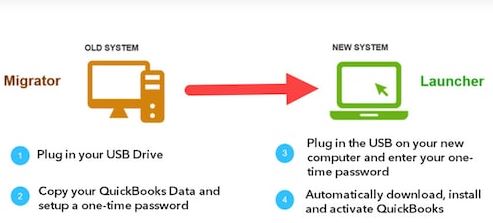 Step 1: Preparing for the Move
Start by creating a backup of your company files. Open QuickBooks, navigate to "File" > "Backup," and follow the prompts to save the backup file securely.
Additionally, make sure to locate your QuickBooks license details, including the product key and license number. You'll need this information to activate QuickBooks on your new computer.
Deactivate QuickBooks on your old computer by going to "Help" > "Deactivate QuickBooks Desktop." This step is crucial for successful activation on the new computer.
Step 2: Installing QuickBooks on the New Computer
Download the latest compatible version of QuickBooks from the official website.
Run the installer, follow the on-screen instructions, and activate the software with your product key and license number.
Step 3: Transferring QuickBooks Data to the New Computer
Connect your external hard drive or access cloud storage where the QuickBooks backup file is saved. Copy this backup file to the new computer, preferably on the desktop or in the documents folder.
Open QuickBooks on the new computer and go to "File" > "Open or Restore Company." Choose "Restore a backup copy" and follow the prompts, selecting the backup file you copied. Complete the restoration process.
Ensure that all your data, including transactions, customers, vendors, and accounts, transferred accurately. Review everything carefully.
Step 4: Reactivating QuickBooks on the New Computer
Activate QuickBooks by going to "Help" > "Activate QuickBooks Desktop" and follow the prompts. Enter your product key and license number.
If you wish to update QuickBooks to the latest release, go to "Help" > "Update QuickBooks Desktop" and follow the instructions to download and install updates.
Handling Manual Data Transfer
Certain data doesn't migrate automatically and requires manual attention.
Uninstalling Intuit Data Protect: On the old system, uninstall Intuit Data Protect and then log in again on the new computer.
QuickBooks Payroll and Payment Services: These data must be manually transferred by signing in on the new system.
Multi-User Setup Information: You'll need to manually set up the multi-user configuration.
Manual Backups: Any manual backups you've created should also be manually copied to the new system.
Mistakes to Avoid while Transferring QuickBooks to a New Computer
When it comes to move QuickBooks to a new computer, the process may appear straightforward. However, errors can arise, complicating matters and potentially resulting in data loss or other complications. Correcting these mistakes can be time-consuming and costly. Therefore, it's prudent to be aware of potential pitfalls and take steps to avoid them. Here are some common mistakes to watch out for:
Neglecting Data Backup
Prior to transferring or moving QuickBooks to a new computer, it is critical to emphasize data backup. Skipping this step can lead to data loss or corruption during the transfer process.
Overlooking Compatibility
Ensure that your new computer meets QuickBooks' minimum system requirements before proceeding. Failing to meet these requirements may result in software issues, such as slow performance or frequent crashes.
Skipping Software Updates
Verify that you are using the latest QuickBooks version before transferring it. Avoiding software updates can result in compatibility problems and unexpected issues.
Incomplete File Transfer
When move QuickBooks to a new computer, make sure to transfer all essential files, including company files, templates, and various settings. This comprehensive transfer guarantees a seamless transition of your QuickBooks setup.
Rushing the Process
Exercise patience during the transfer process and carefully follow each required step. Rushing through it may lead to errors or potential problems, so it's essential to proceed with caution and attention to detail.
Conclusion
Move QuickBooks to a new computer is an easy task when approached systematically. Proper preparation, backup, and careful steps ensure a smooth transition. Whether using the QuickBooks Migrator Tool or manual transfer, your financial data's integrity can be maintained. If you still encounter challenges during this process, don't hesitate to reach out to our QuickBooks experts for guidance and support. Your business's financial records are essential, and we're here to help you safeguard them during the transfer.
---
Speak to a Specialist about Your QuickBooks Software
Get instant assistance with QuickBooks accounting software. Our QuickBooks experts are available 24x7 and resolve issues within minimum turnaround time. We support both US & Canada Editions of QuickBooks Software.
We get help you on these QuickBooks accounting topics
Downloading
Installing
Activation
Import and Export
Data Conversion
Payment Solutions
Upgrade & Update
Payroll Solutions
Integration
Printer
Tax-Related
Data Recovery and many more.