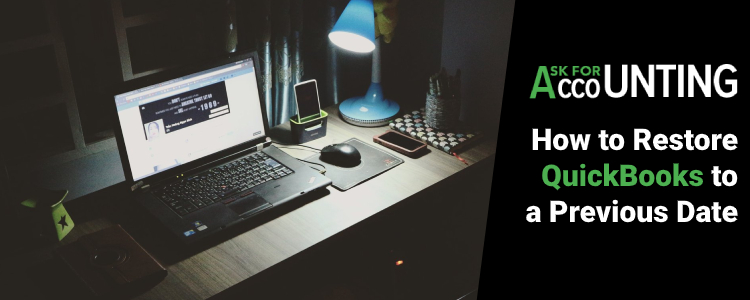 If you are using QuickBooks online then you have the option to restore all your financial data with ease. Utilize web restore service and you can have a backup created straight on the cloud, automatically. If you are using other versions of QuickBooks then you can have the backup created on your local computer. Though creating a backup is easy but people often find issues with restoring their data. We often times get confronted with queries like "How to restore QuickBooks to a previous date?". Thus here in this article, we will help you resolve this issue.
---
How QuickBooks Restoration Actually Works?
Anything you update within your QuickBooks account needs to be saved and backed up. Saving info within QuickBooks makes your financial's available to you whenever you need them. But what if your QuickBooks crashes. What will you do when your QuickBooks not responding when opening.
In such a scenario, you should have a backup file maintained. This way not only you will secure your business data but will also be able to open Qbb file without QuickBooks at the time of urgency.
Since now you have an idea of what goes into securing your Quickbooks files and why it is important, thus let's find out how to restore QuickBooks.
---
How to Restore QuickBooks to a Previous Date?
Before we start to restore QuickBooks files, you should have a backup file from the date you want to restore. In case you don't have that already then you have no other option left but to start from scratch.
Now that we have put a warning in place, let's follow the steps:
Steps on How to Restore QuickBooks to a Previous Date:
1️⃣ Login to your QuickBooks account.
2️⃣ Click on the files menu and choose to restore company option.
3️⃣ You will now see a dialogue box appearing. Choose the type of the file, you would want to restore. Click on the radio button alongside the message, "restore a backup copy".
4️⃣ Click next and you will see another dialogue box appearing. Choose if you want to restore a file from your local computer or you have the backup saved online.
5️⃣ Navigate to the location where you have your QuickBooks backup data saved from that previous date.
6️⃣ Click next and choose the location where you want to save your restored file in QuickBooks. Please note: the moment you restore your file, the old version gets permanently deleted and overwritten by your new file. Thus make sure you are working with the write backup file.
7️⃣ Save your preferences and your file will be saved and restored successfully.
8️⃣ Now, open your company file that you have restored and check if everything is working right.
---
How to Restore QuickBooks to a Previous Date using Web Restore?
If you have your QuickBooks file backup saved online then you will have to use QuickBooks web restore service. Follow the steps and restore QuickBooks using web restore platform.
1️⃣ With your QuickBooks logged in, click on the web restore option. Most likely you will be asked to Install ActiveX.
2️⃣ Follow the set of prompts that now appears. The instructions followed will help you make your system compatible with web restore.
3️⃣ Navigate to your backup file of the date you want to restore and click on the restore option button.
4️⃣ Save your file within QuickBooks and exit the tab.
5️⃣ Open the file and verify if the company file has been successfully restored or not.
---
It is absolutely mandatory for you to backup your files the moment you update them. This not only helps you save your books of accounts but helps you access them at the time of need. If the damage is done to your QuickBooks then you are sure to secure your files.
Hope you now are able to restore your QuickBooks files successfully. In case you are still figuring out "how to restore QuickBooks to a previous date" then contact our customer support team Dial 1800-865-4183 immediately. Our QuickBooks proadvisor in Canada work round the clock to fix any issues you might have.