To overcome such kinds of QuickBooks banking issues. Go through this blog as it covers all the necessary information related to this bank feed issue OL and OLSU bank feeds errors in QuickBooks Desktop.
QuickBooks online banking is one of the important and pretty useful features in QuickBooks Desktop. It lets users reconcile their bank accounts quickly and gives you accurate data compiling to your system. This feature also lets you connect with your bank accounts or credit card directly into your QuickBooks Desktop. Sometimes, it happens when you may come across QuickBooks Desktop OL and OLSU bank feeds errors.
Speak to a Specialist about Your QuickBooks Software
Get instant assistance with QuickBooks accounting software. Our QuickBooks experts are available 24x7 and resolve issues within minimum turnaround time. We support both US & Canada Editions of QuickBooks Software.
We get help you on these QuickBooks accounting topics
Downloading
Installing
Activation
Import and Export
Data Conversion
Payment Solutions
Upgrade & Update
Payroll Solutions
Integration
Printer
Tax-Related
Data Recovery and many more.
What are OL and OLSU Bank Feeds Errors in QuickBooks Desktop
OL and OLSU bank feeds errors are common online banking and connection issues. This can be experienced when using QuickBooks' online banking feature due to some problems. An online banking issue is included in the OL and OLSU Bank Feeds sequence of errors. Some of the common online banking setup and connection errors for QuickBooks Desktop include…
| | | | | |
| --- | --- | --- | --- | --- |
| OL-202 | OLSU-1016 | OLSU-1013 | OL-203 | OLSU-1011 |
| OL-206 | OLSU-1014 | OL-205 | OL-209 | OL-231 |
| OL-221 | OL-232 | OL-249 | OL-301 | OL-332 |
| OL-334 | OL-392 | OL-393 | | |
Understanding the Causes of QuickBooks Desktop OL and OLSU Bank Feed Errors
A problem or conflict with your bank (also called a financial institution) includes:

Your bank could have altered its Web Connect or Direct Connect services.
In a merger and change of name, the bank has been involved, and that needs to be refreshed in QuickBooks.
You may have an active bank account and this is allowed for online banking in QB.
The server in your bank might be temporarily down.

There might be some issues with the Internet connectivity.
There may be a problem with one or more accounts in your business file for QuickBooks.
There may be a problem with the download or import pattern.
An outdated or older version of Windows OS or QuickBooks Desktop that you're using.
Troubleshooting Tips and Tricks OL and OLSU Bank Feeds Errors in QuickBooks Desktop

Here are the quick fixes to get rid of OL and OLSU errors bank feeds QuickBooks desktop that is usually encountered during the downloading or importing transactions. It is only advised you perform the below-provided steps under every solution in the given order as mentioned and attempt once again your download transaction after every step.
Total Time: 30 minutes
Method 1: Enable TLS 1.2 Security Protocol, If available
The below-given steps can assist you in easily enabling TLS 1.2 in your latest Internet Explorer version.
🔹 Initially, Open IE 11 (make sure you have the latest IE version installed)
🔹 Next, go to the Gear Icon and click once within the Internet Explorer
🔹 Go to Internet Options and select Advanced Tab
🔹 Scroll down to find the Security section
🔹 Uncheck the USE TLS 1.0 box and check in USE TLS 1.2
🔹 Click Apply and then the OK button
🔹 Close all open programs and restart your system to take place the changes you've done
🔹 If the same error message still exists then continue the next step.
Method 2: Make a New Company Sample File
This step helps you to identify any issue that starts with your bank their servers.
🔹 First of all, go to the QuickBooks File menu, and then choose New Company, and then Express Start.
🔹 After that add a bank account (the one in which you were facing issues) to the created test company.
🔹 Now, you need to set up an account for the bank feeds.
🔹 Test the account by performing bank feed transaction downloads.
🔹 If the issue still exists, proceed with the next step.
Method 3: Run Account Set up with the Ctrl key Suppressed
🔹 This step can bypass previously failed connections and can help you eliminate your bank's partial, incomplete, or unsuccessful connections with the help of QuickBooks experts.
🔹 Also visiting the Intuit official website, you can access step-by-step description information.
🔹 If you execute this step and the issue disappears, the QB Desktop online banking and connection error will result in successful troubleshooting.
🔹 You will be able to download the transaction. If the problem still remains unsolved, proceed with the next solution.
Method 4: Create a New Account and Merge Accounts
There can be problems/problems associated with setting up the account or even downloading financial transactions in several cases. These steps help you conclude whether that account is responsible for the issue.
🔹 You should clear out all pending financial transactions/reports before you enforce the following process.
🔹 This could include matching any financial transactions/reports previously downloaded that have not been matched.
🔹 Navigate to the "Chart of Accounts" option
🔹 Next, perform right-click on the account associated with the issue
🔹 Now, go to the "Edit Account" tab
🔹 Emphasize the "Name of Account" icon and click on the "Copy" button.
Within the account, the name is marked with an asterisk (*) at the end
🔹 Pick the "Deactivate All Online Services radio" tab in the "Bank Feed Settings" option
🔹 Click "Save" & then the "Close" icon
🔹 In the "Chart of Accounts" section, create or build a new account
🔹 Copy & paste the Account name without the asterisk (*)
🔹 Close & reopen the QuickBooks company file
🔹 Make a right-click with the asterisk (*) on the 'Account' tab, and then select the "Edit Account" tab in the "Chart of Accounts" tab
🔹 Remove the asterisk mark (*) & then, choose the "Save" icon& later the "Close" icon
🔹 When the warning message appears in the dialogue box. It will prompt you to choose the "Yes" icon
🔹 Set up/create an account for the 'Bank Feeds' purpose
🔹 Download financial transactions from the newly merged account.
Method 5: Check your File from Bank is Compatible with QuickBooks or Not?
🔹 Log in to your bank's website outside of QuickBooks.
🔹 You can find your bank transactions in .QBO format and download them.
🔹 You can import your transactions into QuickBooks.
Method 6: Refresh Connection QuickBooks with your Bank
🔹 First Go to Company.
🔹 After that select Chart of Accounts.
🔹 Then select the Include Inactive box.
Method 7: Activate Online Banking Again
🔹 Go to Chart of Accounts, then select the Include Inactive checkbox.
🔹 Turn off online banking, then set up online banking for each account again.
In case, you do 'NOT' receive any QB error message: This implies that you have resolved the technical hassle/error associated with the account QuickBooks bank feeds not working. Your financial transactions have been downloaded & you can discontinue the fixation process.
In case, you encounter the same error warning message: This shows that the technical glitch did not initiate or associated with this account. If there are multiple accounts set up for online banking then you need to deactivate online services.
If you have any queries or need our assistance feel free and get in touch with the QuickBooks error Consultant technical team at a toll-free number, Email, or do a Live Chat available 24*7.
Get solutions to all of your accounting and bookkeeping problems with industry leading experts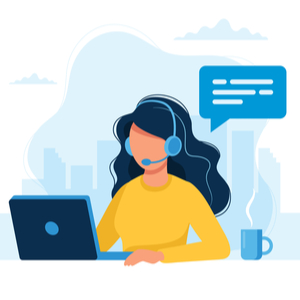 FAQ's
How do I Deactivate all Accounts with Online Services?
● Next, at the bottom of the Account Chart window, click the Include Inactive checkbox.
● Next, deactivate Bank Feeds then close, and then reopen the file.
● Do the same for all inactive accounts.
● After that, you need to set up every account for Bank Feeds.
How do I check the TLS settings within Internet Explorer?
● First, go to the Tools and select Internet options.
● Select Advanced and scroll to the Security section below.
● Checkmark the 1.2 TLS if not then choose the box to make it turn on.
● Select Ok and exit all open applications on your system.
● Finally, restart the system and then attempt once again to download the transactions.
How can I Reset the Bank Connection?
● Initially, turn off Bank Feeds for the account for which you have a problem.
● Turn on again to Bank Feeds. This refreshes the connection to your bank from QuickBooks. Perform the same task you attempted to do when the error occurred.