Your QuickBooks data cannot import or export the desired information to Excel or from an Excel. Let's start our article about the "QuickBooks Export to Excel Greyed Out".
Every organization has a different system. Although, Excel records have been used for more than a decade and are still being used to keep things streamlined. The best part is Excel is compatible with all platforms. But at times, there might be a possibility that will bring you to the compatibility factor.
Although, QuickBooks ease of navigation is not questionable at all. However, our ever-evolving technology will always bring something better. Our devices go through the sustainable development of technology. What once was with you, there are slim chances of that version to come back. We also have seen that at times, your QuickBooks account does not give you the option to choose the Excel datasheet to import.
How to Fix QuickBooks Export to Excel Greyed Out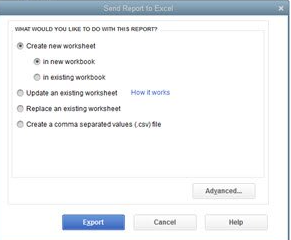 However, with QuickBooks, you get several other things to fix the issue. If you wish to export or import through Excel to QuickBooks and it looks greyed out, you need not worry. All your bills, invoices, cash memos, expenses, etc., will be at one place, even if it is part of greyed-out excel. Just a few clicks and a few updates will do the trick and you will be able to overcome this limitation.
Total Time: 15 minutes
Step 1: First, you need to ensure that your QuickBooks version is up to date.
🔹 Sign into QuickBooks account
🔹 Go to reports
🔹 Select Export to Excel
🔹 It should resolve the issue. In case your issue persists, you may have to choose an alternate option. Each version of QuickBooks is compatible with a specific type of MS office.
Step 2: Compatibility to MS Office
🔹 You need to check the compatibility and then upgrade your MS office in your computer accordingly.
🔹 If you still face the issue, you may need to move to step 3
Step 3: Toggle Windows UAC (User Account Control)
🔹 You need to turn your Windows UAC settings on and off.
🔹 This should reset any setting that blocks the export feature.
🔹 It will work with Windows versions of 7, 8, and 10.
Open the Windows Start menu.
🔹 Type UAC Settings into the search
🔹 Click open User Account Control Settings.
🔹 Select and move the slider to Never Notify and then select OK.
🔹 Restart your computer.
Tip: In case, you first worked on QuickBooks and MS office was upgraded later than that. It is recommended that uninstalling and reinstalling QuickBooks will do the trick.
With that many smart alternates, you will be able to find the best-suited one. Record maintenance is indeed a very impressive skill. But to recover and import or transfer all the data in one place in an acceptable format is another skill. If you know the right ways, you can dig out the data of the golden era as well.
The best thing is you need not be a pro. All you need is to explore a little and do some minor research; then QuickBooks becomes your best tool. Error-free records, easy access, and an impressive approach will take your business to new heights.
Get solutions to all of your accounting and bookkeeping problems with industry leading experts