QuickBooks is a comprehensive software designed by Intuit to assist the small and medium industries with their accounting and financial needs. It is an extraordinary software but it is too susceptible to some common technical errors. One such technical error which you might encounter while working on the QuickBooks accounting software is "QuickBooks Error Message 6150 and 1006".
QuickBooks Error 6150 and 1006 (Company File Issue)
You will encounter the QuickBooks Error code 6150 1006, when you are trying to create or open a QuickBooks Company file. You will see the following error message getting displayed on your screen:
"

An error occurred when QuickBooks tried to create, open, or use the company file. Please try again……….error codes: (-6150 -1006)

"
"

QuickBooks couldn't open your company file……..error codes: (-6150, -1006

)"



There are many issues that you may face in your accounting program, QuickBooks Error Message 6150 and 1006 is one of them. It reads like:
Each error code in QB points to a different underlying problem that is causing the error. There can be a single or multiple underlying problems that may have to be resolved. Before trying out any of the following error resolution methods, we'd advise you to create a backup of the company file.
A backup of the company file is necessary as we'd be trying to repair the company file. The QuickBooks error -6000 series signifies that there is either a connection problem or the company file is corrupt. If the problem is the latter one, then it'd be better to have a separate copy of the company file so that there is no permanent damage while we try to repair it. Thus if you need to fix QuickBooks error message 6150 and 1006 then here is what you will need to do.
What are the Causes of QuickBooks Error 6150 and 1006?
Here are the few reasons for QuickBooks Error Code 6150:
.QBW or Company file is damaged
Users need to create a portable backup file.
When QB Installation is corrupted or damaged.
Users open portable file without opening QuickBooks.
Users changed or typed the incorrect extension for QuickBooks.
When company file is infected with a virus or internet malware.
Symptoms of QuickBooks Error Code 6150 1006
If the error message is linked to the company file file-extension, then user needs to change the file extension and save the company with a proper extension.
If company file is not opening up on another device
Your QuickBooks Desktop is not up to date
Error code displays on your system screen
Error freezes the system for few minutes
Keyboard input not responding
How to Fix QuickBooks Error Message 6150 and 1006?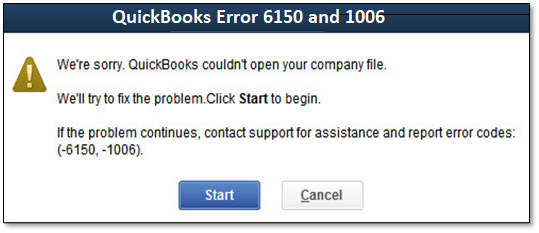 Methods to Fix QuickBooks error message 6150 and 1006 may be multiple. In this article discussed about the most effective solutions. Lets follow the each methods one by one.
Total Time: 35 minutes
Solution 1: Restoring the Company File from a Backup
🔹 Open the File menu in QuickBooks.
🔹 Go to the Open or Restore Company. Enter the key code [K016].
🔹 Please make sure you enter this secret key as this will help you fix your backup issues and would also maintain a secure copy of the file.
🔹 Click on the back-up file (.qbb file).
🔹 Press the Open option and then click on Next.
🔹 Go to the Save-in drop down dialog box and browse a location, where you would like to restore this file.
🔹 Create a new file name by typing the name in the File name
🔹 As soon as you open Save as type field, you will be able to see all the QuickBooks File with the extension should immediately (*.QBW).
🔹 Save the file by clicking on Save
🔹 You may now receive the notifications before restoration process. Read them carefully.
Solution 2: Creating a new Company File
🔹 Open QuickBooks.
🔹 Open the NO Company tab.
🔹 Select the Create a new company.
🔹 Express Start
● Open the Express Start
● Enter the details in the QuickBooks Setup
● Select the Create Company
● Create a list of your customers, services and Charts of Accounts/ Select Start Working
🔹 Detailed Start
● Open the Detailed Start Window.
● Enter the details in the Easy Step Interview
● Press Next option on the window.
● Choose your industry and click on Next.
● Identify your class of Industry Entity and click on Next.
● Set the first month for your Fiscal year and click on Next.
● Set up password for your QuickBooks Administrator password.
● Click on Next.
● Select the location to save your QuickBooks Company file and click on the Save
● Customize your QuickBooks software by clicking on the Next You can also postpone it by opting for Leave option.
Solution 3: Look for CryptoWall
In convinced cases, the CryptoWall virus and other programs may be causes of QuickBooks Error 6150.
🔹 First of all, Open the Windows Start menu.
🔹 After that type the file explorer into the search box, opening the file explorer.
🔹 Its open the QuickBooks folder, which is available in C: drive.
🔹 After that search the file words: decrypt or instructions.
If the user find the files, then user consult with anti-virus provider.
Solution 4: Reinstall the QuickBooks using the Clean Install Tool
🔹 First of all Click on Start button.
🔹 Then go to the Control Panel and then click on the 'Uninstall a program'.
🔹 After that choose the QuickBooks application and then tap on to the 'Uninstall/change' the application.
🔹 User required to select uninstall and check the deletion process.
🔹 Once the uninstallation process is done, User required to download and run QuickBooks clean install tool.
🔹 Go for next step with clicking on the 'I Accept and continue' option.
🔹 Now, select the correct versions of QuickBooks and click continue.
🔹 The next step click on OK tap and install the QuickBooks.
🔹 In last and final step open the QuickBooks Desktop and you are done with this process.
Solution 5: Using QuickBooks Auto-Data Recovery
🔹 To recover the lost data user need to recreate the lost transactions using the current Transaction Log file and copy of the company file.
🔹 In Next step, you have to recreate the complete data. Use Company file and Transaction Log File to complete the task.
Solution 6: Update QuickBooks Desktop to the latest updates
Please install the latest updates for your version of QuickBooks. To install the latest QuickBooks updates for your version, follow the steps provided below:
🔹 Log into QuickBooks through a user with administrative privileges
🔹 Go to File and click on Close Company
🔹 Click on Exit from the file menu
🔹 Right click on QuickBooks icon and select Run as Administrator
🔹 Once QuickBooks opens, select Update QuickBooks from the Help menu
Mark all Options for Update
🔹 Click on Update Now
🔹 Select Reset Update and click on Get Updates
🔹 Once the update is downloaded, select Install Updates
Another Method to Fix QuickBooks Company File Error Message 6150 and 1006:
This error is usually from the -6000 error series or -Hxxx error series. Connection problems have been reported by many users who host their company file on a separate system or server.
Connection Problem: Company File on Another System
First of all, it is important to check your internet connection. If it is working properly, then some other software might be blocking the connection. In most cases, it has been found that the Windows firewall blocks the connection of QB through certain ports. We need to allow these connections in order to connect to the company file and fix QuickBooks error 6150. This is why, we'll disable the firewall and check whether or not we can properly connect to the company file:
Log into Windows as an Administrator
Search for Windows Firewall in the Start Menu
From the left panel select Turn off Windows Firewall
Disable windows firewall for both Private and Public networks
Click Ok
Damaged Company File

:
A damaged company file cannot be read properly by QuickBooks. Hence, if any damage is found while the company file is being read by QB, it will throw QuickBooks error message 6150 and 1006. Note that there could be permanent damage to the company file. If your company file is permanently damaged, then you can contact QuickBooks Support team.
You can try another free tool, QuickBooks File Doctor. It can resolve simple company file and connection issues with ease. After downloading, install the tool and run it.
Reach us:
If you are not able to fix QuickBooks Error Message 6150 and 1006 by any means then your last resort would be to get QuickBooks help. Our QuickBooks Error support helpline is available round the clock to resolve issues faced by users such as you. We're a third party service provider with highly trained professionals who can easily resolve complex issues like QuickBooks POS error 6150 for you.