The software showcases advance features and tools that assist in smooth business management. The latest "QuickBooks 2018 Canada" version has come up with brand new features.
Canada, the second largest country of the world with the most stable economy and is a globally accepted multicultural nation. If we look few years back, the highly globalized economy of Canada has improvised support on the growth and expansion of startups and small sized industries. And for the escalation of these companies QuickBooks accounting software is implemented.
How to QuickBooks 2018 Canada Download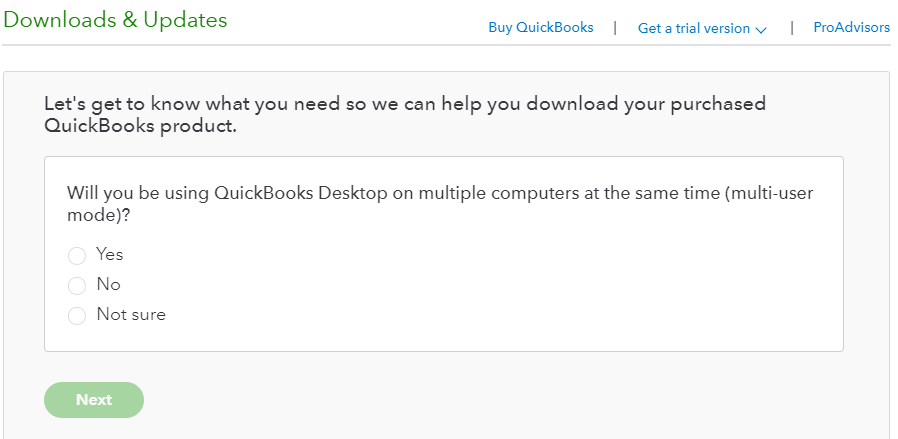 Download your QuickBooks version 2018 will help to avail the new features added to the software.
Total Time: 35 minutes
Step 2:
🔹 Now select the Edition of your QuickBooks Canada (CA).
Step 3:
🔹 Select the QuickBooks version Pro, Premier, Enterprise etc.
Step 4:
🔹 Select the year of the software that is 2018.
Step 5:
🔹 Click on the Download button and it starts downloading the software.
Step 6:
🔹 Then click on the Downloads to get your downloaded .exe file.
Step 7:
🔹 Run and Install the file and then activate it to start using QuickBooks 2018.
Reasons to Upgrade QuickBooks 2018 Canada..
The major highlights of QuickBooks 2018 are listed below:
Support Multiple Monitors: Intuit has released the new feature to work up to three windows at the same time.
Consolidation of Vendors: With the new QuickBooks Upgrade you can manage vendors by merging records of maximum 4 vendors and manage them as a group.
Reminder for Tax and Payroll: With the new feature released the tax and payroll reminder tool ensures that you file your taxes and run payroll on time.
Option of Advance Search under Chart of Accounts: Search and handle accounts easily with the help partial name or account number.
Report Toggle between Cash and Accrual Basis: Now switching between the accounts has become very easy through the reports menu at the same time creating reports or financial statements.
Optimized Security: The upgraded SSL certificates with SHA2 hash algorithm, the security of the financial data is improved. The .NET Framework has been upgraded to v4.6.2.
Enhanced Order Fulfillment with Mobile Barcode Scanning Feature: Meeting open sales and purchase orders while recording inventory items remotely has become easy with the new feature.
Merging of Vendors: With the latest 2018 QuickBooks, the user is allowed to merge at least four vendors at the same time.
Inventory Report Enhancement: Intuit has brought changes within these reports, complained previously about the inflexibility of inventory reports.
Stamp Proving for Past Due: The users who send invoices to the customers to clear the past dues are benefited with this feature.
Keyboard shortcuts: With this feature the user can copy and paste transactions with the latest shortcuts that is applicable through keyboard.
If facing any issue while upgrading, connect to QuickBooks upgrade support Dial +1888-461-1609.
QuickBooks Canada 2018 Error Support:
QuickBooks Com Error– While open, work, or send forms in QuickBooks Read more…
QuickBooks Error 3371 Status Code 11118– It's a license issue, QuickBooks could not load the license data Read more…
QuickBooks Error 1712– While installing QuickBooks Read more…
QuickBooks Error 6123– While opening, upgrading, or restoring company file QuickBooks Read more…
QuickBooks Error 1935– When installing QuickBooks or MS .net framework Read more…
QuickBooks Error 12029– It's a server issue or firewall blocked QuickBooks Read more…
QuickBooks Error 6147– When opening company file QuickBooks Read more…
QuickBooks Error 15106– When you updating QuickBooks Read more…
QuickBooks Unrecoverable Error– While opening or working in QuickBooks Desktop 2018 Read more…
QuickBooks 2016 to 2018 Conversion Error– While convert a company file to a newer version of QuickBooks 2018 Read more…
QuickBooks 2018 Canada accounting software is widely being used in the whole of Canada. The user friendly software allows the user quick and hassle free access and has benefitted business owners of all sectors throughout the Canadian provinces.
The software is designed in a way to manage the important accounting tasks efficiently saving business time and money in abundance. The latest 2018 QuickBooks has many more features and tools updated for the major QuickBooks versions (QuickBooks Pro, Premier, Enterprise and Accountant) along with other QuickBooks peripherals Payroll and Point of Sale.
For anymore in-depth information about QuickBooks 2018 Canada Download users can connect with QuickBooks Canada Support team through the toll free phone, email or live chat option. The inhouse support team is so much capable and knowledgeable ProAdvisors who are available 24*7 for prompt and feasible support. Call to the QuickBooks support toll free phone number +1888-461-1609 and garner instant support.